Do you know that blockchain.info is giving away $125 million worth of Stellar Lumen (XLM) in what is known to be the largest airdrop in the history of cryptocurrency?
Each user is entitled to a minimum of $25. That's 9k in Nigerian Naira. The distribution is on a first come first serve basis and will end when all the $125 million XLM is depleted.
Have you claimed yours? If you have not, I have.
In this post, I am going to show you how.
A few weeks back I received an email from blockchain.info saying that I will receive $25 of free Stellar XLM if I complete my profile. The message is as in the image below.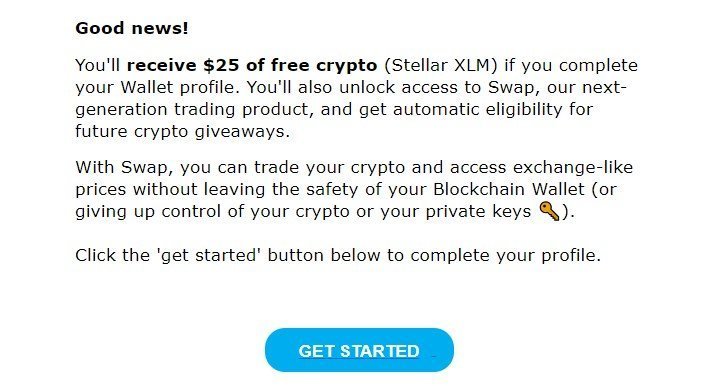 When I saw this message, I actually ignored it thinking it was a scam message from a
[simple_tooltip content='This is a scam site that clowns a legit site in other to deceive user and possibly steal their information or money. For example, the URL of a site that wants to clown blockchain.info might be blockchaim.info not many people will notice the difference in M and N']Phishing Site[/simple_tooltip]
trying to steal my password. However, when I logged into my blockchain account later that week I saw the notification. That when I knew it was for real.
So, I went ahead to verify my profile, 5 days later I was awarded $25 worth of Lumen (XLM) which at the time of writing this article is now worth $29.
In this post, I am going to show you how you can claim the $25, convert it to naira or your local currency ad have it in your bank account. but first, why is Blockchain doing this
[simple_tooltip content='This a free give away of a token to get people to start using it']airdrop[/simple_tooltip]
---
Why the Airdrop and Why XLM?
According to the press release by the CEO of Blockchain.info Peter Smith, first, Blockchain.info want to say thank you to its millions of users since its inception.
Secondly, it is passionate about connecting the world to crypto and helping users interact with crypto assets in a safe and easy way.
Lastly, it believes that giving users free crypto-assets is the first step to make them active users.
Stellar is a network built on scalability. Its token XLM (called Lumen) enables fast, low cost, worldwide transaction, even when, millions of persons are using it at once.
For this reason, Blockchiain.info decided to start its airdrop with this crypto.
Also Read: Cryptocurrency airdrop – 4 things you need to know about this concept
---
Frequently Asked Questions
How Much Will Each User Receive?
Each user is entitled to $25 worth of Lumen and will receive it once the requirement is met. After this, the user is automatically entered into additional giveaways.
What are the Requirements?
You must have a blockchain account.
– If you don't, visit blockchain.info and create an account.
– Verify your Profile by;Confirming your email
– Providing a government-issued ID card. (This is to ensure that no one is trying to claim more XLM than they are entitled to). Some persons have kicked against providing their ID card citing that the essence cryptocurrency and the blockchain is anonymity and decentralization.
This is true to some degree, however, most exchanges require profile verification to use their platform and they give no incentive for this verification.
When will this Airdrop End?
The airdrop will come to an end when all the $125 million dollar worth of XLM have been given away.
The IDs are manually verified so it takes time. Once a user uploads his/her ID, it goes into queue for manual verification, this is done on a first come first serve basis. Each week, XLM tokens are distributed to all verified accounts.
How Do I verify my Blockchain Profile?
You will need a government issues ID card: Any of these will do; Passport, Drivers license or National ID card.
I don't know if the voter's card will work. You can try it and give me feedback in the comment section.
When you log into your blockchain.info account, you will see a pop up prompting you to claim free XLM, click on it to proceed with verification.

You will be required to take a picture of the ID card and a Selfie with the ID card during verification. If your document is not accepted, you will receive an email saying that it is rejected. Most times this is because the picture you took is not clear or the text on the ID card is not readable.
You will be prompted to try again. I suggest you use your phone. Its camera is usually better than a laptop webcam.

How Do I withdraw the $25 to my bank account?
There are 2 methods through which you can withdraw your money.

Method No. 2 gives the maximum return on your money. However, since its only $25 we are talking about, I  did a video using method No. 1.
To cash the money to your bank account, you will need any of the following crypto exchange platforms
– Quidax
– Luno
– Binance
The process for withdrawing through Luno and Quidax is basically the same but it's a little different when withdrawing through Binance.
Check out how to withdraw using Binance below.
Method No. 2 – Withdrawal through Binance
Step 1
On the Blockchain.info platform; send your XLM to your XLM wallet on Binance
Step 2
On Binance; sell your XLM for Ethereum ETH.
Step 3
Send the ETH to your ETH wallet in Quidax or Luno
Step 4
On Quidax or Luno, Sell the Ethereum for Naira or your local currency if you are not in Nigeria.
Step 5
Withdraw the naira to your bank account.
Note:
The Transaction fee on Binance it 0.5%. This is more feasible compared to 10% to 5% on Blockchain.info. It is advisable to use method 2 when dealing with XLM that is much more than $25.

Method No. 1 – Withdraw through Luno or Quidax
Step 1
On the blockchain.info platform, Swap your XLM for Ethereum ETH. You can also swap to BTC, however, it is faster to send ETH than BTC.
Step 2
Send the ETH to your Quidax do Luno EthWallet.
Step 3
On Quidax or Luno, Sell the Ethereum for Naira or your local currency if you are not in Nigeria.
Step 4
Withdraw the naira to your bank account.
Note:
Quidax supports withdrawal in Naira alone, for now, therefore, withdrawal is only available to Nigerians on this platform. Luno supports withdrawals from 43 countries.
Quidax processes withdraw instantly, your money gets your bank account within 2 to 10 mins depending on your bank. Luno processes withdrawals 3 times a day Mon to Fri only.
Blockchain.info takes 10% to 5% in exchanges fee depending on the time of the day.
Here is a 10 minutes video on how to do this?
I hope this article was informative. If it was, share on social media to help more people claim their free $25 of XLM.
If you have any questions, leave me a comment in the comment section below.
---