I have been reviewing Cloud Mining companies and today, I will be looking at HashFlare Mining.
HashFlare is a cloud mining company of Estonian origin that has been providing cloud mining services since the beginning of 2015.
The company mines Bitcoin and other altcoins using SHA 256, Scrypt, Equihash, Ethash, and X11 algorithms.
In this review post, I will take you through all you need to know about HashFlare and its services.
It is going to be interesting, knowledge-filled, and succinct! I'm excited already.
Are you good-to-go? So am I!
Let's ride.
Post Summary
To ensure a smooth ride, I will walk you through this post in 5 parts:
Part 1: Brief History of HashFlare
Part 2: HashFlare Products and Services
Part 3: Pros and Cons of using HashFlare
Part 4: Is HashFlare Really legit?
A click on any of the parts takes you straight to its details.
Happy reading!
---
Part 1: Brief History of HashFlare
The Estonian HashFlare cloud mining service is a subsidiary of HashCoins, a mining equipment manufacturing company.
The company was founded in 2014 by 2 Estonian digital entrepreneurs:
Ivan Turygin: Has a Business Administration degree with years of experience in the Cryptocurrency world. Also, the CEO of Burfa Capital
Sergei Potapenko: Owner of Siberian Timber and has a Business Administration degree too.
They have been providing cloud mining services since the beginning of 2015 and mine the following cryptocurrencies:
They became an independent company in 2016.
The technology behind it is powered by the Hashcoin team that has been dealing with Blockchain solutions and hardware since 2013.
They partner with HashCoins to ensure the continuous development of new mining hardware that is up to date with the latest Blockchain Technology.
They serve more than 2,500,000 customers through the tremendous efforts of its engineers, specialists, and developers.
HashFlare is aimed at aiding everyone cash in on cryptos not minding their experience, capital, and technical skills.
Want to find out how they do this?
Just scroll down.
---
Part 2: HashFlare Products and Services
HashFlare offers the following services:
Just like in Genesis Mining, it mines cryptocurrencies based on the following algorithms:
SHA 256
Equihash
Ethash
Scrypt
Let's go look at the Mining Contracts and how they work.
Mining Contracts
HashFlare provides mining contracts from as low as $0.60 to $3.20; far cheaper than those of CCG Mining which starts off from $10.99.
The duration of their contracts is 1 year and miners get to choose the pools that their hashrates will mine in. This allows the miner to find a profitable combo.
Details of each contract are clearly stated and mining starts immediately after payment is made.
Payments can be made via the following methods:
BTC Transfer
Credit card
Payeer
Paying an invoice in USD via Bank Transfer
Contracts that use the SHA 256 and Scrypt algorithms have maintenance and electricity fees attached to them.
The maintenance and electricity fees are deducted daily from customers' payouts.
Despite the fee being in USD and the customer's balance in BTC, maintenance and electricity fees are deducted in BTC according to the current USD/BTC exchange rate.
This is beneficial to the customer in case if the exchange rate trend is positive i.e. more BTC remains in customers' balance.
Below is a table showing the different contracts and their details:
As at the time of writing this article, all the contracts are out of order. This probably shows the high demand for their service. If you want to do business with this company, go ahead and register to get notified when a contract is available.
However, whenever the contracts are available, I will be here to update you on that.
Let's go find out how it actually works.
How it works
Just like in NuVoo Mining, you will have to register with HashFlare first before mining with them.
To register, you have to provide your email address, country, password, and date of birth.
After verifying your account, click on the 'Register' button.
This will take you to your account's Dashboard where you will find the latest news, tips on how to start up, and an overview of their mining statistics.
After making your payment, mining starts immediately and the first payout is within 24 hours.
Keep reading.
Withdrawals, Currencies, and Commission Fees
Withdrawals in Hashflare are subject to a transaction fee.
The transaction fee is paid to the blockchain to process and confirm a transaction.
Find the breakdown in the table below: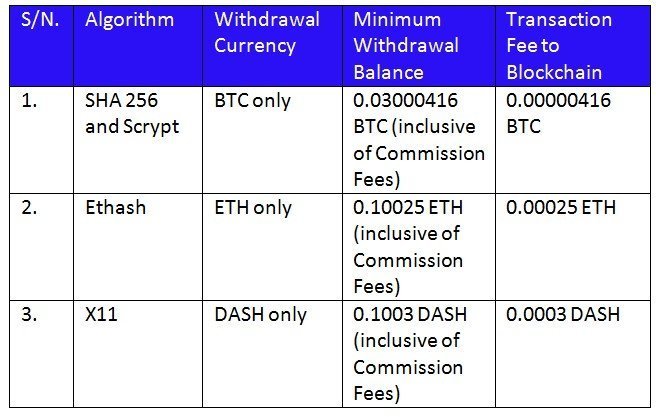 Now, to make a withdrawal, you need to add a wallet to the system.
You can create a wallet for any of the cryptocoins using the following links:
NOTE: You need to have up to the minimum withdrawal amount of cryptocoins available on your balance with a corresponding wallet address registered to your account before you can withdraw.
Reinvestment
HashFlare also gives miners reinvestment options. This allows you to automatically reinvest Bitcoin.
Reinvestment options are available for only SHA 256 and Scrypt contracts.
If you activate the function of reinvestment, you will use all your available balance in Bitcoin to purchase hashrate.
After every payout, the system will check if your balance is enough to purchase at least a minimum amount of 10GH/s for SHA 256 or 1MH/s for Scrypt.
If it is, the purchase will then be created and confirmed automatically.
You can enable and disable the Reinvestment option.
To enable, select the type of hashrate that you wish to reinvest in and click 'Save'.
To disable, choose the 'Do not reinvest' option from the drop-down menu and then click 'Save'.
Referral Program
HashFlare also has a Referral Program where you will receive a 10% referral commission bonus on every purchase made by any referrals, excluding reinvestment and balance purchases.
The referral bonus is added to your account balance in Bitcoin after confirming the purchase made by your referral.
To get your Referral Code, go to your account dashboard and select 'Referrals' and 'Tools' from the left-hand panel.
You will then click on the 'Link' button next to your Referral Code to generate your Referral Link.
Now that you've known about HashFlare Products and Services, move with me to the next part to find out the awesomeness and flaws of HashFlare Mining.
---
Part 3: Pros and Cons of using HashFlare Mining
Pros
You will benefit the following when using HashFlare Mining:
Low prices for contracts
No hidden fees or commissions
Detailed information available about contracts
Miners choose pools of choice
Reinvestment option available
Immediate payouts
Cons
HashFlare has the following flaws:
Charges maintenance fees for BTC and LTC
One year contracts
Charges commission fees for wire transfers
---
Part 4: Is HashFlare Really Legit?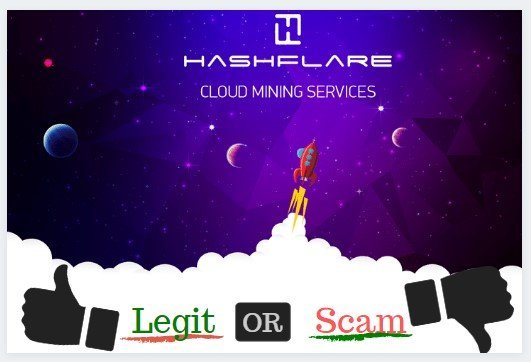 Different types of cryptos keep increasing their market value every minute and investors have already started to rely on their investments in the crypto world to yield them great returns.
HashFlare, among other cloud mining companies, took up the challenge of making mining available to everyone.
But…….do they really mine cryptos?
HashFlare LP is registered in the United Kingdom in late 2015 and has its company address as follows:
HashFlare LP
Company number SL024271
44/46 Morningside Road, Edinburgh
Scotland, UK, EH10 4BF
They are a subsidiary of HashCoins and the founders are known too.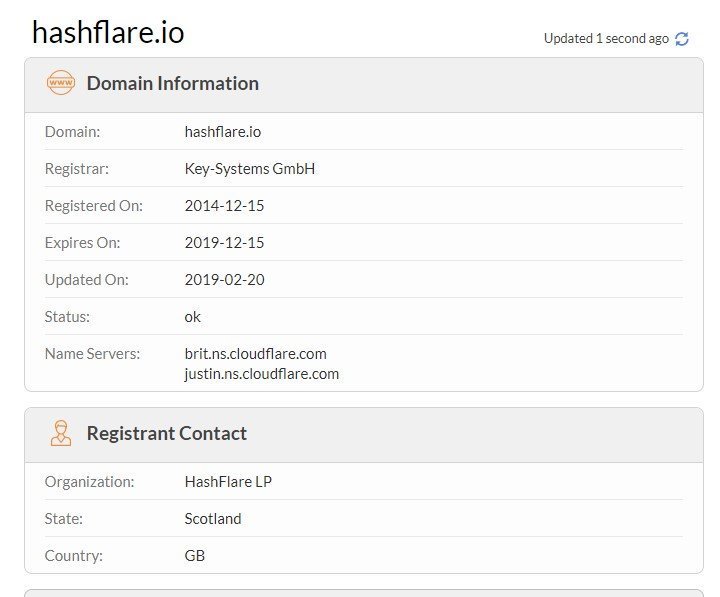 However, there's a wide array of negative reviews about the company online with most calling it a scam and complaining about it not being profitable(which I think is general for cloud mining companies).
I wouldn't invest my money in HashFlare especially now that their contracts are out of stock; but in the end, it's still up to you to take the final decision.
Remember, this post is not a piece of investment advice – it's simply a report I came up with while checking out another investment option in the cryptocurrency world.
Most of all, always remember the Investment Golden Rule: Never invest more than you can afford to lose!
---
>
Part 5: Conclusion
Good to still have you in this final part of this review!
You've learned all about HashFlare in this post.
You have things to say, right?
Here is the part where you let me in on your thoughts.
If the company starts up contract sales, which will you go for first?
And the cryptos…..any specials that you will try out first?
Will you prefer to just work with the Referral Program?
Or have you had any experience with HashFlare?
Leave me a message at once in the comment section…..I want to hear all about it.
And remember…….Knowledge is best shared!
Click on the 'Share' buttons right away.