This Expert Option Review came as a result of popular demand from our readers.
Expert Option is purely a fixed time trade/ Forex broker that launched its platform in 2014. The company is registered in Saint Vincent and Grenadines and it's headquarter is located in the Griffith Corporates Centre Suite 305.
Expert Options currently has over 35 million registered users. It is regulated and provides users with multiple deposit and withdrawal methods. The broker also won the best trading platform at the China Trading Expo in 2017
In this well-detailed review of Expert Option, we will go through all you need to know about this broker; how it came about, regulation, fees, ease of use, reputation, etc.
I have included a course on how to trade profitably for you at the end of this post. Enjoy!
If you have any questions, please leave us a comment.
---
Post Summary
I have taken my time to organize this post in such a way that everyone can understand. Below is a list of everything I will cover today, click on any of them to reveal its content.
If you are ready, I'm ready!
---
Expert Option Overview
Expert Option is a fixed time trade/ forex broker that was established in 2014. Being a reliable leader in the online trading industry, Expert Options provides its users with extra solidity.
Ever since its creation, this broker has registered over 35 million accounts plus up to 30 million deals closed each month
The trading platform is very user-friendly and provides one of the fastest brokerage services. Unlike other brokers, Expert options recently grant a 100% bonus on initial deposits to its new users (I will talk more on this later in the post).
---
Traded Assets
There are currently over 65 assets traded on this platform; they are grouped into 4 instruments as listed below:
29 Currency Pairs;
AUD/USD
EUR/USD
EUR/AUD
EUR/GRP
USD/JPY
GRP/USD
USD/CAD, etc
12 Crypto Currencies;
Bitcoin (BTC)
Ethereum (ETH)
Ripple (XRP)
Tether (USDT)
Bitcoin Cash (BCH)
Monero (XMR)
ZCash (ZEC)
Bitcoin Gold (BTG)
Ethereum Classic (ETC)
IOTA (MIOTA)
Litecoin (LTC)
Dash (DASH)
21 Stocks;
Facebook
Alibaba
Citigroup
Ford
Allergan
Goldman Sachs
Microsoft, Apple
Amazon
Mcdonalds
Coca-Cola, etc.
4 Commodities;
Gold
Brent Oil
Silver
Platinum
---
Restricted Countries And Language Support
Expert Option does not provide its services to the Citizen and residents of the following countries;
Australia
Canada
European Economic Area
Israel
Japan
North Korea
Puerto Rico
Sudan
Switzerland
Bangladesh
Singapore
Yemen
Vanuatu
If you are not from any of the above countries, then you can sign up and start trading.
Supported Languages
The following languages are supported on Expert option:

English
Chinese
Japanese
Hindu
Turkey
Indonesia
Malaysia
Spanish
Russia
Tagalog, etc as can be seen in the image below
---
Registration Requirements
Registration is not required to trade the demo account. All you need to do is visit the demo account page and start trading.
To trade the real account, you will have to register by filling in your name and email address. You will also have completed the KYC form. This involved uploading your proof of identity and residency.
This information is required by the most regulated financial company in order to comply with the Anti Money Laundering Policy (AML)
---
License And Regulation
Expert Option is certified by IFMRRC (International Financial Market Relations Regulation Centre) a non-governmental Oversight agency located in Russia. Its certificate is available for the public to view at Official IFMRRC site.
The company is authorized and regulated by Vanuatu Financial Service. VFSC government financial commission is relatively new and has just started offering financial services to an offshore account. You can read about their client protection
This broker is yet to obtain regulation by CySEC and therefore do not offer their services to European countries.
---
Trading Accounts
There are two types of trading accounts in Expert Options
Demo Account:
The demo account comes preloaded with $10,000 for you to trade; you do not need to sign up to use the demo account. All you need to do is to visit the demo account page to start trading.
The demo account has all the features, parameters and tools available in the live account. It is always advised to try out the demo account first to practice your trading skills before signing up to the Real account.
Real Account
The Real account is subdivided into 5 levels each with an extra benefit. The account subdivisions are determined by the amount you deposited. They are;
Basic
Silver
Gold
Platinum, and
Exclusive
The benefits that come with each account type can be seen in the image below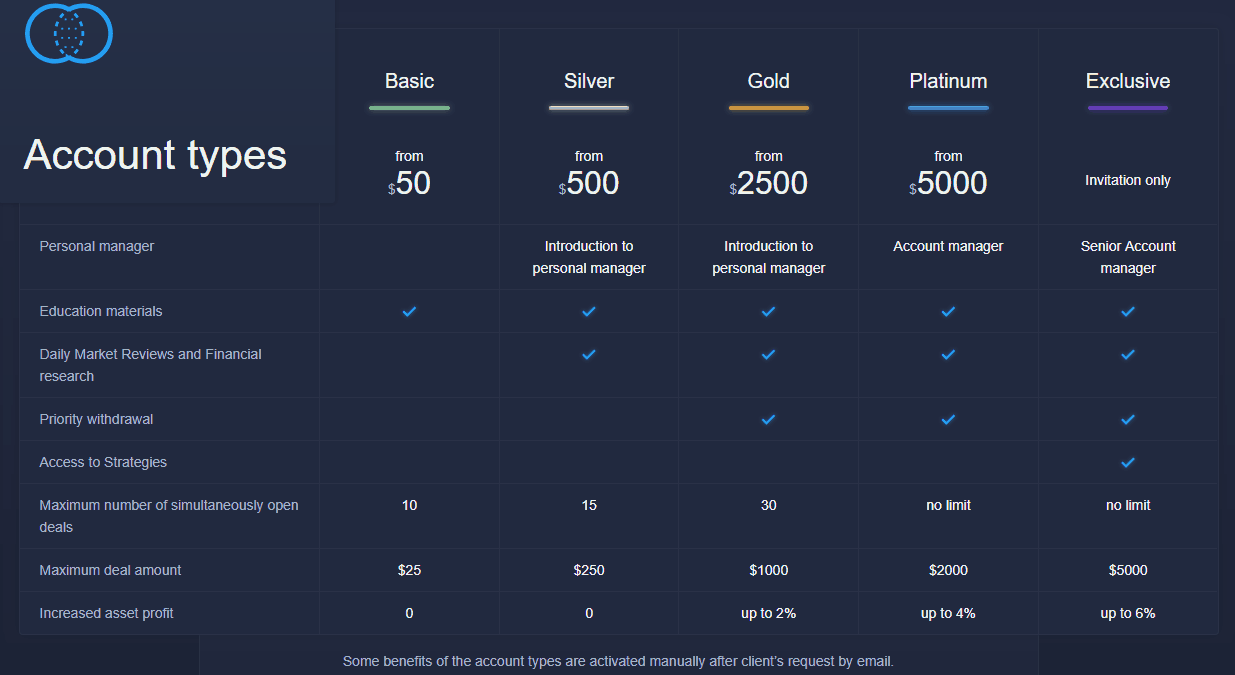 From the image above, you can see that the higher your account level, the more benefit you get.
For example, those with the platinum account get a 4% higher payout than those with the basic and Silver accounts. However, it is best you start small, make a profit before you upgrade your account level.
---
Deposit and Withdrawal Methods
As the time of this post, there are 15 deposit and 11 withdrawal methods available depending on your country. This includes;
Deposit methods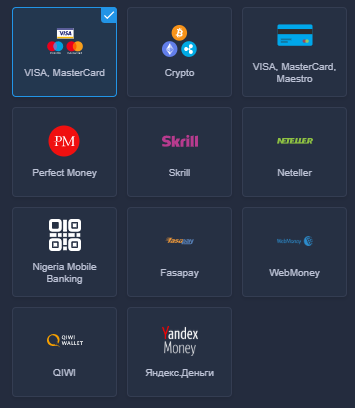 Card Payment: Visa, MasterCard, Maestro, UnionPay
Crypto: Bitcoin, Ethereum, Ripple
Perfect money
Skrill
Neteller
Nigeria Mobile Banking
Fasapay
Webmoney
Qiwi
Yadex
Withdrawal methods.

Card Payment: Visa, MasterCard, Maestro, UnionPay
Perfect money
Skrill
Neteller
Webmoney
Qiwi
Yadex
Payweb
Deposits are instant and no commission fees are charged.
The method through which you make a deposit is the method through which you can withdraw up to the amount you deposited, profit can be withdrawn using other methods.
e.g let say you made a deposit of $100 using Skrill and during the course of trading you made a profit of $150 making your fund a total of $250. To withdraw this money, you must withdraw your $100 deposit through Skrill and the $150 profit using any other payment method you wish to use including Skrill.
The exception to the above is if your deposit method is not listed as a withdrawal option, then you can use any option to withdraw.
If you reside in Nigeria, I suggest you do not make a deposit through your Visa or MasterCard, rather do so through Web Money, Neteller, Skrill or Perfect Money. The reason is that most people find it really difficult to withdraw through the Master/Visa card.
I personally use Webmoney and I don't have issues making deposits or withdrawals via this method. You can convert your naira to Webmoney on InstantGoldng. You can also use Neteller and convert it to crypto on Paybis.
Note that withdrawals are not instant, it takes up to 3 business days.
Minimum and Maximum Deposit Amount
The minimum deposit is $10 while the maximum deposit is $5,000. You will need to contact customer support for deposits above that.
The minimum trade amount is $1 while the maximum trade above varies depending on the type of account you are operating.
---
Bonus On ExpertOption
ExpertOption currently offers a 100% bonus on first-time deposits. This is definitely a smart move by the broker, as so many traders tend to be attracted to incentives.
The good thing about this offer is that, unlike some other brokers, you can withdraw your deposit even after accepting the bonus.
---
User Interface
The Expert option trading platform User Interface is quite simple and easy to navigate. It is brilliantly designed; I don't see it being any easier.
Educational materials, finance analytics, etc. are to the left, the status of your trades is to the right, finally, you can see the chart, make deals and choose assets at the centre.
The 45 – second video below shows how easy it is to place a trade on expert option.
There are also a good number of training videos and educational material on different trading strategies. You can find this resource in the education section of the website. Topics covered in the tutorials include:
Glossary
Trading Strategies
Technical analysis
Graphical analysis
Fundamental analysis
Psychology of trading
I receive email on a daily basis of people asking me for a tutorial on how to trade. I have gone through these materials, they are really good. All you need to do is to go through them and put what you learn into practice using the demo account.
ExpertOptions Trading Apps
Apart from the web platform, You can trade through the expert option apps across the major device. Apps are much faster, they adapt easily to the device they are made for providing the user with a better experience. The apps are available for Android, iOS, Windows and MacOS devices.
However, note that the apps for mobile devices do not provide all the sophisticated features present on the desktop and web platforms.

---
Customer Support
Expert option has a 24/7 Customer support through the live chat in its homepage and a trading room waiting to answer any question/query you might have. When I contacted the customer care, I thought I would have to wait for about 5 mins to get replied, but I was replied immediately.
Apart from the live chat, expert option customer support can be contacted via email ([email protected]) or by phone and emails according to your language:
---
Pros And Cons
Pros
Replenish able demo account
Bonus offered
It is regulated
Supports a wide range of payment methods
24/7 customer support
Cons
Restricted in the European business area
No crypto funding.
Withdrawal takes up to 3 working days.
Short expiry time.
Is Expert Options a Scam Platform?
The straight to the point answer is No, or at least not yet. Expert option is quite transparent when compared to other trading platforms. For example, when trading on binary.com, I noticed that some markets get disabled temporarily when a particular trend is formed.
Secondly, Expert Option is certified and regulated. It can be argued that the regulating bodies are relatively new, however, no user has complained of unfairness or not getting paid.
Other Projects
Expert option recently conducted a successful ICO to develop the following platforms;
EO.Trade: a cryptocurrency exchange for the Expert Option ecosystem.
EO.News: A new portal to help traders with instant market news
EO.Finance: A wallet that will enable users to store any amount of cryptocurrency or fiat. You can get more info here
These platforms are still in development. You can read the white paper here.
---
Conclusion
From our Expert Option review above, you can see that this broker came into this business to take the lead. The platform is exceptionally good and fast, deposits are instant with no charges. The range of traded assets is large enough for any trader.
One of the limitations I see with this platform is they don't have a wide range of trading period. Its trading period ranges from 1 minute to 5 minutes. There are brokers that offer a low as 5 secs to as high as 5 days. However, any trader with the right strategy can make do with the period.
I particularly like the good number of trading indicators, analysis, and educational materials. If you are a trader, you will love this platform.
I hope you enjoyed our review of expert options?
If you did, please use your favourite social media icon to share to let others in on this. Thank you.
P.S: In my intro, I mentioned that I will show you how to trade profitably. However, note that this is not binary options trading but cryptocurrency trading. To get access to this class, join us on telegram
---
Risk Warning
Trading options or fixed time trades carries a high level of risk since it can work both to your advantage and disadvantage. As a result, this type of trading may not be suitable for all investors because it is possible to lose all of your invested capital. You should never invest money that you cannot afford to lose. Before trading, please ensure to understand the risks involved
---
Also, Read
Expert Option
Pros
Advanced Platform
$10,000 Demo account
4 chart type & 8 indicators
Multiple Instant funding with no commission charge
24/7 customer support
Cons
No Crypto funding
Short expiry time
3 business day withdraw time