DexAge is a DECENTRALIZED exchange with a multi-tier trading ecosystem.
Its decentralized nature means that users are in complete control of their funds.
This exchange aims to solve the problem faced by most Centralized exchanges.
In centralized exchanges, all users' funds amounting to millions of dollars are usually in one crypto wallet which is accessible by a private key.
Thus, it provides fertile land for hackers. All they need do it to concentrate all their resources on hacking this single wallet.
Here are a few centralized exchanges that have been hacked in the past.
MT.Gox: This cryptocurrency exchange was hacked twice; in 2011 and 2014. A total of 750,000 BTC (worth $350 million) was stolen. The company declared bankruptcy and users lost their money.
Bitfloor: In 2012 This exchange lost 24,000 BTC to hackers. They also got shut down and investors lost their money.
Poloniex: This trading company lost 97 BTC to hackers in 2014. They are still in operation today, but at the time had to reduce all users' bitcoin amount by 12.3% to accommodate the loss.
Bitstamp lost 19,000 BTC (worth $5 million) to hackers in 2015
Bitfinix lost 120,000 BTC (worth $72 million) in 2016. However, they were able to pay users back slowly over a period of time and regain their trust.
In addition, over 25 exchanges have been hacked in the past leading to investors losing their fund.
From the above, you can see that a decentralized exchange is the solution to this insane crypto theft by hackers. Decentralization ensures that users have complete control of their fund making it discouraging and economically not viable for hackers to try to hack.
DexAge is the next generation of cryptocurrency exchange. It is still in the ICO stage and today I am going to review the platform and tell you how you can participate to earn passive income from DexAge.
Main Features
Decentralized Crypto Exchange
P2P crypto exchanging is facilitated using order books and matching engines. This is similar to what is done on trading platforms such as Binance only that this decentralized.
P2P Fiat-Crypto Trading
Users from different locations can easily exchange their crypto asset on the DexAge platform to their local fiat money.
DXG Staking
This is an opportunity to partner with DexAge and earns passive income. 30% of the revenue generated on the DexAge platform will be shared amongst investors that stake their DXG token on the platform.
P2P Lending
This is yet another earning opportunity in the DXG platform. An individual can use his digital asset as collateral to borrow money on the platform. They may which to do so if they envisage that their digital asset may appreciate in value in the nearest time and thus do not want to sell. Lenders can then lend money to the borrowers at an interest. This is a win-win for both parties.
Mobile Chat Dapp for Socio-economic Transaction
Social media has made communication and sharing easy. With the DexAge mobile App, you can chat with friends and send crypto assets via the chat app.
DXG Decentralized Autonomous Organization
This gives the stakeholders of DXG by smart contract the power to vote and participate in decision making in the development of the platform.
Intelligent One-Click Diversification for Crypto Asset Manager
With this feature, users can diversify their crypto asset by the click of a button.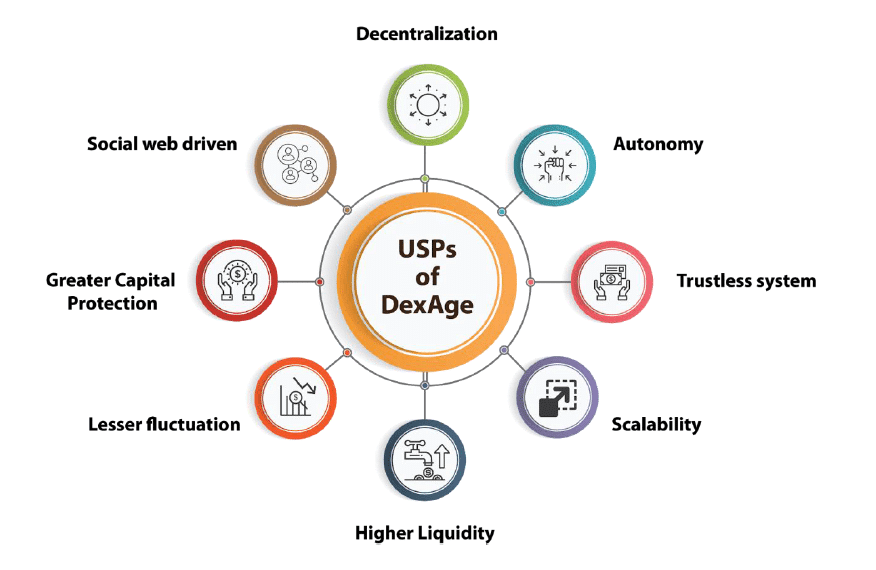 DexAge ICO – Token Economics
DXG tokens are built on the Ethereum Blockchain with the standard ERC20 platform
Token total supply – 5,000,000,000 DXG
Total Circulating supply – (70%) 3,500,000,000 DXG
Token soft cap – 25,000ETH
Token hard cap – 120,000ETH
Token Presale Price – 0.00003ETH
Token Crowd sale price – 0.00005ETH
The price per token varies according to the stage of the sale. The crowdsale is further broken down into 4 stages with different prices as can be seen in the image below.
Before the start of the presale and crowdsale, 250 million tokens will be given away for free in the air drop.
The airdrop is currently on and will last for about 2 months (Oct 10th – Nov 30th 2018).
By completing the task in the airdrop, participants will be rewarded 3,000 DXG which is worth $30 when the token is listed on exchanges at the end of the crowd sale.
Participants will also earn 50DXG for each person they invite to participate in the airdrop and crowd sales.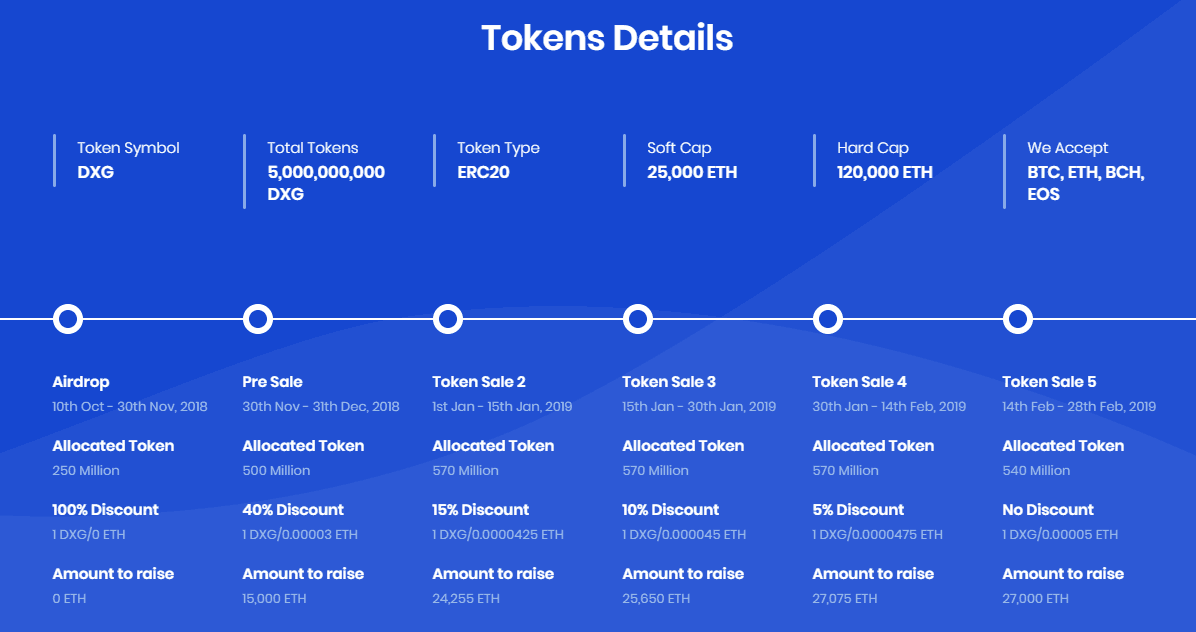 Advantages of Investing in the DexAge ICO
There are some of the advantages of Investing in the DexAge ICO
Profitability
The DexAge Team have devised two means to ensure that the DXG token remains valuable:1. 20% of the revenue generated from the platform will be used to buy back and burn DXG tokens until 50% of the DXG token in supply are bought and burned. This will decrease supply, increase demand and thus ensures the coin remains valuable. 2. 30% of the revenue generated from the DexAge platform will be shared amongst the DXG token stakeholder in proportion to the number of tokens staked by each stakeholder.
Versatility and Stability
DXG tokens can be used for a host of functions, including staking, voting, payments, transactions, collateral, etc within the DexAge ecosystem. The benefit of such multiple functionalities would be a wide scope of applications for the DXG tokens, which along with minimum price volatility would guarantee stability for the stakeholder in the long term.
Portfolio
Using the one-click diversification tool of the DXG platform, the merchants at DexAge can manage their crypto-assets and allocate the funds to be allocated to each coin at their own discretion. The tokens can be used as collateral in the P2P loan feature of DexAge, thereby, enhancing the liquidity of our currency base.
Conclusion: I would Personally Invest in DexAge
A decentralized exchange is the future of cryptocurrency exchange and DexAge has taken a bold step to provide this with lots of other additional features.
Its development team as seen on the official site (www.dexage.io) have years of experience in the cryptocurrencies space.
Its Co-founder currently runs a centralized crypto exchange.
So far, the Dexage team have shown professionalism in the design on the official site and presentation and information available in the Whitepaper. 
The roadmap clearly highlights its plan, what it aims to achieve, and the schedule progress.
I would recommend investing in this platform as I will.
Right now, you can enjoy the $30 worth DXG token by joining the airdrop. 
You will also get more token by inviting friends to participate.
All the best.
Click here to join airdrop