This is an all-encompassing review of the Deriv trading platform.
Deriv is a new trading platform that was created by the multi-award winning Binary Group. The platform is built upon the 20 years of experience by Binary Group. It comes with several enhanced features like 24/7 trading, sharp prices, tight spreads, and lots more.
This article will help you understand every exciting feature of Deriv before you deposit your funds to start trading.
Enjoy an informative section!
Risk Warning
Trading Options carries a high-risk level. You cannot really predict the direction of the market this can work both to your advantage and disadvantage. As a result, you should never invest money that you cannot afford to lose. Before trading, please ensure you understand the risks involved.
---
Before you proceed. I think it's best you know that we have found Pocket Options as the best options trading company. Create a demo account to check it out.
---
Post Summary
I have written this post in the simplest format ever, in such a way that even a 10-year-old can follow up.
Here is the list of everything that I will cover here today, click on any to take you straight to its content.
Let's dive right in!
---
Deriv In A Nutshell
The story all began 20years ago when the Binary Group was created with an aim to bring online trading to the masses. Deriv was created in early 2020 as an enhanced brand of the already existing Binary.com.
The Deriv platform is powered by 20 years of customer focus and innovation. With several rebranded features, this broker has up to 1.2million registered users and processes more than 43million trades per month. Over 6million USD is processed in withdrawals every month.
The broker is regulated by multiple regulatory bodies making it one of the safest brokers to reckon with. Read on to find out more exciting features of Deriv.
Also Read, Top 5 Online Trading Platforms
---
Special Features
100+ tradable assets
24/7 Trading
Sharp prices
Tight spreads
Instant Withdrawals and deposits.
50+ payment methods.
---
Restricted Countries
This platform's services is restricted to traders from these countries;
USA
Canada
Hong Kong
Persons below 18 are also restricted
---
Types Of Trade
There are basically 3 types of trade you can carry out on Deriv
Margin Trading
Options
Multipliers
Margin Trading
Here you purchase larger units of the underlying asset at a fraction of the cost thereby increasing your maximum profit as well as loss.
Options
Predict the movement of the market without buying the underlying asset. Up/Down, In/Out, Call Spread/ Put Spread, and Touch/ No Touch.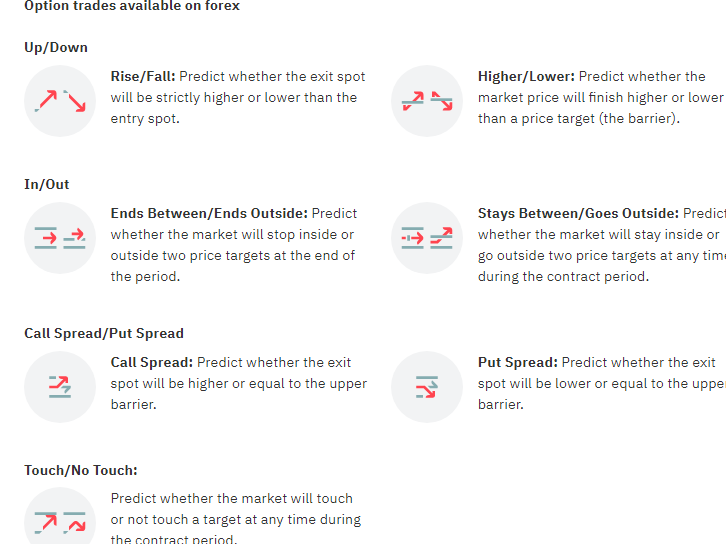 Multipliers
Here you trade on leverage while limiting the downside risk of your capital. You can maximize your potential profit by several multiples of any market without having to risk more than your initial investment.
---
Tradable Instruments
Deriv provides it's users with over 100 assets to trade within these financial markets;
Forex
Commodities
Stock Indices
Synthetic Indices
Forex
Trade the most popular currency pairs on the world's financial market. Trading here allows you to benefit from changes in the relative values of the forex market.
EUR/AUD
AUD/JPY
USD/CAD
EUR/CAD
GBP/AUD
AUD/USD
USD/JPY etc…
Commodities
Here you get to trade on the world's most commercial natural resources. Commodity trading on Deriv lets you profit from correctly predicting the market movement of the world's most pivotal natural resources.
5 commodities are available for trade on Deriv;
Gold/USD
Silver/USD
Palladium/USD
Platinum/USD
Oil/USD
Stock Indices
Trading here allows you to benefit from price movements in the market without having to buy the underlying asset.
Stock indices allow you to diversify your risk and predict the broader market trends.
12 stocks are currently available for trade here;
US Index
Wall Street Index
Hong Kong Index
Japanese Index
Australian Index
US Tech Index, etc..
Synthetic Indices
Deriv's proprietary synthetic indices emulate the world market movements while being free of market and liquidity risks.
17 items are currently available for trade here;
Volatility 10 (1S) Index
Volatility 10 Index
Volatility 100 Index
Volatility 25 Index
Volatility 75 Index
Volatility 50 Index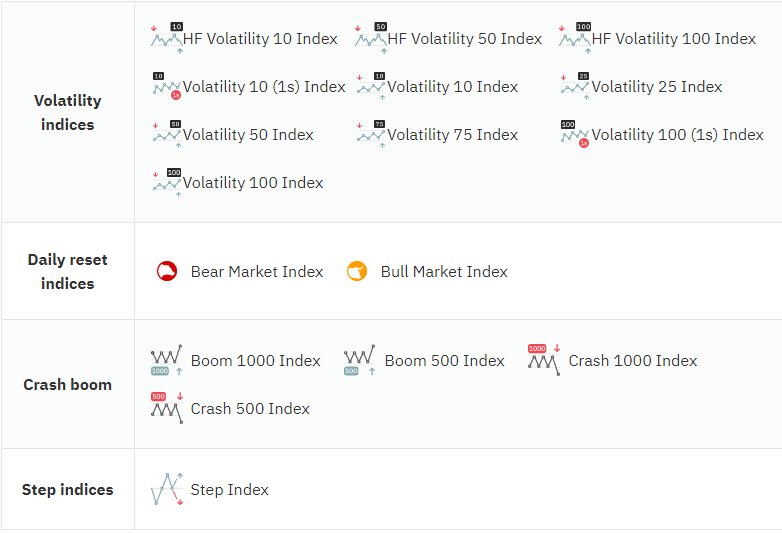 ---
Trading Platforms
Deriv assures you of being in full control of your trading experience using its new and improved platforms.
DTrader
DTrader gives you a whole new experience on an easy to use platform. This is suitable for beginners because it's user friendly.
DBot
Trade with ease using the trading robot.
DMT5
This is where most professionals thrive the more. Trading on the Deriv MetaTrader 5 platform comes with a full package to suit even the most experienced traders.
Smart Trader (Binary.com)
Here you get to trade the world's best markets on the binary.com classic platform.
---
Trading Accounts
Deriv only provides two types of accounts to its customers at the moment
Demo Account
Accessibility to the demo account is very easy, all you have to do is register. This is done by providing your email address and creating a password at sign up, then you can start practicing on the demo.
The demo account is loaded with a replenishable $10,000 in virtual funds.
Registered users of Binary.com automatically have access to the Deriv trading platforms.
Real Account
Make a $10 minimum deposit to start trading in the real world market.
---
Deposit And Withdrawal Methods
Deriv accepts up to 50 different payment methods. Your deposit and withdrawals are processed under 1working day. However, the time may be prolonged depending on your bank or transfer service.
The Payment methods are as follows;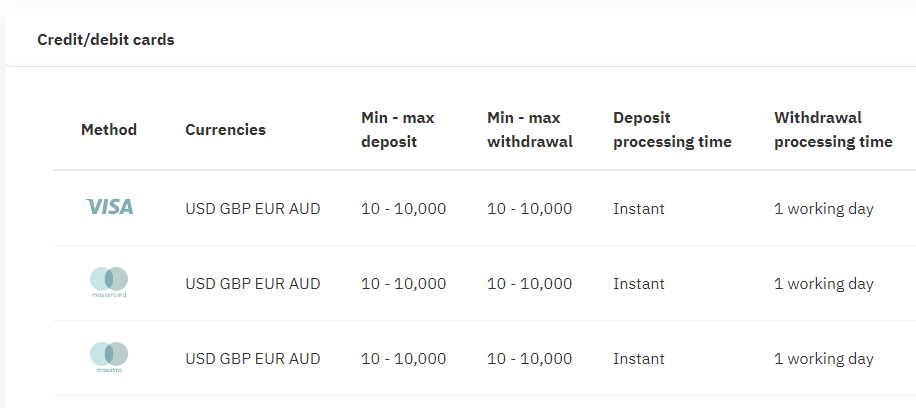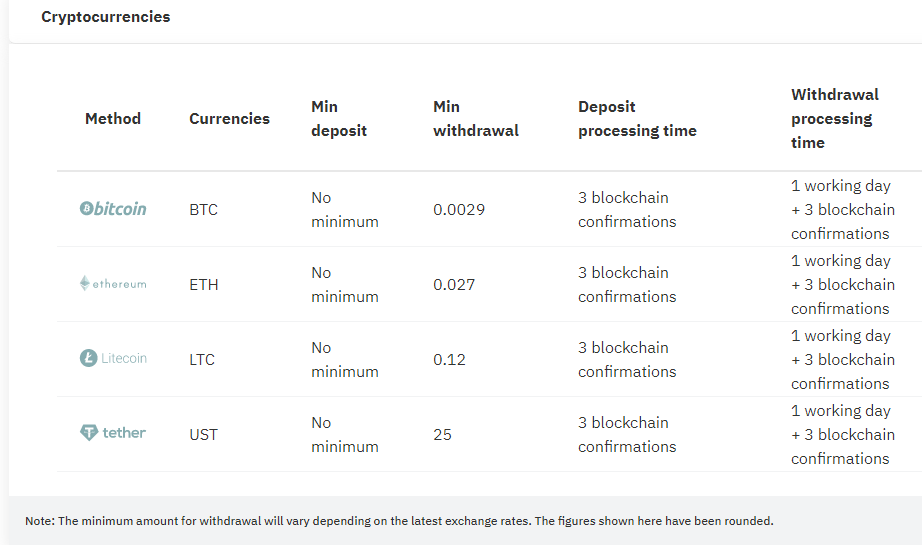 ---
Licensing And Regulations
Deriv is registered and licensed by four reliable regulatory agencies;
For users in the EU, it operates as Binary Investment Ltd. It is regulated as a category 3 investment service provided by the Malta Financial Services Authority (MFSA)
It operates as Binary (SVG) outside the EU, which is located in St Vincent And Grenadines and is regulated by Vanuatu Financial Services Commission (VSC)
The Binary Virgin Islands located in Britain is regulated by the British Virgin Islands Financial Services Commission.
Binary FX Ltd located in Malaysia is regulated by the Labuan Financial Services Authority.
---
Customer Support And User Interface
The customer support rendered at Deriv is very efficient and you will have no problem contacting them. The support team can be contacted 24/7 via a direct phone call, email address, or visit the help center.
The User Interface is very much appealing, everything you need to trade swiftly is clearly stated and all items are properly arranged on the screen. The Deriv platform is suitable for both beginners and even the most experienced traders.
Up to five languages including English, French, Italiano, Indonesian, and Spanish are supported by the Deriv platform as of the time of writing this post.
---
Pros And Cons
Pros
Built upon 20years of experience.
Instant withdrawal.
100+ tradable assets.
User-friendly.
Multiple regulatory bodies.
Cons
Only one language supported.
Traders in the USA and Canada are not supported.
Is Deriv A Safe Broker?
In my opinion, Deriv is in no doubt a safe haven for online options traders, this is because of the following reasons;
Although Deriv is a new platform, the founders, Binary Group is not a new name in the online trading industry.
It has multiple regulatory agencies.
Binary Group is a multi-award winning company.
---
Conclusion
Deriv maybe a new platform but, it's well-grounded on a solid 20 years of experience. With so many enhanced features to show for this, Binary Group has shown how serious they can get in doing business with you.
Sign up now and become a part of the new trading era.
I hope this article was insightful?
Have you visited the new Deriv platform yet?
Do you think its features are actually unique to other brokers?
Kindly drop all your questions or comments in the comments section below.
Lastly, if you enjoyed reading this post, kindly share it on your favorite social media by tapping on the icons below.
Thanks!
Also read