This post is a complete review of Bitclub Network; is it scam or legit?
I have been reviewing bitcoin-related products, services, and business.
Over the years, my reviews have saved a lot of people from losing their hard-earned money to scammers.
By the end of this review, you will know for yourself if the Bitcoin Club network is scam or not.
Let's dive right in.
---
2020 Update:- 3 Men arrested in connection with the Bitclub Network Scam.
Bitcoin Club Network has been confirmed a scam. I total of $722 million was defrauded unsuspecting investors in this scheme.
The United States Department of Justice District of New Jersey on the 10th of December 2019 announced the arrest of 3 men in connection with the scam.
That said you can still read my full review/analysis of the platform published in 2017. You would see that the scam was obvious from the start.
---
How I Heard about Bitclub Network
A friend of mine, someone I have great respect for pitched me on the Bitclub Network. He told me of the passive income opportunity in investing in this company and how I can easily make $23k monthly.
However, he could not show me proof of its profitability because he had just recently joined. Anyways, I made my research and decided to publish my findings on the Bitclub Network (BCN) because I could not find a review online that is comprehensive enough.
This is complete and easy to understand write up. This review is well researched and complete. It will go a long way to help you make a decision on joining BCN. As it answers questions like:
Is BCN a scam?
What are the compensation plans?
Who are the founders?
How can I make money on this platform?
Can I lose my investment?
Is it an MLM Ponzi scheme?
The review is quite long because I want it to be comprehensive. Do not invest your money until you have read this review to the last. There are secrets about BCN that will shock you.
---
What is Bitclub Network?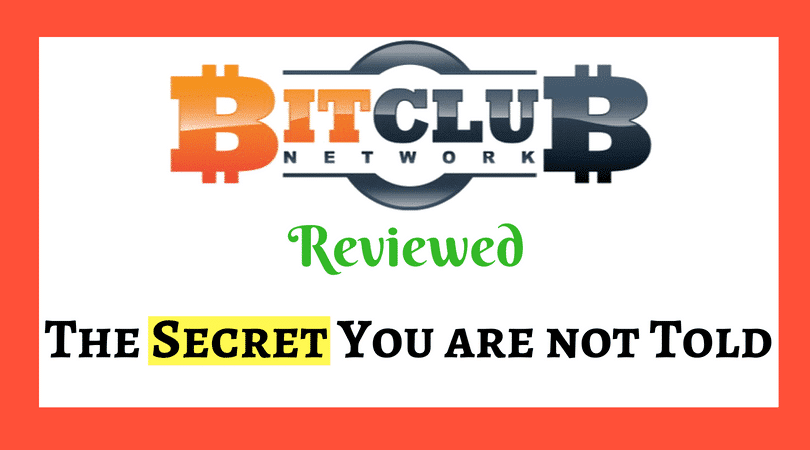 Bitclub Network is one of the Top 10 Bitcoin mining pool in the world. It started its operation in August 2014 and grew to about 500 members within a few days. As at August 2015, its members were about 17,000.
Bitclub network offers investors who will like to mine bitcoin an opportunity by helping them purchase the hardware and carry out the mining operation for them on any selected cryptocurrency of their choice.
Bitclub Network also offers its members incentive/referral Bonus when they recruit more members to the network. For this, a lot of people have criticised Bitclub Network as being a Ponzi scheme.
So, is it a Ponzi Scheme?
To better understand BCN you have to know what a mining pool is.
What is a Mining Pool?
Bitcoin mining has become so difficult that individual miners might not break even let alone make a profit from mining.
Hence, they join a mining pool. i.e they come together to contribute their mining power to collectively mine more efficiently and share the profit generated according to the mining power contributed by each individual.
---
Who are the Founders of Bitclub Network?
As stated on the Bitcoin club network website, BCN is run by a group of programmers, bitcoin mining experts and investors.
No name was specified. The domain name of the bitclub network is also registered anonymously. So the founders of the network still remain unknown. However, top members of BCN claim that it was founded by Russ Medlin who is the supposed CEO.
---
What is Required to Become a Member?
Registration on Bitclub network is by referral only.
In other words, you can only join this network using someone's referral link.
Once you have signed up by providing your name, email address, username and password, you will be required to upgrade with a one time fee of $99.
This is what makes you a member. It is only after this that you can then buy a mining plan or use your affiliate link to start earning.
---
How to Make Money on Bitclub Network (Compensation Plans)
There 4 ways to earn money on the Bitclub network
Bitcoin Mining Pool
GPU mining pool
Referral Program
ClubCoin
Bitcoin mining pool.
The bitcoin mining pool pays for a total of 1,000 days. However, you have to wait for 30days from the day of purchase for your mining hardware to be set up before you could start earning. Also, you can decide to repurchase any of the pools by setting a percentage of your daily earning for shared repurchase.
There are 3 Plans available for purchase in the bitcoin mining pool.
Bitcoin Mining Pool 1: This pool cost $500 in Bitcoins to Purchase. You will be Paid %50 of bitcoins generated by your hardware in this pool while the remaining 50% takes care of expenses and purchase of additional shared hardware
Bitcoin mining Pool 2: This cost $1,000 in bitcoin to purchase. It pays 60% of what is mined while 40% is used for expenses and purchase of additional Share.
Bitcoin mining Pool 3. This cost $2,000 per share in Bitcoins. It pays 70% of whatever the generated income is (bitcoin) while the other 30% services expenses and purchase of additional shared hardware.
In Summary:-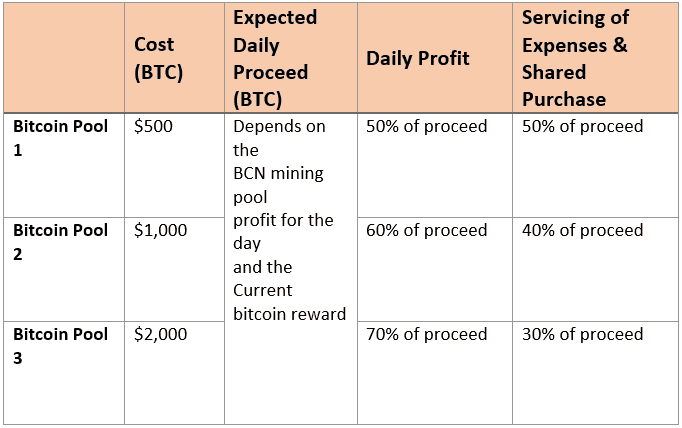 BCN now allows users to choose to take 100% or set their own repurchasing percentage.
---

GPU Mining
GPU mining is the mining of other cryptocurrencies other than bitcoins like Ethereum, Litecoin, Dash coins etc.
There are two Pools to Purchase from in the GPU mining pool. There is that of $1,000 and that of $5,000 worth of Bitcoins.
The GPU shares pay daily for 2,000 days however you will have to wait 30 days from buy date for your order to be executed.
There is no option of partial repurchase in this pool. However, just like the bitcoin mining pools, you can purchase as many shares as you want.
---
Bitclub Network Referral Program.
The referral program is quite sophisticated. However, it is the most profitable package. This is one of the reasons critics regard Bitclub Network as an MLM Ponzi Scheme. There are 3 income streams on the referral program.
Bitclub Network Binary The binary commission gives you an opportunity to earn $200 each time you accumulate a total of 30 credits (15 to the left and 15 to the right). This is known as completing a cycle. Your credit depends on the purchasing power of your recruits. For example, you can get 30 credits if you recruit any of the following
a) 10 person who purchase mining pool 1 or
b) 5 persons who purchase mining pool 2
c) 3 persons who purchase mining pool 3
d) 2 persons who purchase the Founder Pool
$50 Matching Bonus
You earn $50 each time your first generation and second generation completes a cycle as seen in the diagram below.

Bitclub Network Level-Up Infinity Bonus
The level-up Infinity Bonus is broken down into 4 levels (Team 1 – 4). I will not bore you with the details. The Bottom line is that the minimum potential passive income-earning of Team 4 is over $2,000 daily. However, before you get to this level you must have recruited hundreds of people either directly or by your team.
---
ClubCoin:
ClubCoin is a cryptocurrency launched by the Bitclub Network. Members get rewarded with 50 club coins when they purchase the founder pool. The founder pool is when you join by purchasing the 3 bitcoin mining pool ($3,500) or the $5,000 GPU pool.
ClubCoin is currently ranked at 983 in the coin market cap. It is available for trade on Bittrex, LiteBit.eu and Yobit. Trading at $0.59/ClubCoin. Its combined trade volume on these platforms is currently below $100,000 although it has exceeded $300,000 in the past. These ClubCoin Statistics is quite poor considering it was launched in July 2014.
Note: When you upgrade using the founder pool, you are also given 1,000 coinpay tokens.
---
Is Bitclub Network a Scam?
The Bitclub has been around and running since 2014 so we cannot say it's a scam because of the following reasons.
The bitclub network bitcoin mining pool is in the top 10 mining pool in the world and it holds about 4.6% of the total world bitcoin mining operations. The bitcoin mining pool statistics are publicly available, you can view it at blockchain.info/pool. And that of Ethereum at Etherscan.
You can request for the Hardware you purchased and have them delivered to you.
You can request to visit the mining farm in Iceland, however, this is only available to pro builders or higher.
They have been in operations since 2014.
They Pay daily…
---
Is There a Guarantee that I will Make Money from BCN?
No, and this is clearly stated in the FAQ of the Bitclub network website. The hard truth is that bitcoin mining is no longer profitable unless you solely own the mining farm.
If you have knowledge of bitcoin mining, you will know that the total number of bitcoin that can be mined each day is 1,800btc (this will also halve in less than 4 years making it 900btc). Bitclub network owns about 4.6% of the world mining pool, so they get rewarded about 82.8btc daily.
Bitclub network as at today have over 40,000 active members. So if 82.8 bitcoin is shared equally amongst them, each person will receive 0.002btc per day. This gives is 2btc in 1,000 days (lifespan of the contract). Multiplying with the current price of bitcoin ($6,000) = $12,000.
In reality, the above reward is much smaller, about 50% or less small. Considering the company have to subtract their expenses in running the farm in terms of electricity, hardware and software maintenance and labour. The number of members is increasing by the day; the member will likely enable repurchase from the eventual reward. Also, members are rewarded according to the pool you purchased. Eventually, the reward might be less than $6,000 after 1000 days. This is the reasons BCN never guarantee you profit from purchasing a pool plan.
Pause for an ad! Learn How To Trade
If you want to learn how to trade cryptocurrencies profitably, sign up for free on Afibie.
You can join our Telegram channel, where we hold live sessions and give trade signals.
Continue below!
To further analyse the above. Let us say you purchased a mining pool of $1,000 and get rewarded $6,000 in bitcoin after 1,000 days (2year 7months). Now compare it with this, Bitcoin has 6X this year 2017. It was at around $1,000/btc in January and its currently at around $6k/BTC. If I bought $1,000 worth of bitcoins in January it will be worth $6,000 now. This is just in less than 365 days. Supposing bitcoin does 12X in 1,000 days my $1k will be worth $12,000. This goes to prove that I will make more money holding my bitcoins than investing it in mining. You can click here to read another practical example that shows that cloud mining is not profitable.
Also, I cannot ascertain the profitability of GPU mining. These cryptocurrencies might give a better reward but know also that their value is much smaller as compared to bitcoin. so they might reward better if the currency does well in future.
---
Is Bitclub Network an MLM/Ponzi Scheme?
From the above analyses. It is clear that the only way a member can be assured of making a profit in BCN is through the Referral program.
This is how Pro network marketers who are able to recruit thousands of people are making a million-plus USD on the Bitclub Network monthly.
This goes a long way to prove that BCN is an MLM scheme. It being a Ponzi scheme is still debatable.
This is because it can be argued that is has a product which Ponzi schemes don't have but on the other hand, it's products have not been proven to be profitable.
You should also know that BCN is not approved in the USA as the Bitclub Network has disallowed access from the USA IP in order to conform with the US regulation. So residents of the USA cannot participate in BCN. Ponzi Scheme is illegal in the US thus suggesting that BCN is a Ponzi scheme.
---
How Transparent is BCN?
Bitclub Network is partially transparent as they refuse to disclose those that are behind the network. There was also a time they fake their testimonial but they took it down once people spotted it. Take a look at the images below.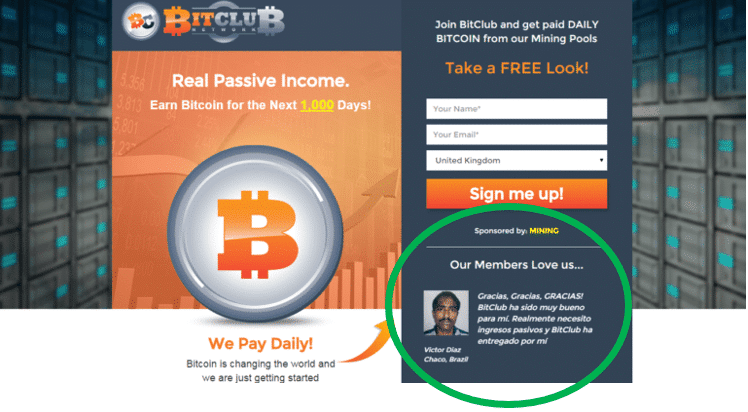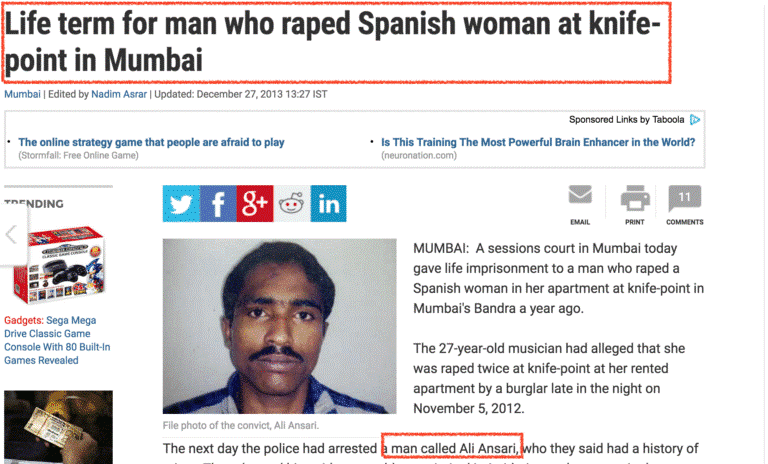 From the pictures above you can see how the picture of a rapist who is serving a lifetime in prison was used in their testimonial. This picture was quickly taken down when it was spotted and went viral on bitcoin forums.
---
What is my Conclusion on the Bitclub Network?
From the analysis above, you must have known what my conclusion is.
I registered but I never upgraded (a one-time membership fee of $99 is required). Reason being that bitcoin Cloud mining has been proven not to be profitable.
The only way to truly make money in BCN is through the referral program. I consider this robbing Peter to Paul and I have chosen not to toll that path.
Lastly, I believe that when recruitment into this network eventually stalls, then BCN will be months away from crashing. This might take some years but it will eventually happen. Also, when bitcoin halves, the little reward from the mining will also halve.
If you would like to learn Cryptocurrency trading, I suggest you read: How to Trade Cryptocurrency and Win Every Trade
All the best!
---