Binomo is one of the most talked-about options trading company. Today I am going to do a full review of it.
I have traded with this platform as well as several others since 2017. Thus, I am well aware of its Pros and Cons.
By the end of this review, you will, without doubt, know if Binomo is the right Options Broker for you or not.
Let's dive right in.
---
Before you proceed. I think it's best you know that we have found Pocket Option as the best options trading company. Create a demo account to check it out.
Post Overview
To walk you smoothly through this review, numbered below are the key areas I will be covering.
You can click on any of the subheadings above to jump to that section otherwise, scroll down to read as ordered above.
---
1. About the Company (The Summary)
Binomo is a binary options broker that was launched in August 2015 but was registered in 2018.
It is a product of Dolphin Corp; a company incorporated under the laws of Saint Vincent and Grenadines with registration number 25151 IBC 2018. However, Binomo is present in over 133 countries.
It received an FE Award in 2015 and IAIR Award in 2016. The company is regulated by The Financial Commission and has its account audited by Verify My Trade (VMT).
As at August 2019, BInomo recorded an average of 40,000 daily traders and over 35 million daily trades.
---
2. Binomo Products and Services
As stated above, Binomo is an
Options Broker: it provides high quality technical and financial service for binary options trading. It also host's;
Regular Tournaments: where traders of both the free and real account and win prices for being the top trader in the contest. Contest Price can be up to $190,000.
---
3. Features
Pro Standard Tools and Indicators
6 groups of trading assets (FX, Metal, Stocks, Commodity, Crypto)
Up to 90% achievable profit per trade
Replenishable demo account
Bonus and tournaments
Fast friendly support
Multiple payment methods
User-friendly interface
No hidden fees
Quick order execution
$10 minimum deposit …
---
4. Types of Account on Binomo
Binomo offers 4 account types.
The higher the entry barrier (minimum deposit), the more feature the account type has. They are;
Demo account: is a risk-free account anyone can use to practice or test the Binomo platform. It comes with all the tools available in a real account and a replenishable $1,000 for you to practice with.
Standard account:
minimum deposit…………….…… $10.
maximum profit per trade ………85%
withdrawal ……………………………..3 days
Gold account:
minimum deposit…………….…… $500.
maximum profit per trade ………86%
withdrawal ………………………………24 hours
VIP account:
minimum deposit…………….…… $1,000.
maximum profit per trade ………90%
withdrawal ……………………………..4 hours
The table below is a summary of the features of each account type.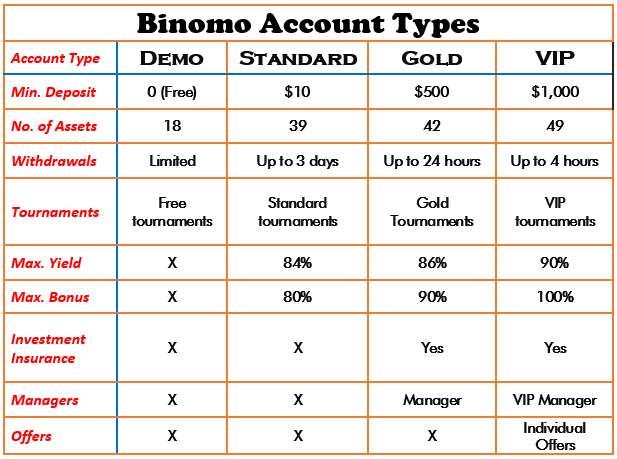 ---
5. Deposits and Withdrawal (Min/Max)
The Payment methods on Binomo include;
Card payments (Visa, MasterCard and Verve)
Vaguepay
E-currencies – Perfect money, Webmoney and Neteller
Cryptocurrencies – Bitcoin and Litecoin.
Minimum deposit depends on the type of account and it ranges from $10 to $1,000.
Notes on Payment methods on Binomo:
The method you use to make a deposit is the same method you will use to withdraw to the amount you deposited. After that, you can withdraw using any of the other payment methods
Some persons have complained about having issues when withdrawing via Card payments. Thus, it's best you make your deposit and withdrawals using the e-currencies (PM, Webmoney, Neteller) or Cryptocurrencies (Bitcoin and Litecoin).
---
6. Ease of Use
The Binomo trading platform is very user-friendly. You should master the platform after spending a few minutes on it.
Its comes in the web version and apps for android and iOS.
---
7. Customer Support
Binomo Customer support is commendable. It is fast and friendly. There are 3 major ways to contact support.
Live Chat: available 24/7 on the website. I was attended to with 2 mins of contacting the support. My questions were answered straight to the point.
Email:

[email protected]

Social media: Twitter, Youtube and Facebook
---
8. Is Binomo Scam or legit?
This is a very important question. This is one of the first things I look out for before using an options broker.
I will attend to this question in 3 parts.
Regulation
My Own experience
Publics opinion.
Binomo Regulation
Binomo is regulated by The Financial Commission. If you have an unresolved issue with Binomo, you can file a complaint against the company on The Financial Commission website to get justice. You will be awarded up to €20,000 if you win the case.
Secondly, Binomo has been verified and certified by Verify My Trade (VMT). You can view the certificate here.
Public Opinion.
The broker has a trust score of 2.5/5 on Trustpilot. This is quite poor but not surprising since most options trading companies have a poor score on Trustpilot.
Most of the complaints are on pending withdrawal requests. The Binomo customer support is also on TrustPilot to attend to queries but there is no feedback to know if the queries were eventually solved.
My Personal Experience.
Contrary to the complaints on Trustpilot, I have not experienced withdrawal issues. One of the reasons I believe might be because I do not use card payment for deposits and withdraws but with digital currencies as I explain in the payment method section above.
I noticed that those that deposit with a card are the ones who usually have the withdrawal issue.
That said, you should also make your own research.
Note: that options trading carries high risk. 90% of traders lose their capital. You can make a huge profit as well as lose all your trading capital. Therefore, do not trade with money you cannot afford to lose.
Also, be sure to practice using a demo account first to know if its right for you before trying a real account.
---
9. Conclusion
This brings us to end of Binomo review. I hope you enjoyed reading it….
…. It's your turn to give me feedback…
Do you have an account with Binomo? If not, are you going to sign up?
Do you think the platform it legit? Or
……maybe you have a question.
Either way, let me know in the comment section right away.
Cheers.
---
Risk Warning
Trading Binary Options carries a high level of risk since it can work both to your advantage and disadvantage. As a result, Binary Options may not be suitable for all investors because it is possible to lose all of your invested capital. You should never invest money that you cannot afford to lose. Before trading, please ensure to understand the risks involved
---
You may also like to read;
---