Cheatmoon is a mobile mining app that allows users to mine CTM tokens with their smartphones. It works like the popular Pi network.
Also, the project proposes to solve major problems faced by current blockchains like slow and limited transactions.
However, the mined coin is yet to launch or get listed on any crypto exchange.
Hence the reason why it is surprising how thousands of people have jumped on the project that they are not making any profit from.
I mean the app has a 4.5/5 star rating on both Google Play and App Store, with over 100k downloads.
But is Cheatmoon what it claims to be or a total waste of time?
Keep reading to know what I think.
---
Key Takeaways
Cheatmoon claims to be a new-generation blockchain platform that rivals centralized authorities with its Che-IT consensus algorithm.
Interested users can download the mobile app to mine new coins or download the desktop mining node to validate transactions.
When users watch ads on the mobile app, they receive more CTM coins as free gifts.
Cheatmoon may have attracted many users but it is a mere copy of the Pi network giving crypto folks false hope.
---
Quick Access
---
1. What Is Cheatmoon?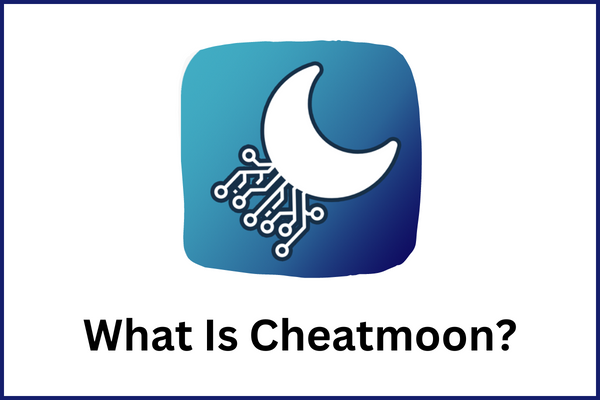 Cheatmoon is a crypto project that lets users mine its native coin, CTM with their mobile phones.
According to the information on its whitepaper, Cheatmoon was created to solve prevailing blockchain problems like poor user experience, little crypto incentives, and low security.
Also, it intends to improve crypto adoption since users only need their mobile phones to participate in mining.
Additionally, they can start the mining process every 24 hours.
Thus, removing the need for any specialized hardware or high-consumption devices.
In other words, mining is free for everyone, worldwide.
Furthermore, when users watch ads on the mobile app, they receive incentives like more coins.
Additionally, the revenue generated from the ads is used to finance development costs.
Sounds a lot like what the Pi network offered. Doesn't it?
Overall, Cheatmoon tries to democratize the earning of cryptocurrency, address the issues of security, and fairness in the distribution of coins.
That said, let's look at how Cheatmoon works.
---
2. How Cheatmoon Works
This is how business is done in the Cheatmoon platform:
a. Interested users download the Cheatmoon app from the App Store or Google Play Store.
b. Next, they sign up with their emails.
c. Then they verify their email addresses and log into the app
d. They start mining CTM coins by tapping the mining icon (rocket image) every 24hrs.
From the image above, you can see that this user is earning 11 CTM tokens per hour i.e. the mining rate.
This mining rate varies for different users even though the milestone image on the mobile app reveals that the total number of users controls it per time.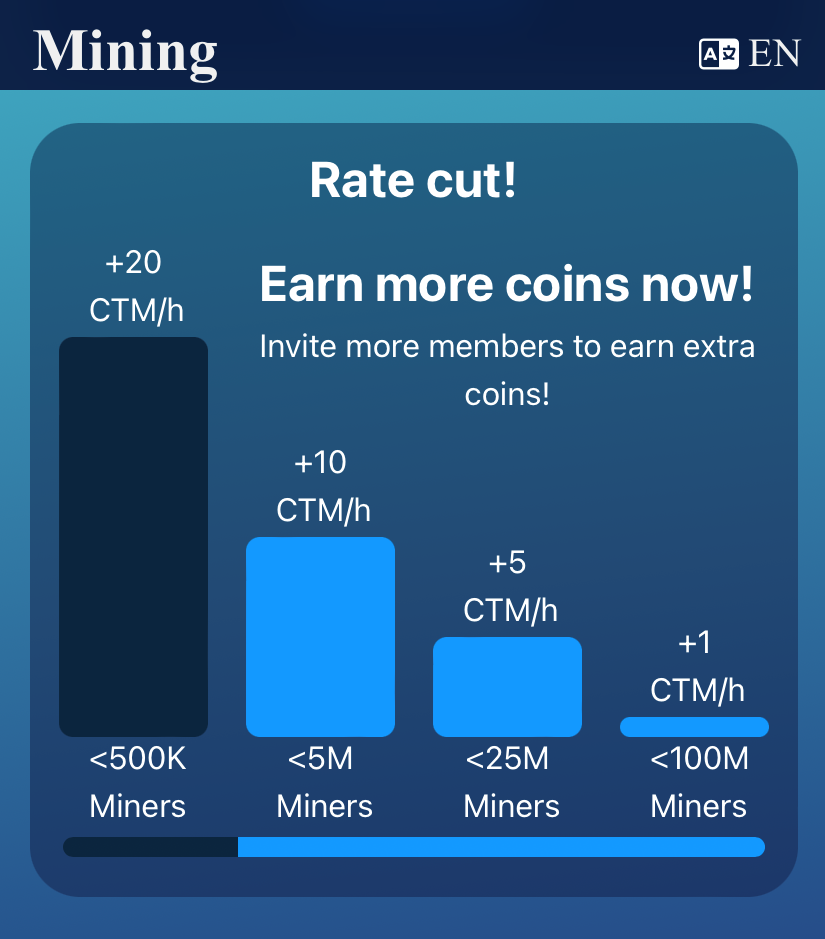 It varies because different activities may increase it for a particular user. Activities like referring people to the platform.
Furthermore, users can choose to download the desktop node from the Cheatmoon website to validate transactions.
However, they will need a password and id from the mobile app to run the desktop node.
Talking about validating transactions, Cheatmoon uses its own Che-IT consensus mechanism.
More details are in the next section.
---
3. Cheatmoon Consensus Algorithm
This consensus mechanism uses a replication algorithm and extremely small power.
The idea is to give the Cheatmmon network potential for unlimited expansion.
So, when the app receives an arbitrary number of transactions to process, each one takes several milliseconds to validate.
Nodes (user devices) are grouped geographically as users come 'online'.
A group can have between several hundred to several thousands of users and the groups are called cloud nodes.
Several cloud nodes from the time the network was launched synchronize the network data between them, to provide fast and efficient coverage.
As the network traffic becomes heavier with growing popularity, new nodes will be added to the list to further divide the traffic and ensure a steady level of efficiency.
That way, Cheatmoon processes approximately 1 million transactions per second, with near-instant processing time and almost zero transaction fees.
And transactions are processed only when users are online.
Therefore, every action of any user in the app endorses network security, efficiency, and strength.
*Too much? I thought so too.

My take is, there is no consensus mechanism anywhere. Otherwise, the team would have explained well in the whitepaper. Rather than put up different sentences full of blockchain jargons that don't add up.

Besides, you can't boast of zero transaction fees for a coin that is not in use. Or, am I missing something here?
Anyways, here are the solutions Che-IT is supposed to offer:
High transaction processing speed.
Capability of processing a high volume of transactions per second
The transaction fee is low enough to handle low-value transactions
No token direct ownership or team repartition of coins
Fair distribution and issuing of Cheatmoon tokens
Decentralization in governance
Eliminate energy waste
Interesting, huh?
Next, we'll look at the ranking of Cheatmoon users.
---
4. Ranking of Cheatmoon users
The available ranks in ascending order are:
Cadet I to V
Supporter I to V
Enthusiast I to V
Whale I to V
Board Member
Users climb up the rank as they contribute to the goals and mission of the network.
Also, higher-ranked members gain first access when new functions are available to the network.
And attaining the "Board Member" rank makes a user part of the internal communication channel, where he can see updates firsthand and give his suggestions to improve the community.
Furthermore, Cheatmoon users help secure the network with their Trust circles.
Trust circles are security circles where each user can add 10 persons they trust to execute valid transactions. 
Nevertheless, the major reward for participating in this network is the native token.
Let's talk more about it in the next section.
---
5. Cheatmoon's Token (CTM) Emission Policy
CTM tokens are distributed to miners based on their participation and general engagement on the platform.
Each user starts at a base rate and can mint a fixed amount until there are 50 million participants.
Users help increase the platform's security when they invite their friends to join.
Then they are rewarded with an increase in their mining rate.
Moreover, no additional tokens are issued for the core team or supporting partners. 
*Notice that the base rate, fixed amount, total token supply, and the number of tokens required to climb ranks were not specified. With so much hidden information, how can this platform be a real deal?
Moving on, let's see why Cheatmoon is a scam and a total waste of time.
Tag along!
---
6. Is Cheatmoon Scam or Legit?
I believe Cheatmoon is a scam because
a. No founders
I didn't find any information on the founders of this project.
The only info in the whitepaper is that members of the founding team are formally trained within a wide variety of areas such as IT engineering, computer science, networking, applied mathematics, corporate accounting & finance, design, and sociology.
Abeg, who are they trying to impress?
b. Doubt of users
While trying to download the Cheatmoon app, I found reviews of users that prove they do not believe in the platform.
Like they are not sure whether they'll ever withdraw their CTM tokens.
Have a look:

And then this comment I found on Trustpilot says it all:
c. False Decentralization
Cheatmoon claims to have a system that rivals centralization yet it secures data via centralized means.
Users register with their email addresses, then get verified with their country info and phone number.
Also, this sentence on the whitepaper gives the platform away:
Not only that but there are also vague promises of being regulated;
It is either Cheatmoon is trying to confuse its users with grammar or, it does not understand the difference between decentralization and centralization.
d. Partnership with shitcoins
Another way Cheatmoon tries to boost users' confidence is through partnerships with other projects.
Sadly, the partnerships are with shitcoins. So, who does that help?
Take a look:
e. Typos on the site
In case it matters to you, I found typos on the Cheatmoon website.
A legit project should be diligent enough to proofread the write-up on its website.
Don't you think?
f. No dates on the roadmap
Who else finds a roadmap without dates fishy?
The Cheatmoon roadmap reveals about 5 phases of the project without any dates.
For example, the CTM coin ought to be launched in phase 4 but we don't know when that is.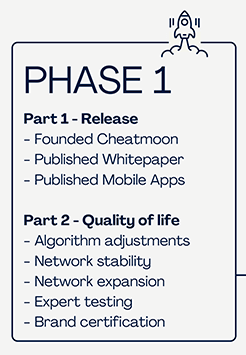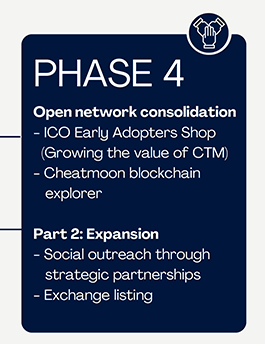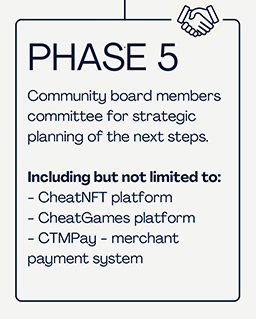 Without any date, how can we hold the anonymous team accountable?
This user on Trustpilot also agrees with me:
g. Ridiculous following online
Cheatmoon has a good following on social media but I call it ridiculous because it has made only 8 tweets in a whole year, and yet it has 144k followers. Or, what do you think?
Also, on Telegram, Facebook, and Instagram, their followers are within the same range with few posts.
Then on YouTube, it has only one uploaded video in the past 11 months, yet it has 108 subscribers.
Hmm..beats me.
h. Public opinion
When I checked for Cheatmoon on Trustpilot, it had a 3.5 rating with a mix of good and bad reviews. I already posted some of them earlier.
Then on SCAMADVISER, it has a meagrely 2% trust score with the following negative highlights:
Need I say more?
Cheatmoon may not be taking money from you but if you subscribe to this platform then you've been employed without pay because:
Daily, you'll log into the app to tap on the mining icon
You will watch ads to boost your rewards
Also, you will refer friends to be in your trust circle and boost your mining rate.
That's a lot of work if you ask me. And for what? To receive CTM tokens that don't have and may never have a monetary value.
It's just like the Pi network and most mining apps out there.
They make you feel like an early adopter of "bitcoin" that can simply mine the coin on your phone, and get rewards that will compile for years, and then you'll become rich when the value of the coin rises. LOL
Just because it is present on all the social media platforms with a large following does not make Cheatmoon legit.
Plus, the organizers try to post content monthly to keep users abreast of updates but the truth is that they just want users to keep mining, watching ads, and generating funds for them.
Besides, who are they trying to convince that there is a Cheatmoon blockchain or the so-called Che-IT consensus mechanism that the whitepaper couldn't do justice to?
If they really exist, why is it the "number of users" that is controlling the mining rate?
*You can read this post to know what real consensus mechanisms look like.
Please don't be deceived. Except you have a lot of time and an internet data subscription to throw away, don't bother with Cheatmoon. It's a scam.
---
7. Conclusion
We've come to the end of this Cheatmoon review, I hope it was worth your time.
The platform is a simple copycat of the Pi network; the same mode of operation and rewards, and similar milestones based on user participation.
At least we know the founders of Pi but even at that, the miners of Pi are yet to convert their coins to cash.
Let alone a project like Cheatmoon without any info on its founders.
And based on the information on Whois.com, Cheatmoon will expire in 2023. Therefore, the scammers may run with the revenue they've generated from ads by next year.
Feel free to share your thoughts and ask any questions you may have in the comments section.
Also, let me know if there's any other application, you'd like me to review.
Please share this article with your friends and help them save data.
Thank you!
[Suggested Read: Pi Network Update! Mainnet Is Here | How To Cash Out Your Pi Tokens!]