In this post, you will learn all about CEX.IO – the multifunctional exchange.
CEX.IO launched in 2013 as a cloud mining provider.
But it has now become a multi-functional cryptocurrency exchange, trusted by over 3 million users.
The platform allows its users to trade the most popular crypto-to-crypto and fiat-to-crypto pairs.
After reading through today's review, you will have come to understand the tenets on which CEX.IO operations rest plus I included a demo video on how to trade on CEX.IO.
I promise to make it as concise as possible by stating only the main facts needed; with no verbosity.
Come along as I take you on this jolly- learning ride.
---
CEX.IO Review Summary
For a smooth jolly-learning ride, I have drawn out the road map that I will follow to divulge all the needed facts.
They include:
A click on any of the road maps takes you straight away to the facts about it.
Let's hit the road tout de suite.
---
Overview of CEX.IO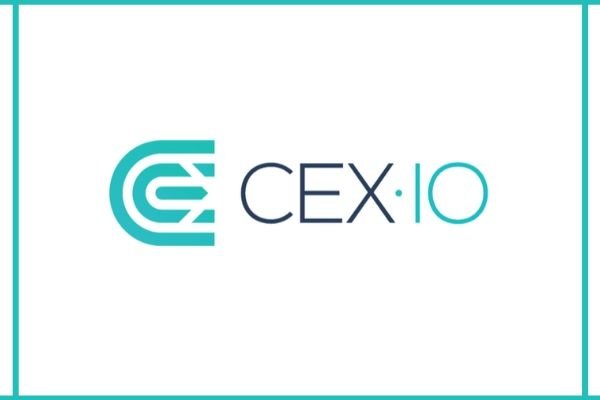 CEX.IO was founded by Oleksandr Lutskevych, Dmytro Kalynovskyi, Victoria Polyakova, and Peter Ivanov in London.
It was first established as a cloud mining provider in Jan. 2013 but suspended its mining services in 2015(January).
The platform used to be a strictly Bitcoin exchange but now offers support for multiple currencies.
It is officially registered with the Financial Crimes Enforcement Network(FinCEN) in the USA and the International Commissioner's Office(ICO) in the UK.
CEX.IO serves more than 3 million users and applies standard Know Your Customer(KYC) and Anti Money Laundering(AML) policies.
It is jointly managed by CEX.IO LTD and CEX.IO Corp.
CEX.IO Corp. operates in the United States only in jurisdictions where it is licensed. While CEX.IO LTD serves residents throughout countries all over the world in which it operates.
It is a broker and trading platform type of exchange.
Having given you the background info on CEX.IO, I will now look at the features of the platform.
---
CEX.IO Features
The features include:
Easy-to-use interface
24/7 support
Multiple payment options
Range of API solution
Reliable order execution
Tight spread
Enhanced security
Multi-crypto support
Instant sell
High market liquidity
Affiliate Program
CEX Explore(Internal program for active traders)
Bitcoin price widget
Trading platform
Bitcoin price calculator
Mobile app
In the next section, you will see, listed and explained, the services that CEX.IO offers.
---
CEX.IO's Services
They include:
Instant Buy
CEX.IO Broker
CEX.IO Exchange
Staking
1. Instant Buy
This service, provided by CEX.IO, simplifies buying and selling on the exchange.
It utilizes Fill-or-Kill (FOK) orders, which ensure immediate execution of the entire order or no execution at all.
That is, with FOK orders, CEX.IO guarantees that its users will receive not less than the agreed amount of cryptocurrency for the agreed price.
How does it work?
CEX.IO calculates the price and freezes it for 120 seconds
The service exchange rate is adjusted to mitigate the risks connected with price fluctuations.
If the situation on the market allows the execution of your order on conditions better/not worse than you agreed on, the order will be filled.
If there is a sudden spike in the exchange rate that prevents the execution of the order on the agreed conditions, you will be notified when you submit the order.
Upon confirming your trade, your order is paired with matching orders on the exchange. Sometimes, the amount can be even greater than agreed on, but it's never smaller.
CEX.IO charges a 7% fee on the fiat currency amount for the service.
2. CEX.IO Broker
This is a platform for digital assets margin trading based on Contracts for Difference (CFDs).
CEX.IO Broker allows users to trade on the price movements of digital assets without actually owning those assets.
Users do this via Contracts for Difference(CFDs).
*The concept of CFD was clearly explained in this review of IQ Option.
Though CEX.IO Broker has been around for a while, its availability in an invite-only format did not really allow for a proper introduction to the world.
It was officially introduced in January 2020 as CEX.IO Broker moves from a closed private beta to an open public beta.
You can carry out Margin trading and Spot trading.
The platform also allows users up to 10x leverage and free demo accounts.
3. CEX.IO Exchange
CEX.IO Exchange is where you can trade crypto against fiat e.g BTC/USD, BTC/EUR, etc and crypto against crypto e.g BTC/ETH, BTC/LTC, etc.
Though the nature of trading CFDs is principally different from trading on the CEX.IO Exchange, the 2 platforms are still connected.
In addition to having some of the same talents powering both platforms, CEX.IO Exchange and CEX.IO Broker share the same login and the same custodial wallet.
This means that there is no need to create a separate account for CEX.IO Broker. You can switch between the interfaces without logging out.
That also means moving funds between the two platforms is instant and free… just like transferring money from your left pocket to the right one!
4. Staking
Staking allows you to receive rewards by just keeping coins and tokens in your account.
By staking your coins, you let them work for you and increase your earnings while they're sitting in your account.
To start participating in staking, you just need to buy supported staking crypto on CEX.IO or deposit it to your CEX.IO account.
CEX.IO calculates staking rewards hourly and automatically distributes them to your account once a month.
Find the coins available for staking below.
That's it on the services provided by CEX.IO.
Let's talk about the supported countries in the next section.
---
Supported Countries on CEX.IO
CEX.IO supports all countries but places certain restrictions on some countries. For example:
Countries not supported for Credit Card purchases
Afghanistan
Bosnia and Herzegovina
Bangladesh,
Bolivia
Burundi
The Democratic Republic of the Congo
The Central African Republic and 22 others
Countries not supported for Bank Transfers
Afghanistan
Ethiopia
Burundi
the Democratic Republic of the Congo
the Central African Republic
Côte d'Ivoire
Cuba
Nigeria and 26 others
Unsupported US States
Alabama
Alaska
Arizona
Arkansas
Colorado
Florida
Georgia
Guam and 20 others
Countries where SWIFT payments are not available
Afghanistan
Bosnia and Herzegovina
Burundi,
the Democratic Republic of the Congo,
the Central African Republic
Côte d'Ivoire
Nigeria, and 26 others
CEX.IO Broker is currently operating in 27 countries listed here.
Moving on now to the supported currencies and payment methods.
Keep reading.
---
CEX.IO's Supported Currencies and Payment Methods
Fiat Currencies
You can buy all cryptos with USD but not all can be bought with EUR, GBP, and RUB.
Stablecoin
Available Cryptocurrencies on CEX.IO Broker
Cryptocurrencies available for Trade
Bitcoin
Bitcoin Cash
Ethereum
Litecoin
Neo(NEO)
Gas(GAS)
Cardano(ADA)
Cosmos(ATOM)
Tezos(XTZ)
USD Coin(USDC)
Basic Attention Token(BAT)
Tezos(XTZ)
Matic(MATIC)
Cryptocurrencies available for Deposit
Bitcoin (BTC)
Ethereum (ETH)
Bitcoin Cash (BCH)
Ripple (XRP)
Dash (DASH)
Stellar (XLM)
Zcash (ZEC)
Gemini Dollar (GUSD)
OmiseGo (OMG)
USD Coin(USDC)
MetaHash (MHC)
Basic Attention Token(BAT)
Cosmos(ATOM)
Tezos(XTZ)
Cardano(ADA)
Matic(MATIC)
Supported Payment Methods
Visa/Master Cards
Bank transfers ( SWIFT, SEPA for UK residents and ACH for US residents)
There are fees incurable when using CEX.IO platforms.
Just scroll down…I discussed them below.
NOTE: CEX.IO formerly supported BTG but delisted the coin on 4th September 2020. The trading of BTG on the platform will last till 5th October 2020. However, you can keep BTG on your CEX.​IO account for free through November 2, 2020. Starting November 3, 2020, a storage fee of 0.1 BTG per day will apply.
---
Fees Schedule on CEX.IO
The transaction fee is based on your 30-day trade volume for all pairs.
The Maker-Taker Fee Schedule is shown in the table below:
For the Deposit and Withdrawal Fees, see the table shown below: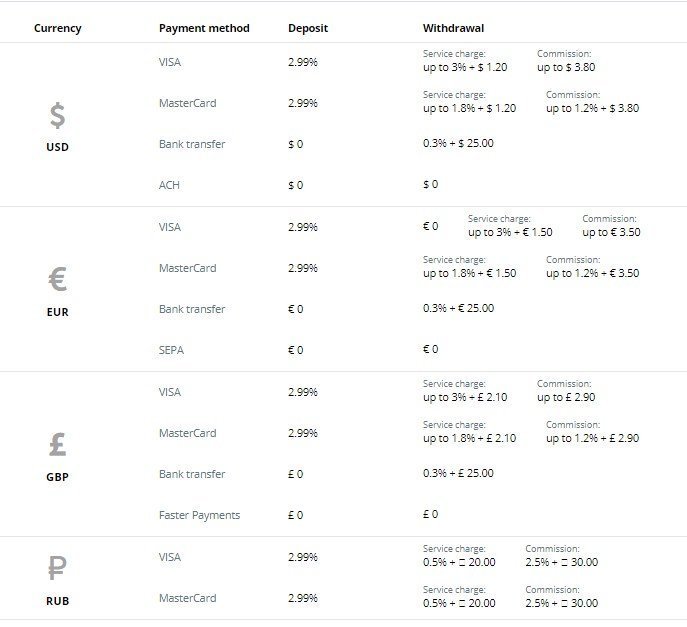 For CEX.IO Broker fees, see below:
When carrying out the Fill or Kill order, CEX.IO takes a 7% fee for the service which is charged from the amount of fiat currency.
For using the VISA/Mastercard, CEX.IO charges a commission of 2.99%.
NB:
Transaction processing does not include fees of correspondent banks, which may be involved in the deposit process.
CEX.IO does not charge any deposit fees. Please make sure to contact your bank to find out the respective fees and conditions.
The processing time for fiat currency deposits:
Domestic bank transfer ~ 1 business day to be credited to your CEX.IO account (weekends and bank holidays excluded).
International bank transfer ~ 1-3 business days to be credited to your CEX.IO account (weekends and bank holidays excluded).
Going over to the type of accounts you can own on CEX.IO and their limits.
Keep on reading.
---
Types of Accounts and their Limits on CEX.IO
There are 4 different types of accounts you can own on the CEX.IO platform.
1. Identity
Identity-verified account holders are able to make payments with just the VISA/Mastercard.
They can buy up to $1000 worth of Bitcoins per day and $3000 worth of Bitcoins each month.
2. Address
Address-verified account holders can make payments using any of the methods.
They can buy Bitcoins worth up to $200,000 per day and $500,000 per month.
3. Enhanced
When you own an Enhanced verified account, you will get priority support and extended limits for your account with high turnover.
You are able to use any of the payment methods and there is no limit to your daily or monthly transactions.
4. Corporate
When you use a corporate account for your enterprise, you get to enjoy custom conditions.
Corporate verified accounts have no limitations on the number of Bitcoins that can be bought.
But what are the requirements for the verification?
Find that out in the next section.
---
Verification Requirements on CEX.IO
Address verification requires you to provide a document showing proof of where you are residing. Then, follow these steps to verify your address.
For an Identity account, you will need to provide:
your country of residence (together with your Social Security Number if you're a US resident)
a photo of your identity document (international passport, government-issued national ID card, or driver's license)
a selfie with this document
personal information (your first and last name, nationality, date, and place of birth)
identity document details (serial number, date of issue, issuing country, and expiry date)
Find guidelines on how to do that here.
You will need the following for an Enhanced verification:
a valid ID document (national ID card, international passport, or driver's license) that is different from the one you used for Identity Verification
proof of funds document (salary statement, bank statement for the last 3–6 months, tax return, a screenshot of trading activity, a screenshot of mining activity, or any other financial document);
a blank piece of paper and a pen
Now, to verify a Corporate account, you will, first of all, own it, right?
So to own a Corporate account, note that individual verification has to be completed.
After the individual verification is completed, you can request a Corporate account.
You are going to receive an automatic email with a relevant application form and further instructions.
Importantly, you do not need to create a new account for corporate purposes if you already have a personal one.
You can request a corporate upgrade via your personal account. A new corporate account will be created for you upon your request.
---
Video Overview of CEX.io | How to buy bitcoins
Visit Site
---
Customer Support and Public Opinions about CEX.IO
CEX.IO has a comprehensive help centre that answers most of the queries you may have.
Its support team can be contacted via email at support@ support.cex.io.
You can also reach out to them through social media channels – Twitter, Facebook, Telegram, and LinkedIn.
There is no Live chat available.
When contacted, the support team responds within an hour of contacting them.
CEX.IO has a great rating on Trust Pilot. Users were commending the prompt response of its team and faster processing of withdrawals.
The few complaints are about its high transaction charges.
I compared CEX.IO with other exchanges below.
Find out how this multifunctional platform fared.
---
CEX.IO vs Other Exchanges
CEX.IO vs Kraken
Kraken is one of the largest and oldest cryptocurrency exchanges. Founded in 2011, it is older than CEX.IO which started offering exchange services in 2015.
Though both exchange fee schedules are volume-based(the more total volume you trade in your account, the lower your fee on subsequent trades), Kraken's fees are cheaper than those of CEX.IO.
The coins supported on Kraken are more than that of CEX.IO but the team at CEX.IO is gradually listing more coins.
CEX.IO vs Binance
Binance is a popular cryptocurrency exchange founded in China. It was launched by developer Changpeng Zhao in July 2017.
Despite being 2 years younger, Binance offers more services than CEX.IO.
In terms of transaction fees and crypto support, Binance takes the lead.
Read more: Binance Reviewed – Is It Still the World's Biggest Trading Platform?
CEX.IO vs Coinbase
Coinbase is the most used OTC cryptocurrency exchange worldwide. It is the major exchange in Europe and the USA.
Coinbase supports the storage, buying, selling and swapping of 17 cryptocurrencies.
Though it has cheaper transaction fees, its commission on credit/debit card use is 3.99% which is higher than the 2.99% charged by CEX.IO.
---
Frequently Asked Questions about CEX.IO
How do I create an account with CEX.IO?
Visit cex.io and click on 'Create Account'
Enter your email and password. Click 'Register'
Confirm your email and phone number
You can now buy/sell cryptos instantly or place an order
How are the fees calculated?
A Trade fee can be;
Maker fee: Changed a trade that set the price
Taker fee: Charged on trades that are executed at the current market price.
The Taker fee is always higher than the Maker fee
The platform does not have a way of knowing if a Trade is a 'Maker' or 'Taker" until it is executed.
Thus it reserves a Taker fee from every placed trade and then returns the balance to the user's account after execution if the trade is Maker.
Trade fees are always rounded up.
Is CEX.IO legit?
CEX.IO(as an exchange)has been in existence since 2015 and is officially registered in the UK.
It is registered with financial bodies like the FinCEN and complies with the KYC/AML policies and procedures.
Since its inception, there has not been any news of the exchange being hacked.
CEX.IO team is working towards the listing of more coins in addition to some extra services.
From all indications, it is a legit platform with the only notable flaw being its high transaction charges.
But always (I mean always) carry out your own findings before indulging in any crypto investment venture.
---
Learn How To Trade
If you want to learn how to trade cryptocurrencies profitably, sign up for free on Afibie.
You can join our Telegram channel, where we hold live sessions and give trade signals.
---
Conclusion
This brings us to the last part of this review.
And if you are reading this part right now, you sure deserve an accolade for reading all the way through!
I am also sure you have learnt a great deal too.
So, let's talk:
What coin will you suggest for listing on CEX.IO?
Do you think that the services offered by CEX.IO are worth the high fees?
Let me know your experience using this exchange.
If you still have something to be cleared on, you can send it alongside your answers in the comment section below.
And for knowledge's sake, share this post. Use the share buttons right underneath.
---
Also read: