Welcome to my Bitinvestworld review.
Bitinvestworld has recently been getting a lot of hype.
It has sponsored posts on a majority of top blogs including Linda Ikeji's blog and people are talking about it everywhere on social media.
Is it a legit? Should I invest my money in their plans?
If you seek answers to the questions above, then I am glad to inform you that you are in the right place.
Before going further, I will like you to know that I am in no way affiliated with Bitinvestworld. All information you will find in this review are products of careful research, intended to guide you towards making the right decision.
Bitinvestworld is nothing more than a Ponzi scheme, created to rob you of your money.
In this Bitinvestworld review, I shall provide 6 verifiable facts to back up my claims.
Have a good read.
---
BitInvestWorld Review: Background Information
Before investing your money in any venture, it is important that you know who will be responsible for the success or failure of your investments.
No wise investor will invest a dime on a faceless organization simply because they promise to double their monies.
Sadly, Bitinvestworld's website says nothing about its administrative team or head office location.
Putting your money here is as good as offering it up to a deity and hoping it yields returns, which is very unwise at a time like this.
The domain "Bitinvestworld.com" was registered on the 21st of January 2018 and is set to expire on the 22nd of January 2019 (1 Year).
Furthermore, the domain's owner took pre-emptive measures to ensure his identity stays hidden by purchasing premium WhoisGuard.
At this point, you should ask questions like "why hide your identity if your platform is legitimate?"
Moreover, like most scam platforms we have dealt with in the past, Bitinvestworld uses a fake IP address located in the United States, whereas ALEXA.COM clearly points to the fact that Bitinvestworld is run from Nigeria.
You might be made to believe in the lie that Bitinvestworld is a global organization. However, Alexa statistics show that Nigeria is the sole traffic source for this site.
Bottom line is, the website was created by a group of Nigerian fraudsters (Yahoo boys) and is focused on stealing from Nigerians and Nigerians alone.
6 Reasons Why You Should Stay Off This Ponzi Scheme
1: Too Many Unanswered Questions
Bitinvestworld claims it can provide a 2% to 20% daily return on investment to its investors.
Question 1: "How will the platform come about these daily profits?"
Bitinvestworld's answer = Through Bitcoin, Ethereum, and other altcoin mining.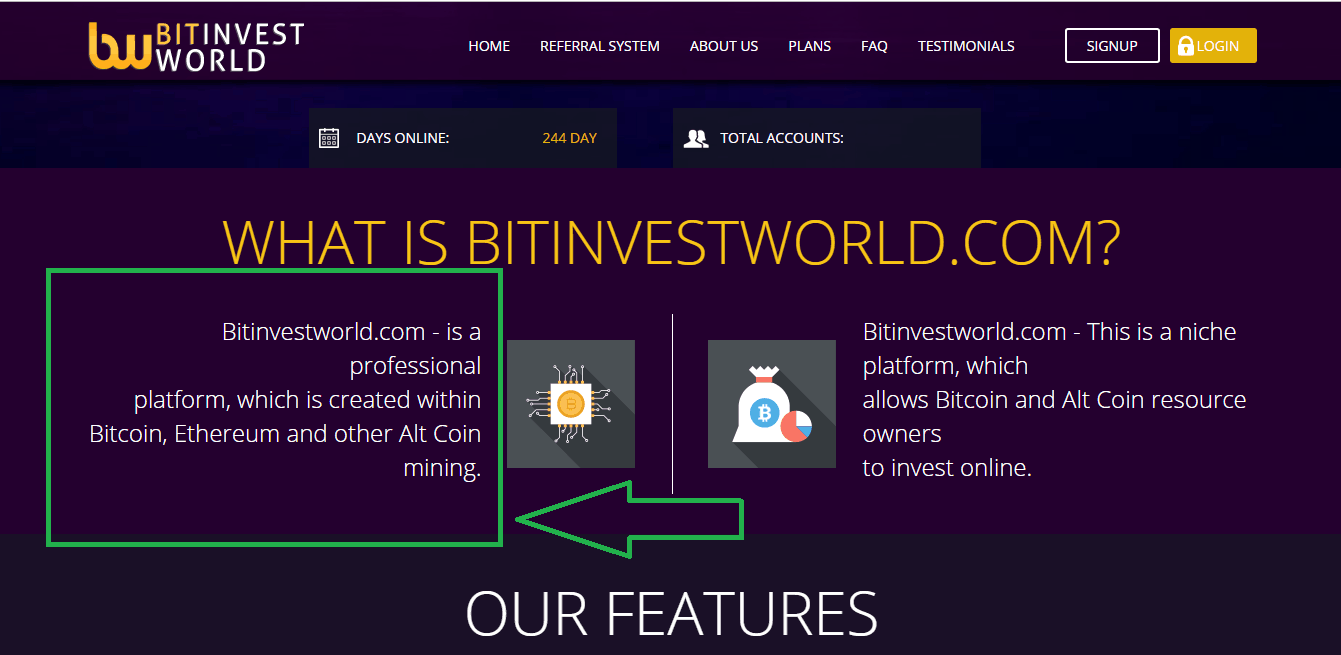 Question 2: "Is there any proof of your mining activities?"
Bitinvestworld's answer = No proof, but we have a professional team.
Question 3: "Who are your team members?"
Bitinvestworld's answer = No Answer
Apparently, Bitinvestworld is not into any crypto-mining activities neither does it have any professional team as it claims. What scams like this do is take funds invested by new investors to pay up old investors while they keep the rest for themselves (Ponzi Scheme).
The reality is, when new investors come in short supply the unknown admins will simply close down the platform and make off with their loots, leaving investors in a sorry state.
Proof That Bitinvestworld is operating a Ponzi Scheme
In their marketing materials, they stressed the importance of investing early. An example can be seen on this sponsored post on Lindaikeji's blog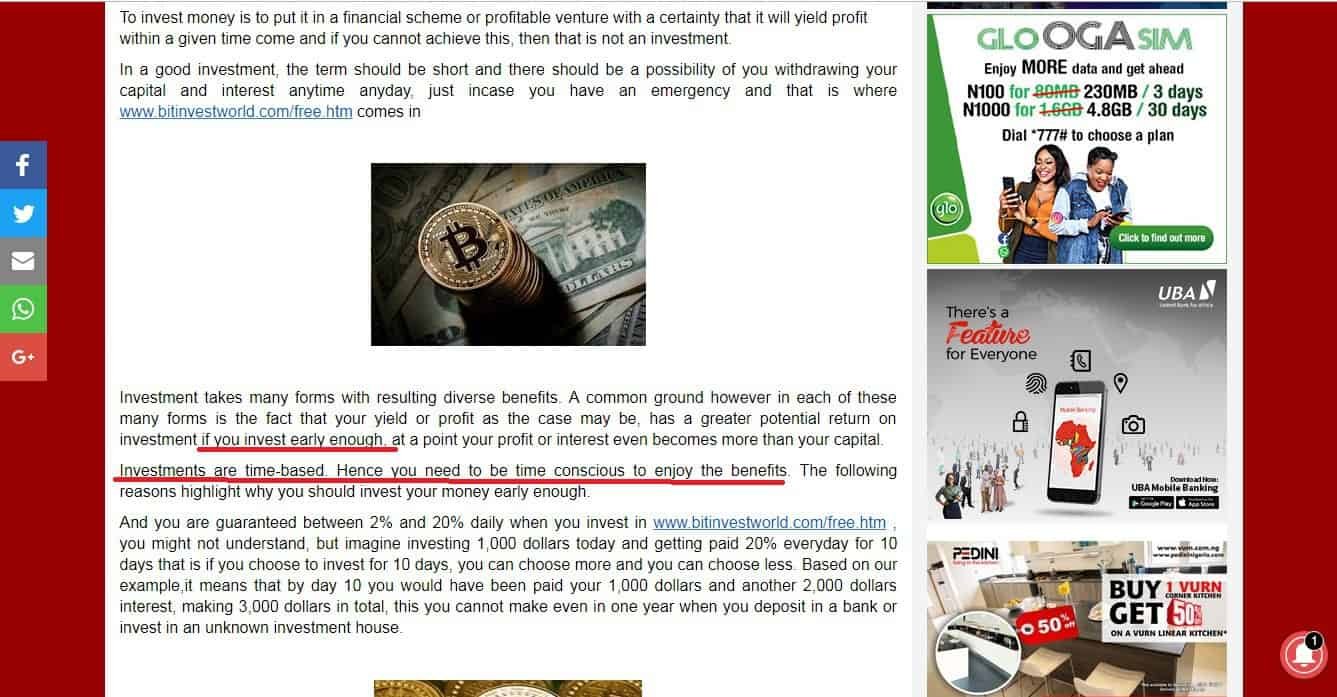 Advising people to invest early simply sends a message that, those who come in late will lose out.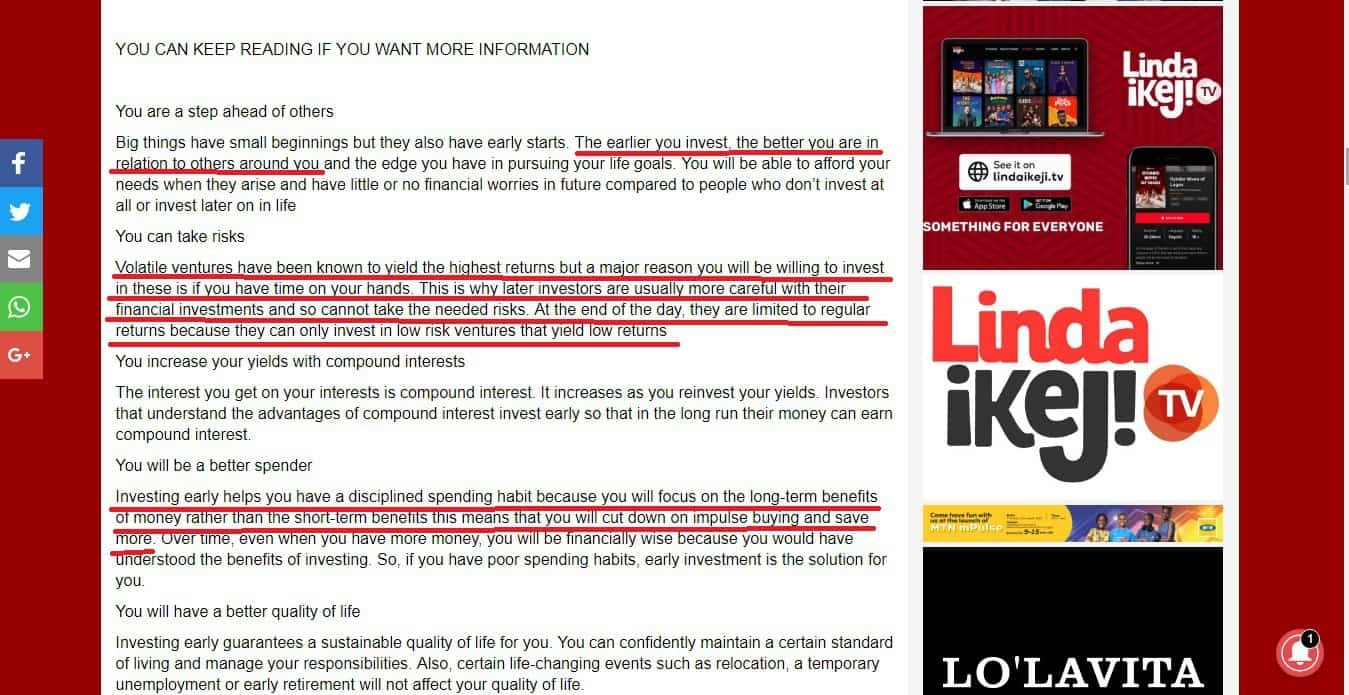 2: Incriminating Terms And Conditions
Bitinvestworld's terms and conditions clearly state that: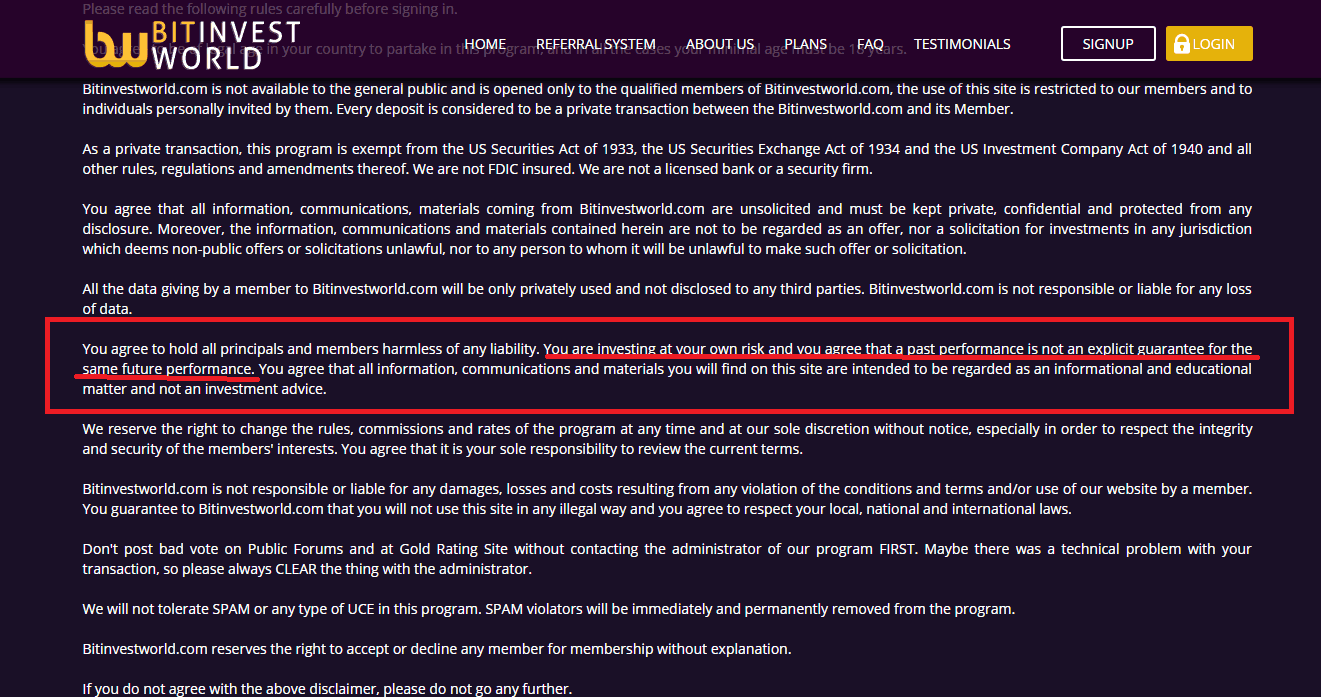 However, the website has a testimonial page full of testimonies from old investors, intended to persuade you into investing in their plans that do not guarantee any future profit. That single line in their terms and conditions is enough to keep any wise investor off this platform.
3: Ghost Admins
The creators of this platform have taken preemptive steps to keep their identities hidden from the public. This can only mean one thing – they do not wish to be caught when the platform eventually crashes.
4: Shady Activities
Bitinvestworld started out without an SSL certificate as identified by this commenter. However, as loots came in from unsuspecting investors they have been able to afford one today.
And now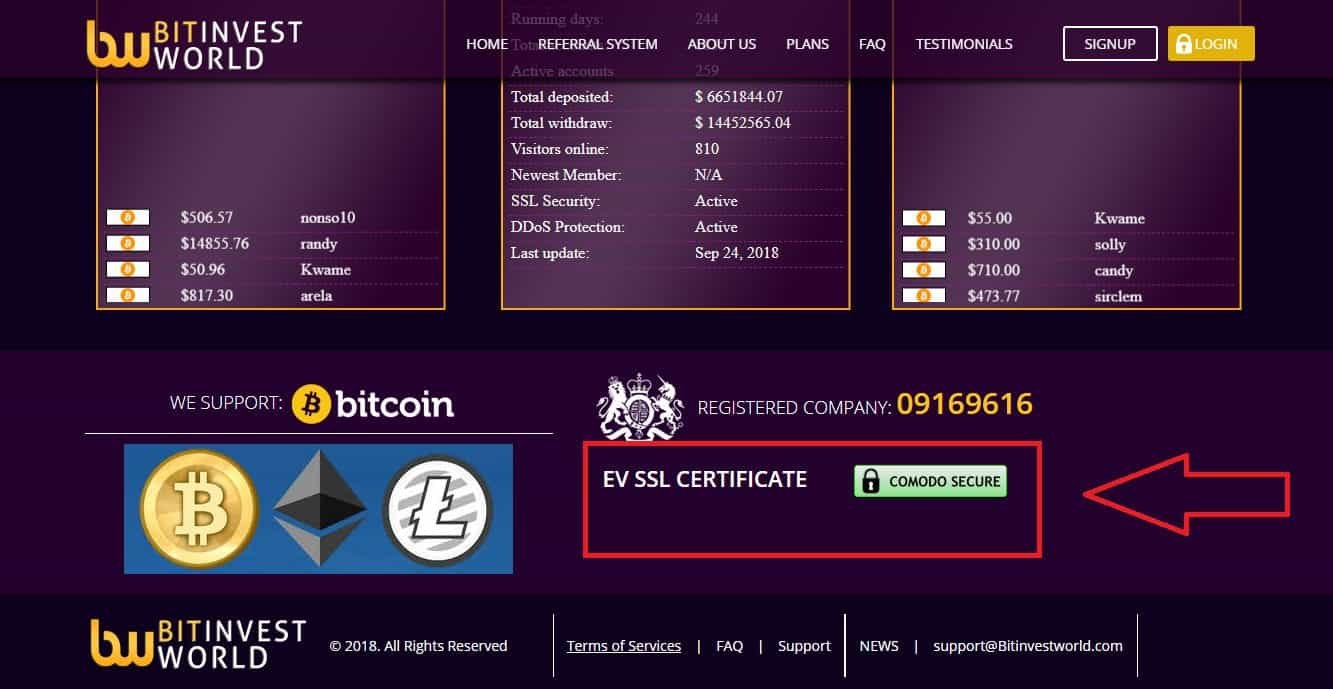 Furthermore, Bitinvestworld's claims it is legally registered and goes as far as flaunting a fake registration number. However, I didn't need to do any research on this number to spot the lie, their terms and condition section does the job.
It states that:
With this, you can clearly see that the platform is not registered with any authorities or whatsoever but has provided misinformation aimed at luring in new investors (MAGA as they are fondly called).
5: Questionable Referral Program
Fraudsters who create Ponzi schemes are always on the lookout for partners in crime, they do this by launching questionable referral programs.
While sheep earn between 2% to 20% of their investments on a daily basis, affiliates who market the scam instantly earn 10% of the monies invested by the sheep they introduce.
We at Nigeriabitcoincommunity can easily say nice stuff about Bitinvestworld to have you invest in their scam, while we earn 10% of your investments and an additional 5% from your direct downlines investment, but what will that make us? – CRIMINALS!!
However, people who actively promote this platform, do so for petty gains that only last a while.
Bitinvestworld has made it really easy for them, by making their affiliate program free to join and earn, while you – the unsuspecting investor are the cash cow financing their pockets, with the little you have.
6: Compensation Plan
Bitinvestworld has 6 different plans:
Invest a minimum of $50 and earn a 10% ROI in 5 days
Invest a minimum of $510 and earn a 28% ROI in 7 days
Invest a minimum of $2010 and earn an 80% ROI in 10 days
Invest a minimum of $5010 and earn a 156% ROI in 12 days
Invest a minimum of $20010 and earn a 224% ROI in 14 days
Invest a minimum of $50010 and earn a 300% ROI in 15 days
In the compensation plan, you can clearly see that the higher you invest, the more time you have to wait and higher your ROI.
The promoters of this platform will definitely pitch a higher investment plan to you; explaining its benefit and how you stand to become a millionaire overnight. However, their interest is in the 10% of your money that will be handed to them.
Be wise!
---
Conclusion
Stay off this scam platform!
A word is enough for the Wise!!!
Many platforms like this have come and gone
Hope you found value in this Bitinvestworld review?
Please leave your opinions in the comment section below and don't forget to share the word by clicking on your favourite social media icon below.
Thank You!