BitGlare review
Is BitGlare a scam? Is it legit? Can the platform deliver on its promises of making you money? BitGlare has been gaining a lot of attention in recent time; people seem to be pouncing on this opportunity from left, right and center. I believe someone must have been trying to convince you into investing here, but being a wise investor you have set out to know more about BitGlare. We on our part are in the business of enlightening individuals about everything they need to know about Cryptocurrencies and that includes reviews on new investment opportunities in the crypto-space. Before I proceed, I will like you to know that I am in no way affiliated with BitGlare, all the information you find here are products of painstaking research. You can rest assured that you will not be misguided. This
BitGlare review
will furnish you with all you need to know about BitGlare, its background information, aims and objectives including its hidden motives and intentions. Here is all you need to know about BitGlare. Please pay attention.
Who Runs BitGlare?
Before dealing with any investment platform, it is important to seek its ownership info. With this information at hand, you should be able to access their credibility score and track record. Unfortunately, BitGlare's website says nothing about its ownership information; it made no mention of its administrative team, staff, partners etc… The lack of such information awakened my curiosity – why will someone who runs a platform that provides financial securities not wish to divulge his/her identity. A total stranger can't just walk up to you on the street and say "Hey! Give me your money and I will give you a daily return on your investment"—you will definitely ask questions like, "who are you" "what company do you work for" "let me see some credentials" "how will the profits you promise come about?" The same thing should apply to the internet. No rational thinking individual will go to a website, pick up his credit/debit card and invest because someone says so. Someone should be responsible for the safety of your funds. Furthermore, BitGlare's official website claims the platform was founded in October 2016 by a group of trading experts. However, a quick search on the site's domain revealed that it was registered on the 30
th
of November 2017. This got me thinking "did they exist before they were created?"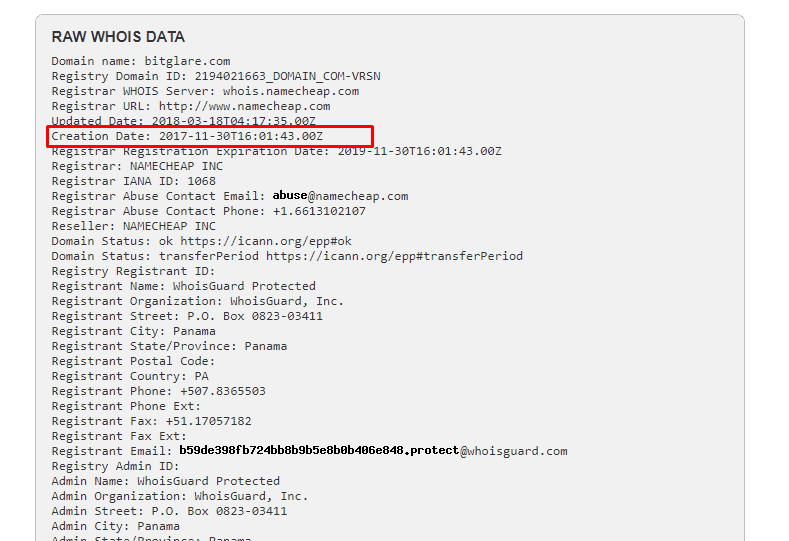 Moreover, the domain registration was done privately, leaving no trace of its origin or owner info. Platforms like this are not new to us, they spring up on a daily bases and disappear as fast as they came, but with trails of sobbing investors and smiley admins.
BitGlare Review – Products on Offer
BitGlare offers no retails products and by so doing, they have no way of pulling in funds from retail activities. Put simply, they have nothing to offer – product wise. Affiliates who choose to invest their money and time in this platform do so because of its membership plan which comes with a referral system that pays you from money invested by your referrals. You invite people to invest and earn commissions from their investments, they in turn have to invite new members or run the risk of losing their monies. And so the story goes.
BitGlare Review – Compensation Plan
Incase you decide to throw caution to the wind and make a run for it, you will be required to buy BGC points from the owners of BitGlare. A point is sold from between 20 cents to $1.50. After buying these coins, you will have to lend them back to BitGlare to earn a daily ROI based on the amount you invest. The ROI's come with bonuses ranging from 0.05% daily to 0.5% paid out between 149 days to 49 days – depending on your investment amount. Below is a breakdown of the price ranges and expected daily ROI:
Invest $100 to $1000 and earn a daily ROI + 0.05% bonus for 149 days
Invest $1010 to $5000 and earn a daily ROI + 0.1% bonus for 129 days
Invest $5010 to $10,000 and earn a daily ROI + 0.2% bonus for 109 days
Invest $10,010 to $50,000 and earn a daily ROI + 0.3% bonus for 89 days
Invest $50,010 to $100,000 and earn a daily ROI + 0.4% bonus for 69 days
Invest $100,010 or more and earn a daily ROI + 0.5% bonus for 49 days
Members can earn more by referring new members to the platform. Here, referral commissions are paid using a unilevel system, active members can earn infinitely as far as they keep recruiting downlines who also invest their monies.
Registration Requirements
Everyone can register on BitGlare. However, to earn ROI it is mandatory that you invest between $100 to $100,010 or above. Failure to invest means you can only earn by referring new paying members into the platform.
My Final Thoughts
Firstly, who owns BitGlare? Why will you even consider investing in a faceless platform? Why will you choose to recruit people to invest in a faceless platform? What does that make you? How will BitGlare come about the ROI it promises to pay you on your investment? How does it come about the referral commissions? The answer to the referral commission question is self-explanatory; you earn commissions from the money invested by new affiliates while BitGlare's unknown admins keep the rest for themselves. Will you advise your loved ones to invest in a platform of this nature? You may say "BitGlare has a trading software that has been proven to generate money". Do you have proof that such software exists? Has BitGlare provided proof? Platforms like this spring up on a daily basis and vanish in no time with investors monies, the only winners here will be the unknown admins. I strongly advise you take your money and time somewhere else.
Recommendation
If you really like to make money through Cryptocurrencies, then you have to learn how to trade. Before now, the mention of trading sounded synonymous with difficulty, risk and uneasiness, however, our
free trading guide
has proven really helpful to people who have come across it. It can be helpful to you too,
check it out for FREE
! Enjoyed reading this BitGlare review? Please share the word by hitting on your favourite social media icon below. Thank You.