In this article, I'll show you the differences between Bitcoin ETFs and Gold ETFs. They are both investment options that will boost your portfolio and by the time you're done reading this article, you'll know which one to go for.
First, let's define ETFs.
What Are ETFs?
ETF is short for Exchange Traded Fund. ETFs are a type of investment that tracks the price of an individual asset or a collection of assets, and is traded on an exchange.
Therefore, Bitcoin ETFs are exchange-traded funds that track the value of Bitcoin and are traded on traditional market exchanges rather than cryptocurrency exchanges. Examples are ProShares Bitcoin Strategy ETF (BITO) and Valkyrie Bitcoin Strategy ETF (BTF).
Similarly, Gold ETFs are exchange-traded funds that track the price of physical gold e.g. SPDR Gold Shares (GLD) and iShares Gold Trust (IAU).
ETFs allow investors to invest in an asset without having to go through the hassle of buying and selling the asset directly.
Additionally, their price movements reflect that of the underlying asset.
---
Why Compare Bitcoin ETFs and Gold ETFs?
Since the launch of bitcoin, many analysts tend to compare it with gold because they have some similarities including:
Scarcity/limited supply
No influence of the government or central banks
Both can be held outside conventional financial markets. 
They are both mined.
This has led many to label bitcoin as the "digital gold". 
Over the years, gold has been the most profitable investment. It insulates portfolios against market conditions in bear markets, currency devaluation, and inflation.
And when bitcoin launched with similar features, it was perceived in the same manner, only that bitcoin exists online hence the name, digital gold.
However, with gold ETFs, investors are shielded from the costs and risks associated with holding the physical commodity like variation in price, purity, and theft.
In the same way, Bitcoin ETFs allow investors to invest in Bitcoin without using a cryptocurrency exchange while providing leverage to its price.
That said, let's see the differences between the two.
---
Bitcoin ETFs vs. Gold ETFs: Which Is Better?
I mentioned the differences between Gold ETFs and Bitcoin ETFs based on relevant parameters in the table below.
Check it out!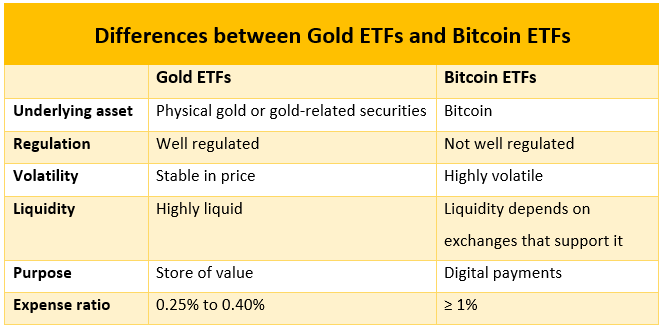 NB: Expense ratio is the fee charged by fund managers for the administration and storage of assets.
The table above shows that Gold ETFs may be more favorable than Bitcoin ETFs because of lower expense ratio, more liquidity, and less volatility. 
Nevertheless, both options are subject to market risk, and the value of your investment can fluctuate.
Also, you can buy them from the exchanges that support them e.g. eToro.
In the end, the option you go for depends on where you feel comfortable putting in your money – physical gold or digital gold. So, which is it? Tell me in the comments section right away.
Learn more: