In this post, I'll show you 7 reasons why you should trade on Binance Futures.
Without any doubt, futures trading offers quick profits no matter the direction of the market.
Statistics show that the futures market is worth $11+ trillion annually. Impressive, huh?
Whether you have traded futures before or you're still considering it, Binance Futures is an excellent choice.
Keep reading and I'll tell you why it is so!
---
Post Summary
Let's roll!
---
Why You Should Trade On Binance Futures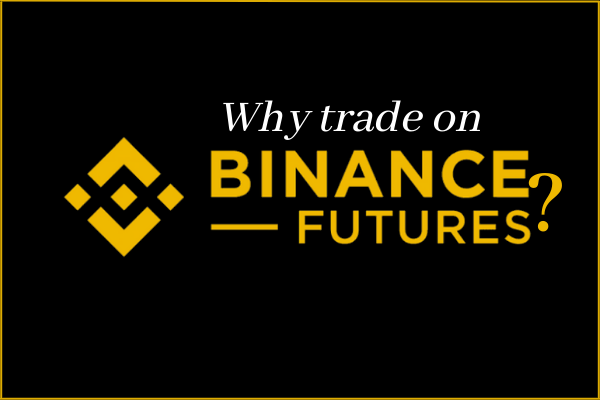 Futures Trading is simply buying/selling a product at a later time.
So, you can make a profit by going "long" or "short" on a futures contract.
(You can learn more about Futures Trading here).
Binance Futures is a product of the renowned Binance Exchange, designed to enable users to perform futures trading.
Here are 7 reasons why you should use this product:
1. Wide selection of trading pairs
The first reason why you should use Binance Futures is that it has a wide variety of trading pairs that you can choose from.
As of press time (10/02/2022), there are over 500 crypto trading pairs available.
You get to trade utility tokens, DeFi tokens, and even meme coins, depending on your preference.
Moreover, new coins are added regularly to improve your trading experience.
2. High Liquidity
Secondly, Binance Futures is the best platform for this type of trading because of its high liquidity.
Interestingly, it is one of the most liquid derivatives exchanges in the market.
And we can trace this to its large selection of trading pairs.
Therefore, your "buy" and "sell" orders will be filled quickly and you will not have to worry about slippage.
Cool, right?
3. Low Fees
Another reason why you should trade on Binance Futures is that it has an outstanding low fee structure.
The maker/taker fees can go as low as 0.017%.
This allows traders to keep their hard-earned profits.
And when you hold BUSD or BNB, these fees can be slashed even further.
Right now (and till 13th July 2022), BNB holders enjoy a 25% trading fee discount. Wow!
4. Volume
High trading volume is another benefit of using Binance futures.
Binance has more than 28 million active users.
And this has helped skyrocket trading volumes in the platform to trillions of dollars.
As a result, Binance Futures provides a generously wide range of leverage even for accounts with zero balance. Superb!
Depending on the notional value of your position, you can access different leverage positions.
Get more details here.
5. Multilingual Support
Another feature that distinguishes Binance Futures is its multilingual support.
Binance offers support in 17 different languages.
Plus, the user interface is easy to use.
Therefore, you can conveniently trade from anywhere in the world. Yay!
6. Guaranteed Profits
Furthermore, when you trade on Binance futures, you're guaranteed profits, especially with the available strategies.
For example, the TWAP strategy helps to minimize a large order's impact on the market.
There is also the Grid Trading strategy which helps you to place orders in the market at preset intervals within a configured price range.
And it doesn't matter the direction of the market, you'll make your profits.
You can sell high and buy low or buy low and sell high to take advantage of any price fluctuation.
7. Security
The last but not least, Binance Futures is a secure platform for you.
Binance employs different features like KYC, 2FA, and Anti-Phishing Code to protect users against bad actors.
Additionally, users' funds are backed by the platform's insurance purse that holds nearly $300 million.
While this purse saves bankrupt traders from adverse losses; it also ensures that winning traders receive their due profits.
Amazing, right?
Now that you know better, let me show you how to use Binance Futures.
Tag along!
Heads Up!!

There's an ongoing Refer-and-Win campaign going on from 14th Feb. – 28th Feb. 2022.

Binance Futures has set aside 250,000 BUSD to reward its new and existing users.

Invite your family, friends, and beloved ones to Binance Futures and grab a share of the prize pool!

Check out this link for more information.
---
How To Get Started On Binance Futures
i. First, you need to create and verify your account.
If you don't already have one, you can use my referral link to create an account.
Then check here for steps on how to get verified.
ii. Next, you go to the Binance Futures page.
iii. Now choose the contract you want to trade.
iv. Next you adjust the trading mode (One-way mode or Hedge mode)
v. Set the margin mode and select your leverage level.
vi. Now, transfer assets to your futures account (USDT or BUSD into your USDⓈ-M Futures account as margin, and other Coins e.g. BTC into your COIN-M Futures as margin)
vii. Then open a long or short position
viii. Monitor your position to detect any further action you may need to take like adding to your margin
ix. When you're satisfied, close your position.
Need a visual guide for the steps above? Check here.
You're all set. Bravo!
---
Conclusion
This is where we'll draw the drapes in our discussion on why you should trade on Binance Futures.
I hope it was worth your time.
With Binance Futures, you can hedge risks and gain more through leverage.
If you are ready to enjoy the large returns from trading futures, click here.
Yet to create a Binance account? Stop missing out; sign up here.