In this post, I did a full review of Zugacoin; specifically, I will talk about its legitimacy and potential.
Zugacoin – the African's princess is one of the hottest topic trending online since its launch date (September 2020).
As of today (2nd Feb. 2021), it is trading at $47.06 with 24hr volume trade of $2,417,285 (Info from Coinmarketcap).
In this post, I will lead you on to everything you need to know about it. Sit tight and enjoy!
---
Post Summary
What I will cover;
Click on any of the links, and it will land you instantly to the content.
If you are set, then, lets dive right in!
---
1. Overview of Zugacoin
What is Zugacoin?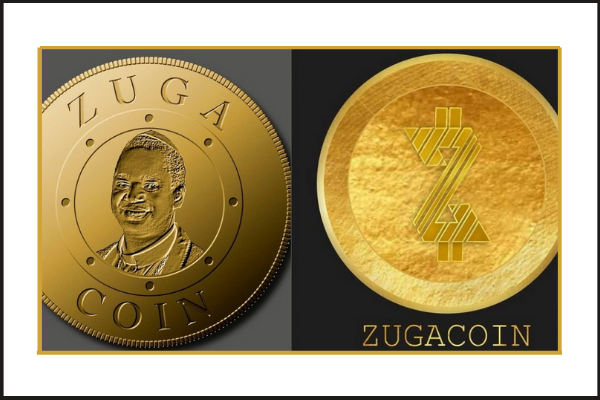 Zugacoin is a cryptocurrency that is built under the Ethereum blockchain.
It is an ERC20 token with the ticker (SZC); it is also tradeable on crypto exchanges.
This token launched in late 2020 and is #2672 in the rank of cryptocurrencies in existence.
At the time of this review, Zugacoin is trading at $47.06 (Coinmarketcap).
Zugacoin has a maximum supply that is much more limited than the total supply of bitcoin.
Bitcoin Max. supply = 21 million BTC, while Zugacoin Max. supply = 1 million SZC.
Additionally, this token has proof of stake functionality; this simply means that you can earn rewards by staking or hodling the SZC token.
SZC has been listed on a global exchange, and on Coinmarketcap (info on CMC shows that Zugacoin was listed on the global market on the 14th of Dec 2020).
Zugacoin aims to be a revolutionary cryptocurrency that will refurbish the Africans economy.
To explain this point better, we need to have a basic background of who created Zugacoin and why it was created.
Swipe up!
Who Created Zugacoin and Why was it Created?
Zugacoin was created by Archbishop Dr. Sam Zuga, a cleric of House of Joy Church, located at Gboko, Benue State, Nigeria.
Sam Zuga wanted a currency that will foster economic development in Africa through decentralized finance.
In order to achieve this concept, Zugacoin was concieved.
Zugacoin came aboard the crypto space as "Africa's first cryptocurrency for equity and investment funding".
It seeks to empower business startups, boost the employment rate, and upgrade the economic growth of Africa through the lending of its crypto asset.
Sam Zuga officially launched the Zugacoin on September 2020 but the token's ICO is currently(Feb. 2021) ongoing.
Below is a peek of how the ICO has been going so far.
---
2. Zugacoin's Token Sale|ICO
Zugacoin started its public sale with a Telegram Airdrop on October 2020.
But proper ICO started in November (same year). According to the news online, the ICO started at the price tag of $42,000.
This phase of the ICO has been concluded, but the total funds realized was not made public.
Currently, the second phase of the ICO is ongoing, and SZC is set for sale at the price of ₦22,509,208 (3rd Feb 2021) on its website.
From the analysis on the website, the ICO has hit its soft cap; and the total of 8202 SZC has been sold. (view the breakdown below).
It is still unclear how much money the Zugacoin team has realized from this ICO, and nothing was mentioned about its hard cap.
See the next section!
---
3. Zugacoin Product and Roadmap
Product
The only product that Zugacoin has for now is the Sam Zuga wallet; the rest are in the Roadmap.
Sam Zuga wallet is a crypto wallet that supports Ethereum and the Zugacoin's token (SZC).
Zugacoin's Roadmap
There is a disparity between the Roadmap on Zugacoin's website and the one on its whitepaper.
What we have on the whitepaper shows that Zugacoin will acheive everything on its Roadmap in 2021.
On the other hand, the website shifted some of the things we have on the Roadmaps to 2022.
While this is confusing, we might as well conclude that Zugacoin included some other projects, and then adjusted their Roadmap to suit a better timespan needed for its achievement.
Here is the one on the website;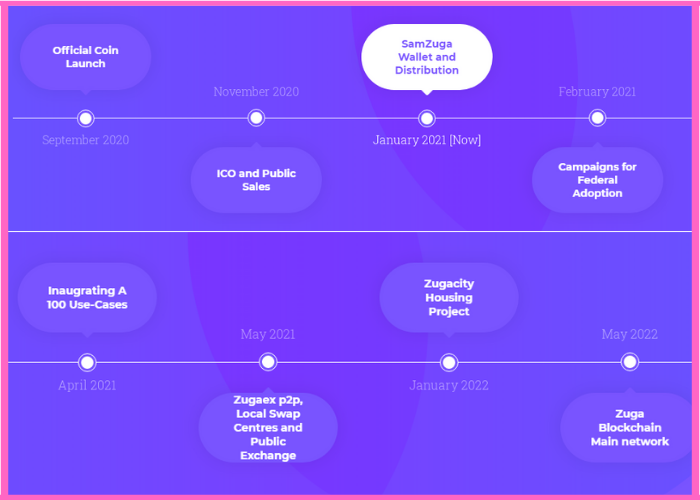 Next, we will look at how to buy and trade Zugacoin.
---
4. Where to Buy and Trade Zugacoin
As at (Feb 3, 2020), these are the places where you can buy SZC token;
Indoex
Nellabox
Zugacoin's website
Indoex
The SZC token was listed on Indoex around Dec. 2020.
Indoex is a crypto exchange founded by Spencer Collins, and it is headquartered in the UK.
The exchange was designed for advanced trading of crypto pairs, and it presently supports the trade of SZC/ETH.
This simply means that you can place an order to buy or sell SZC for ETH on Indoex.
Trading of SZC or the SZC market on Indoex seems shady (more of this in a later part of this post).
2. Nellabox
Nellabox is an African based crypto exchange in Nigeria.
The exchange offers only brokerage services of newly listed African cryptocurrencies.
You can only buy SZC with Naira on Nellabox.
3. Zugacoin's Website
Zugacoin is conducting its second phase of ICO on its website.
Therefore you can partake in the ICO by going to the website to purchase SZC.
You can also buy SZC from Zugacoin's headquarters located in various states in Nigeria.
In the next section, let's discuss how how to contact Zugacoin officials. Swipe up!
---
5. Zugacoin Contact Channels
Zugacoin can be reached through these channels;
https://www.facebook.com/zugacoin
https://twitter.com/zugacoins
https://t.me/zugacoin_official
Telegram is the biggest social community for Zugacoin.
It, likewise, seems that official announcements about the Zugacoin are majorly relayed via this platform.
Information about Zugacoin's headquarters and mobile numbers are also being shared on Telegram.
However, the Telegram group is not interactive ( members are blocked from sharing their thoughts).
Besides this, members can use the FAQ section on the website to find answers to some of their minor questions about Zugacoin.
*Before going on to accumulate Zugacoin, you ought to have found the answers to SZC legitimacy.
One of the big questions you would probably be looking for the answer to is this;
Is Zugacoin(SZC) a good deal, or just a shit coin?
Below, I did my best to gather into one place, all the answers to this question. Scroll down to the next section.
---
6. What is the Potential of Zugacoin?
The first price of SZC on the Global market was $45,851.669132. This is way higher than the price of Bitcoin since its existence.
However, the chart on Coinmarketcap shows that this price dropped drastically over 1000x ($5.299157) the next month (Jan 11, 2021).
Below is the screenshot.
Will SZC rise to the top again?
Before we delve proper into this analysis, let's look at some of the factors that can affect the price of SZC.
Zugacoins Roadmap
One of the parameters used in judging a coin's potential is its roadmap.
Zugacoin has massive plans that are still pending (Zugacoin's Whitepaper), and all these the team intends to achieve by 2022.
But I'm still wondering how the team intends to complete all it has on its roadmap within a year plus.
I say this because these projects require lots of funding.
And as a relatively new project, the Zugacoin community is not big enough to fund them yet.
We are also uncertain if the whole of Africa will accept SZC as a means of payment (because this is the only way to measure the success of their pending Payment Gateway).
If the team is able to follow through with its roadmap, then we would hope that the launch of its blockchain and Dapps' integration will pave way for SZC to excel.
Adoption of Zugacoin
There has not been much adoption of SZC.
This is judged based on the current trade volume of SZC, currently (2 Feb. 2021) $2,417,285, and its ($0) Market Cap – seen on CMC.
However, the coin is still new, and the news going around the internet is that Benue state, Nigeria has adopted SZC.
Based on these factors, I would rather say: It is still early to jump to conclusions on what would become of this token in years to come.

For now, let's keep the SZC token on our watchlist and watch what comes next in months to come.
Let's head straight to the next subheading!
---
7. Is Zugacoin Legit?
I have found reasons to question the legitimacy of SZC. You will find them below.
Spoofing: Basically, Spoofing in the crypto space means a way of manipulating the market by placing fake orders to buy or sell an asset.
From the onset, there is no trade going on in the SZC market on Indoex.
There has not been any 24hr change
The chart for SZC trade is empty, yet we can see buy and sell orders already placed and the price of SZC rapidly fluctuating
See the screenshots below!
2. Info on Coinmarketcap: Zugacoin has ($0) Market Cap on CMC and the "Confidence Indicator" shows that SZC has a "Low" algorithm
Also, the link to Zugacoin website and Source code on CMC has the wrong URL.
3. Zugacoin Community: Zugacoin's Twitter account has ceased to be active after its token's airdrop. 27th October 2020 was the last time we heard from Zugacoin on Twitter).
The Telegram community is also not left without qualms, as SZC members are complaining that they are yet to receive SZC after buying the token from Sam Zuga wallet.
* This might have been the reason that caused Zugacoin to block members from writing messages on the platform ( as of Feb 2, 2021).
4. Disparity in SZC price: There is no parity between the current price of SZC on the Global market and its price on Zugacoin's website and another local exchange.
Price on the website = ₦22,509,208 ($59,040.55) – Price on CMC= $47.06 (₦17,941.62)=
Note: The points that I have raised in this section are based on my personal research. I will advise you DYOR before investing in SZC. Besides, you should not also take the suggestions here with a pinch of salt (think wisely before investing).
---
P.S
If you want to learn how to trade cryptocurrencies profitably, we developed a perfect course to help you master Cryptocurrency Trading.
Go to www.ctmastery.com to enroll.
---
8. Conclusion
This is where I will put an end to the Zugacoin review.
I have given you my thoughts about this coin and my opinion strictly suggests that you put SZC on the watchlist for now.
This time I would like to hear from you;
What do you think of Zugacoin?
Do you think the coin will ever go up to $45,000 again in the Global Market?
I will like to hear your opinions below.
Remember, you can help others learn about Zugacoin by clicking on the share buttons below.
Cheers!
---
Related Articles;