This post is a complete review of RedimIT– one of the broker exchange in Nigeria.
RedimIT is an exchange that offers users an intuitive platform to sell their bitcoins at very low fees.
Only founded in 2019, it has garnered enough momentum to be listed currently, as one of the "Top Exchanges in Nigeria".
If you are looking for a legit place to sell your bitcoins for Naira, relax, because, in this review, I will walk you through the entirety of how to do so on RedimIT.
---
Post Overview
Listed beneath are the key points to be discussed in this review.
All cleared? Let's dive in!
---
1. RedimIT Overview
RedimIT is a Nigerian- broker exchange founded by a crypto expert – Ibrahim Olaniyi. It launched in 2019 and is headquartered in Ikeja, Lagos State.
This exchange is currently, one of the go-to platforms in Nigeria to sell all volumes of bitcoin instantly.
RediMIT is one of the best exchanges that buy bitcoins from persons all around the world and pays them Naira in a Nigerian bank account.
Albeit being a relatively new exchange, it has an amazing interface that makes the selling of your bitcoins easy and without complications.
RedimIT offers one of the best rates in the market and executes trades instantly.
It supports almost every bank in Nigeria and takes moderate time to pay into their customers' accounts.
Moreover, what is most pleasing about RedimIT is that transactions are carried out instantly without KYC or verification requirements.
This is only the overview of RedimIT…let's look at some of the amazing features of this exchange.
---
2. Features
Below are some killer features which the exchange possess that makes it stand out from other exchanges:
Great user interface
Best rates
Instant Payment
Low fees
24hrs support
Increased security
No KYC
Those are some of the features which RedimIT possesses.
Let's go on now to look at the services it offers.
Scroll down.
---
3. Service Offered
Presently, you can only sell your bitcoins to RedimIT, while they fund your bank account with Naira.
To sell bitcoin on RedimIT, follow these steps below;
Go to RedimIT and click on "Sell Bitcoin"
Fill in the "Sell Bitcoin" forms
Verify your transaction summary
Send bitcoin to RedimIT's wallet address and get funded in your bank account
---
4. Supported Countries, Currencies, and Payment Methods
RedimIT supports every country in the world, however, all payments are made in Nigerian Naira and into Nigerian banks.
– Bitcoin, USD, NGN
Bank Transfer
* Funds are transferred to the bank account the seller has selected while filling in the transaction form.
Hope you are there? Read on!
---
5. Fees, Verification Requirements, and Limits
RedimIT charges no fee all. This is simply because you send bitcoin from your wallet into RedimIT's wallet address…so, there are no bank charges.
Do note that the bitcoin miners, instead, will charge you for sending bitcoin to RedimIT's wallet.
Verification Requirements
NO VERIFICATION or KYC IS REQUIRED!
However, you will need to provide your bank details and phone number while placing an order.
There are no limits. You can sell any amount of Bitcoin on Redimit.
Let's check out RedimIT's customer support…is it active?
6. Customer Support and Public Opinion
If you have placed a sell order, RedimIT will show you how to contact support, in case you encounter some challenges using its service.
Here are ways you can reach RedimIT:
Email: [email protected]
WhatsApp: +2349091909346
https://twitter.com/RedimitNG
https://www.facebook.com/RedimiT.Ng/
On public opinion: RedimIT, for now, has not been reviewed by users on social platforms.
This, in my opinion, is probably because , the exchange is relatively new.
In the next sub-heading, I will compare RediMIT with other broker exchanges.
Let's dive in,
---
Comparing RediMIT with Other Broker Exchanges
RediMIT Vs Stebab Exchange
Stebab Xchange is owned by Aluko Stephen, a renowned crypto trader and one of the originators of Alpha Training lab– a Crypto trading Community in Nigeria.
Like RedimIT, Stebab specializes in buying all volumes of cryptos to pay Naira in sellers bank account.
However, while RedmIT buys bitcoin alone, Stebab buys up-to 5 cryptocurrencies from users all round the world; BTC, ETH, XRP, LTC, USDT
Check out Stebab review here.
RediMIT Vs Patricia Exchange
Patricia is a crypto and E-currency broker exchange that launched in August 2017.
It was founded by Fejiro Hanu Agbodje and has its headquarters in Lagos State, Nigeria. Although, it also has offices in Ghana, UAE, and China.
Although Patricia is a broker exchange like RedimIT, it offers a wider range of services than than the later.
On Patricia, you can buy/sell over 30 gift cards and other digital currencies.
Patricia also offers virtual cards and allows users to pay online bills from their BTC wallet.
Read more about Patricia.
Having gotten to this point…I will now answer some of the commonly asked questions about RedimIT.
Scroll down!
---
FAQs
1. How to sell bitcoin on RedimIT
Here is how you can sell bitcoin on RedimIT;
Go to RedimIT and click on "Sell Bitcoin"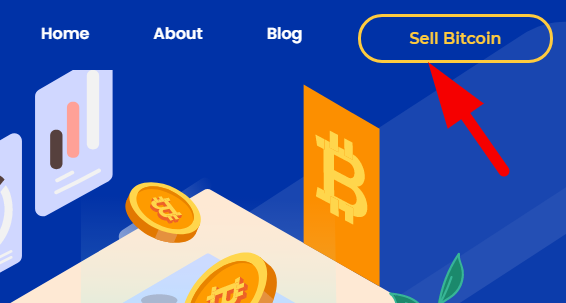 2. You will be ushered to the "Sell Bitcoin" page. fill in the form and click on "Check Account".


3. RedimIT will verify your account number. An extended form showing your "Bank Name" and blank spaces will display, then you fill in the spaces and click on "Proceed".


4. In a few minutes, the summary of your transaction order will display, and you continue with the rest of the transaction process.


* This is the first half of the transaction summary; endeavour to cross-check the entries to make sure they are correct.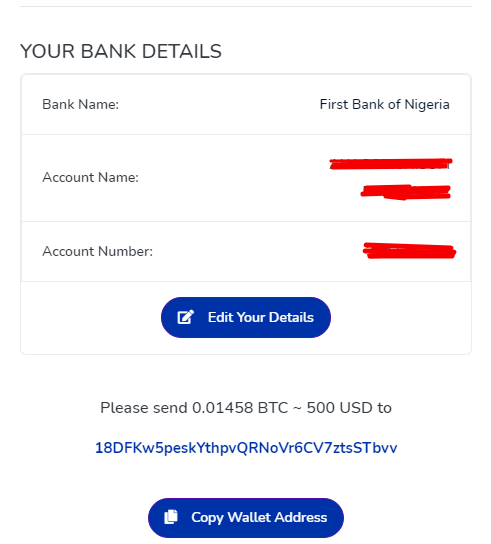 * The second half shows your bank details (cross-check the details, and make sure that they are correct).
* This part also shows you RedmIT's bitcoin wallet address, copy the address to your bitcoin wallet to send the equivalent amount of BTC displayed on your screen to RedimIT or scan the QR code found below to send.
* RedimIT will credit your account soon after you have sent BTC to their wallet.

RedimIT also leaves their contact details on the "transaction summary", so, you can contact support if you are having challenges.
2. Can I use the exchange if I am not from Nigeria?
Yes, you can, so long, you have a Nigerian bank account because the exchange can only pay you NGN.
3. Will RedimIT send my payment if mistakenly send bitcoin to a wrong wallet address?
No, RedimIT will not credit your bank account.
This is because bitcoins sent to a wrong wallet are lost forever and can never be retrieved(except the person sends it back).
When you send your bitcoins to the wrong wallet, it simply means that RedimIT did not receive your bitcoins and so will not make payments your bank account.
4. Is it Legit?
Sure, RedimIT is a safe exchange.
It has been there for over 2 years with no nefarious reports recorded yet.
Well, this is all I can say about RedimIT, you can DYOR before taking further steps.
---
P.S
If you want to learn how to trade cryptocurrencies profitably, we developed a perfect course to help you master Cryptocurrency Trading.
Go to www.ctmastery.com to enrol.
---
Conclusion
This is where I will call an end to this review.
Hope you followed every section of this review closely?
Well, this is the section where I expect an answer from you (I am already anxious to get your reply).
Here, you can tell me;
What do you think about this exchange?
You want them to list more coins and include a buy option?
You have used the exchange before (tell me your experience)?
You have any questions for me? or there is somethig you wish to say?
Let me know about them in the comment secion.
Finally, I will be grateful if you should share this post by clicking on the share buttons.
---
Read also;