This post is a complete review of RedimIT (an exchange to sell your Bitcoin for Cash in Nigeria).
Cryptocurrency is the fastest rising technology of this era, with Bitcoin (BTC) spearheading the campaign.
Millions of smart individuals (both young and old) all over the world have taken advantage of this trend, invested and built wealth from trading BTC.
Today, RedimIT has joined this trend to aid cryptocurrency traders to sell Bitcoins silky-smooth.
This is an in-depth review of RedimIT, with all you need to know about the exchange – its services, features, and benefits as well as its flaws.
Tag along with me as we get started.
---
Post Summary
For a better understanding of this review, I have made a list of key things to be discussed down below.
Let's dive in;
---
RedimIT In a Nutshell
RedimIT is a legit amazing Nigerian based Bitcoin Exchange that was founded in 2019.
It is a broker exchange and is headquartered in Ikeja, Lagos State.
Founded by Ibrahim Olaniyi, the exchange makes it fast and easy to sell/exchange BTC for naira within minutes.
Pretty cool, aye?
Now let's look at some of the amazing features of this exchange.
---
Features
Below are some killer features which the exchange possess that makes it stand out from other exchanges:
Great user interface
Friendly rates
 Fast execution of orders
Low fees
WhatsApp outreach for new users
Increased security
Those are some of the features which RedimIT possesses.
Let's go on now to look at the services it offers.
Scroll down.
---
Service Offered
At the moment, Redimit offers only the 'Buy' service i.e you can only sell your Bitcoin to Redimit.
To do this, you will have to create an account with the platform.
Creating your Redimit account is very easy. Follow these steps:
Step 1: Visit the RedimIT website, click 'Sign Up' and input your details in the spaces provided.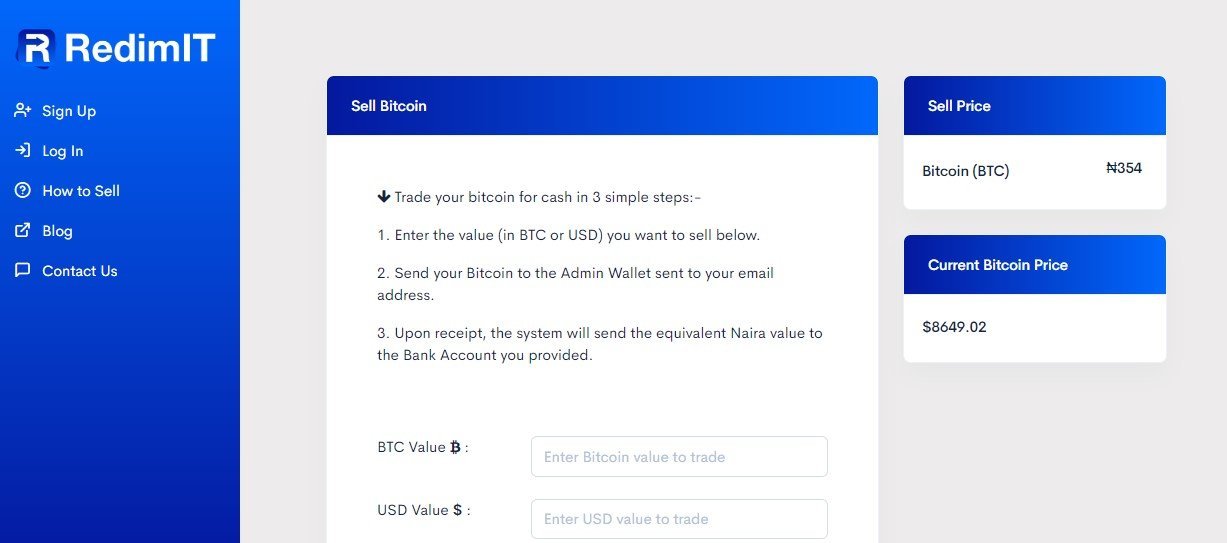 Step 2: After that is done, hit "Create Account". Shortly after, you would receive an email asking you to confirm your email address.
Step 3: Confirm your email and you will be free to use the platform's various features.
The verification process with RedimIT is very quick and you would be fully verified within hours. This will give you full access to the platform.
Step 4: Fill the sell bitcoin form and submit.
Step 5: When the transaction is confirmed the system will send the equivalent in Naira value to the Bank Account in your profile instantly.
Now let us also take a look at some of its benefits as well as flaws.
---
Benefits and Flaw
Benefits
Here are a few reasons why you should sell your Bitcoin on RedimIT
The platform has a 100% uptime.
Easy to use
They have very decent rates.
24/7 on-site customer service available.
Payments are made in Naira, directly to your local bank account.
Payments are faster than Usain Bolt. You could only imagine the speed
Okay, those are the benefits.
Also, let's take a look at the Flaws.
Flaw
RedimIT has only one notable flaw which is;
It only buys Bitcoin and currently offers no other service.
---
Conclusion
RedimIT is an awesome and legit trading platform that is fast, secure, and stress-free.
Its sign-up process does not require your BVN or KYC.
Yup… that's it on this review!
Now, I'd love to hear from you;
Are you going to create a RedimIT account today?
What coin will you want RedimIT to add to its platform?
Or maybe you still have some questions or reservations about the exchange?
Either way, let me know by leaving a comment below right now.
If you enjoyed reading this review, kindly give us a share by hitting the share buttons below.
---
Also Read