Today, I'd like to introduce you to Redeeem.com – a peer-to-peer gift card crypto exchange.
Redeeem is an easy, fast, and safe way to buy and sell discount gift cards using cryptocurrencies.
It was founded in 2018 and has processed over 500,000 trades since its inception.
The exchange is available for users in more than 200 countries.
**Find the Master list of Discount Gift Card Retailers.
After reading through this review of Redeeem, you will understand more about the exchange and how it works. If you'd like to join the Telegram community click here.
Ready to roll? So am I! Let's just get started.
---
HEADS UP!!
This exchange is currently (July 2022) out of service.

The Team is working on remodelling the site.

Be careful so you don't fall a victim to scammers parading as the real Team.
---
Redeeem Post Summary
For this review of Redeeem exchange, this is what we will be discussing:
A click on any of the subheadings will take you to its details.
Feliz lectura!!
Here is a quick video overview of Redeeem and how to buy gift cards on the platform.
However, to get full details of the platform and all its other products and services, you have to continue reading.
---
Redeeem Overview
Redeeem is a peer-to-peer(P2P) gift card crypto exchange that is located in Los Angeles, California in the United States.
It was founded in 2018 by Kyle Hill and Mike Townsend.
Kyle, a technology entrepreneur, and web developer is also the founder of HomeHero.
After Homehero, Kyle and Mike launched Redeeem to make it faster, easier, and safer for the unbanked to buy Bitcoin.
Redeeem team believes that cryptocurrencies have the potential to radically improve the lives of billions of people around our world.
Thus, one of its primary goals is to showcase the unique attributes of Bitcoin and to support and accelerate its integration into the global economy.
It is a leading peer-to-peer marketplace to buy and sell gift cards.
Every gift card is backed by the Redeeem Guarantee to help protect you from fraud.
Having gone through the overview of the exchange, 'gift cards' just keep popping up and one may ask: Why them? Can't I just buy my cryptos using fiat currencies from other exchanges?
Just scroll down and I will explain to you what makes gift cards better.
---
…But Why Gift Cards?
You ask 'why gift cards?' and I reply 'why not!'.
Gift Cards contains a specific amount of money available to be used for a variety of purchases within particular stores or related businesses.
Some of them are issued by companies /organizations and thus, can only be used in such stores while others can be used for cashback policies.
But don't the cards amount to the same amount as my fiat currency? I mean my $100 gift card can only buy me goods worth $100 and nothing more.
Well…You are right there somehow. I say somehow because it is not exactly as it seems.
Don't worry, I will explain further with this scenario.
Say you go on Amazon a Super Automatic Expressor Coffee machine on sale for $500 and you just want to buy it.
Now, you can go ahead and pay $500 dollars for and get your coffee machine or you can decide to use a $500 worth Amazon gift card for your purchase. Let's say you decide to use a gift card.
So you head to redeeem.com and place a 'Buy Order' to get a $500 worth of Amazon gift card at $400. The order is executed and you get your $500 worth of gift card at $400.
You will now go back and get the shoe with the gift card you just purchased from Redeeem; saving yourself $100.
So, in reality, you got your Super Expressor Coffee machine for $400 instead of $500.
Yeah…so you see why gift cards are useful now, right?
Let's move on now to learn more about this exchange and where you can get these gift cards.
---
Redeeem Features
Great user interface
Safe and secure system
Multiple cryptocurrencies
Mobile and desktop apps
2FA enabled
Customer support via Livechat
---
Redeeem's Products and Services
Redeeem offers the following products and services:
Buy Gift Card
Sell Gift Card
Bitcoin Wallet
Rewards
1. Buy Gift Cards
Redeeem enables you to buy gift cards.
To buy gift cards, you need credit
You can only buy Credits with cryptos. You need to acquire a cryptocurrency from an external exchange if you don't have already then use it for credit purchase on Redeeem.
Another way you can do that is to import Bitcoin from an external wallet to your Bitcoin wallet on Redeeem. From there, you can now make your Credits purchase.
Click on 'Buy'
Login to your account
Select the brand of a gift card to buy(for example, Amazon) and it displays all the offers available for that brand
Choose the seller to buy from after checking out the details(the amount you are saving, cooling time, date order was created, delivery time, info about the seller, etc) and click on the amount to buy from the seller
If you will be placing your own Buy Order, you will provide all the needed information and conditions then wait for your order to execute.
You can also place an ad or set market updates, brand, credit, and receipts alerts.
2. Sell Gift Cards
This service helps you to sell your gift cards by placing a sell order to buyers in the market. You can also upload cards to the market on Telegram using the @RedeeemBot.
There is also the option of Bulk Import for sellers who want to sell multiple gift cards. Sellers can upload gift cards in bulk by uploading custom spreadsheets from a simple template. It takes only a few seconds depending on the size of your file.
The Earning section allows you to request Payout for your earnings. Your earnings are payments for the gift cards you sold. Redeeem requires $5 minimum for Bitcoin payouts. Enter an external Bitcoin (BTC) address and double auth code or leave address blank to receive Bitcoin to your default wallet.
All earnings from the day are calculated in USD. You can request a payout into Bitcoin at any time on the Earnings page. This policy is to save on miner fees and protect sellers from Bitcoin price fluctuations throughout the day. The maximum amount of owed penalties will be deducted from each payout. Once Bitcoin has been deposited to your wallet, it is in your sole possession.
It also contains the Rules that Sellers will follow..
3. Wallets
Redeeem also offers hosted Bitcoin wallet services.
You do not necessarily have to send crypto to this wallet to buy Credits.
Redeeem does not claim custody of these funds; always protect your wallet keys for this public Bitcoin wallet at all times.
4. Rewards
This is Redeeem's Affiliate program where you earn 1.0% when you refer someone. The 1.0% is paid nightly in Bitcoins.
Steps to do that include:
Sign up with redeeem.com
Copy your unique Affiliate link from the Affiliate Page
Once your referral signs up and completes their first trade, you will receive BTC in your wallet
The Affiliate Program rewards both sellers and buyers.
This is true in the sense that if you referred a buyer, you get 1% of all the trades he makes. So if the referred buyer bought a $100 gift card for $70, you will get $0.7 as a reward.
The same goes if you refer a seller. You will earn 1% of his daily trades.
Redeeem calculates trading volume as the total money your friend(s) spend or earn in Bitcoin, not the retail value of the gift cards.
Referring friends can place you on the Leaders board which qualifies you for other prizes.
Visit this page for more information on the Affiliate Program.
---
Supported Cryptocurrencies and Payment Methods
On Redeeem, you only exchange your cryptocurrency for gift cards or vice versa.
The following cryptos are accepted:
Bitcoin
Bitcoin Cash
Litecoin
Dai
Dash
Dogecoin
EOS
Ether Classic
Ether
NEO
Sai
STEEM
Tron
TrueUSD
USD/C
Tether USD
NEM
Monero
ZCash
Read also:
---
Accepted Gift Cards
You can buy/sell the following gifts cards on Redeeem:
POPULAR
Amazon
Walmart
Starbucks
Ebay
SHOPPING
Nike
Nordstrom
Target
Macys
ELECTRONICS
GameStop
Apple Store
Best Buy
Xbox
HOME
Lowe's
Home Depot
Whole Foods
Wayfair
MEDIA
Steam
iTunes
Google Play
StubHub
Netflix
TRAVEL
Uber
Southwest
Hotels.com
Find the full details about the gift cards here.
---
Supported Countries on Redeeem
Redeeem supports users from over 200 countries except for these banned countries:
Burundi
The Central African Republic
Cuba
Crimea region
Iran
Iraq
Lebanon
Libya
North Korea
Somalia
South Sudan
Sudan and Darfur
Syria
Yemen
---
Redeeem Fees and Limits
Network Fees
The fastest and cheapest fee is currently 29 satoshi/byte, or 29,696 satoshi/kb (bytes * 1024), and the average transaction size is 300 bytes.
For more info, click here.
Deposit Fees
Redeeem does not charge you a dime for depositing; it is totally free.
Withdrawal Fees
Redeeem sends withdrawals at 29,696 satoshi/kb (normal).
Estimated fees are $0.64 per withdrawal.
Urgent: 29 satoshi/byte~$0.64 in fees
Normal: 29 satoshi/byte~$0.64 in fees
Economy: 13 satoshi/byte~$0.29 in fees
Buy and Sell Card Fees
On Redeeem, the Buy card fee is 3% while the Sell card fee is 4%.
This Buy and Sell Card fees are paid by the Takers(the persons coming to buy or sell at an already set price). Buy and Sell prices are set by the Maker(the person who places the order).
Limits
There are no deposit or withdrawal limits but you cannot purchase more than $10,000 worth of face value gift cards in a day.
---
Redeeem's Verification Process
No identity verification(KYC) is required for you to trade your first gift card on Redeeem.
But in order to protect its community, Redeeem requires every user to verify their identity through a Know Your Customer (KYC) process once they hit a certain volume limit.
The limits vary by country but apply strictly to everyone. For most countries, the limit is $5,000.
Redeeem uses a secure partner to validate KYC, Civic.com, the most trusted and secure ID verification company.
Redeeem partners with Civic Mobile App to enable you to scan and verify your identity documents nearly instantly. This is the fastest and safest way to satisfy your KYC requirement.
Civic uses multi-factor authentication to avoid the need to share any of your personal data directly with Redeeem.
---
Redeeem Customer Care and Public Opinion
The exchange has an extensive Help Centre where you can find answers to most questions.
In case you did not find answers to your query from the Help Centre, you can contact its customer support via:
Live web chat via Intercom (bottom right of every page)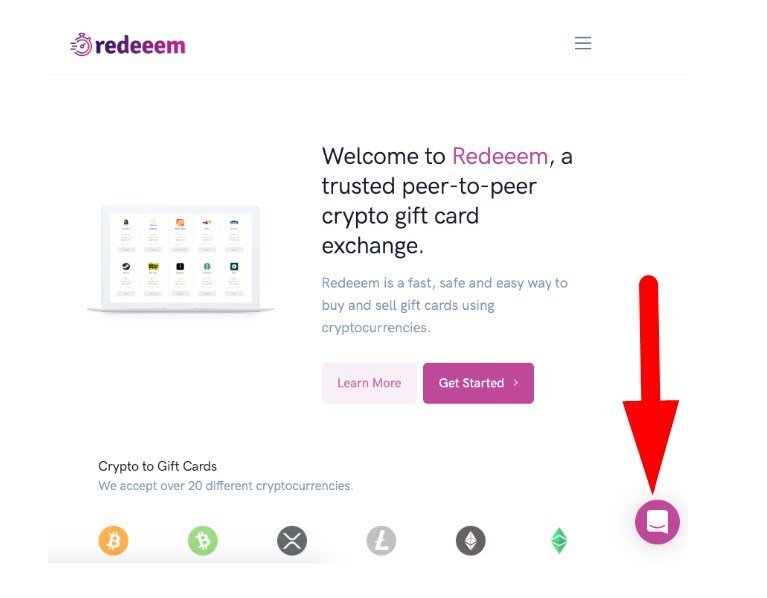 Email:

[email protected]

Physical mail: 8939 Sepulveda Blvd Suite 110 #796 Los Angeles, CA 90045
Of the 76 reviews on Trust Pilot, Redeeem has an Excellent(4.6/5) rating mostly from people commending the Redeeem team for their prompt response to their complaints.
---
Frequently Asked Questions(FAQs)
What are Trust Ratings?
A Trust Rating is a number associated with every buyer and seller used to help resolve trade disputes. 
If you've never used this service before, your Trust Rating will start low and increase over time. 
Your Trust Rating is dependent on a number of factors, some of which include: 
– Completing KYC 
– Phone verification
– Email verification
– Number of transactions
– Number of disputes 
– Educational quizzes
Trust rating is designed to offer transparency between Buyers and Sellers so they can see the trust rating of those they trade with. 
Your Trust Rating can be seen on your Home Page.
Why do I need to complete KYC?
Redeeem has a KYC (Know Your Customer) process to verify the identity of its buyers and sellers.
It does this as part of the U.S. regulations to ensure an honest community of users. 
It offers KYC through a trusted partner, Civic.
How do I buy a gift card on Redeeem?
1. Sign up for an account on www.redeeem.com
2. Purchase Credits using cryptocurrency (Bitcoin, Litecoin, Ethereum, etc) 
3. Buy gift cards (make sure to screen record using Loom).
If a gift card has an error, you have only a short trade window of a few minutes to report a bad card. If you do not report a bad card in the trade window you will NOT be credited back.

How do I purchase Credits?
1. Login to www.redeeem.com



2. Click on 'Buy' and then 'Credits'.



3. Input the amount of Credits you want to buy(from $5 – $5000) and click 'Checkout'.





4. It will redirect you to CoinsPayment page where you will select the coin of your choice and then, click 'Complete Checkout'.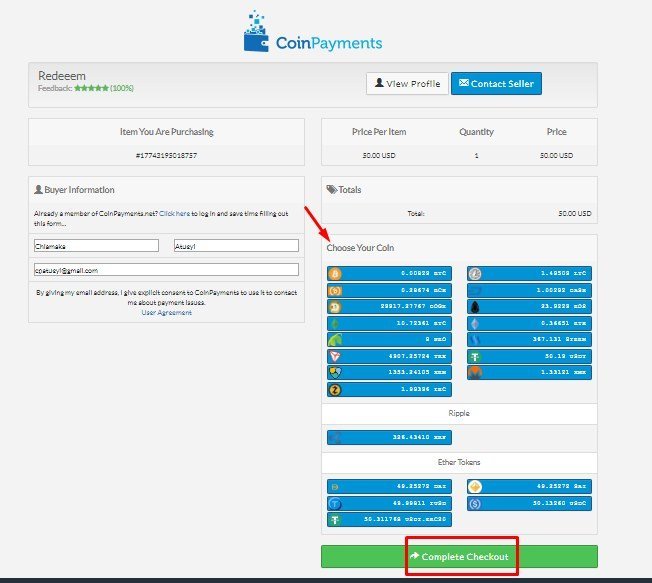 5. You will be notified via your email on the steps to take to complete your transaction.

---
Conclusion
This is the last part of this Redeeem review.
I am sure you have learnt a lot today.
So, let's talk:
Have you transacted with Redeeem before? What was your experience?
What fave coin of yours will you suggest for listing on Redeeem?
Though Redeeem is still in its early years, do you see them offering more services in later years?
And if you have something to be cleared on, kindly send it alongside your replies in the comment section below.
And lastly(think you already know what's coming), just give this post a share.
The share buttons are still right underneath.