The DeFi space has been all the rage since 2018! With over $41 billion worth of value locked, this space has certainly got tons of project building on it.
Nimbus Platform is one of the projects looking to make a splash on DeFi.
It launched in 2019, and up to 50,000 users have connected to this platform.
In today's review, I will walk you through all you need to know about Nimbus, and we will get to know if it is safe too.
---
Post Summary
Here is what I will cover;
Let's get started!
---
What is the Nimbus Platform?
Nimbus platform first launched in 2019 as a crypto arbitrage-trading bot.
However, in 2020, it did a total overhaul of its site and switched to a new business model that transformed it into a DeFi platform.
As a DeFi platform, Nimbus aims to be a liquidity aggregator where users can access several liquidity pools and earn streams of revenue as rewards.
The team at Nimbus are well-experienced individuals with expertise in Fintech.
It is currently headed by Jorge Sebastiao, who is running as the CEO of Nimbus.
Jorge Sebastiao has quite a grand CV, as he is an expert in Cybersecurity, Blockchain, IoT, and AI/ML.
Currently, Nimbus is running under a full-scale DAO-governed ecosystem. It equally has the GNBU as its DAO token.
Now, let's look at Nimbus DAO!
---
Nimbus DAO Explained
Nimbus DeFi platform launched its DAO alongside a governance token (GNBU) on the 10th of March 2021.
DAO simply stands for Decentralized Autonomous Organization.
It is a transparent organization, represented by sets of codes in a computer.
These sets of codes are controlled by all the members of the organization and cannot be influenced by a central government.
Nimbus DAO was launched to ensure that the platform's control is decentralized and allows every user to co-create the future of the platform.
However, for users to participate in the Nimbus DAO system, they must acquire the GNBU token.
With the GNBU token acquired, users can now stake them to create or vote for proposals on matters affecting the entire Nimbus ecosystem.
The screenshot below gives a clear hint on what could be proposed or voted for on Nimbus DAO.
Interestingly, the GNBU token is not the only token on the Nimbus platform.
Below, I discussed the Nimbus tokens in full.
Scroll down and check them out!
---
Nimbus Token System
Basically, there are three tokens that power the Nimbus DeFi ecosystem. These tokens are;
NBU
NBU is an ERC20 token, and it acts as the native utility token on Nimbus.
The token was launched on the 27th of January 2021.
On the platform, NBU hodlers can do the following with their tokens;
Stake their NBU tokens on DeFi pools to earn rewards
Exchange their tokens for another on Uniswap
Become eligible to participate in the referral program
The NBU token is also used to reward liquidity providers on Nimbus.
Moreso, the NBU token has a total supply of 1billion tokens. You can see how this token is being distributed in the screenshot below.
GNBU
GNBU is an ERC20 token and it functions as the Governance token of Nimbus DAO.
Here are the use cases of GNBU;
They are staked on Nimbus DeFi pools for rewards
Holders can create and vote on governance proposals
They can also be swapped with other crypto pairs on Uniswap
The total supply of GNBU is 100 million tokens, however, 16% will be kept as a reserve in the DAO ecosystem.
The details about the token distribution are shown in the screenshot below.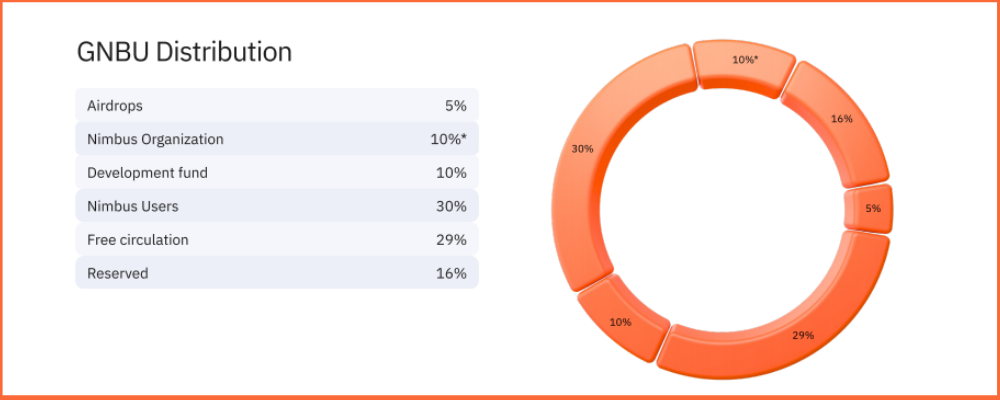 STAN
STAN will be a stable coin modelled after the ERC20 token standard.
This token will bring about stability to the Nimbus DeFi space.
It will also become a prerequisite for anyone wishing to participate in the Nimbus DAO ecosystem.
At the time of this review, STAN has not been launched. However, the team plans to make this token available by the Q2 of 2021.
In the subheading below, I will guide you through the five products that are currently offered on the Nimbus Platform.
---
What You Can Do On Nimbus
At present (March 23, 2021), Nimbus offers five main services. These services include;
Swap
Pool
Staking
LP Staking
Referral
Swap
Nimbus users can seamlessly exchange between tokens and make a profit from their price action.
There are up to 6 tokens available for exchange and they include;
2. Pool
Here, users become Liquidity providers by locking their tokens to different liquidity pools on Nimbus.
The best part is that, by providing liquidity, users are given LP tokens which accrue their share of the total transaction fee generated on the swap function.
3. Staking
On this section, users can stake Nimbus native tokens and earn an APY on them.
In the table below, I will show you the tokens that you can stake, and the APY that you will earn by staking them.
Nimbus Native Tokens
Soft Staking
(Earn APY)
Hard Staking
(Earn APY)
NBU
5% APY
7% APY
GNBU
10% APY
12% APY
*Users can withdraw their deposit on " Soft Staking" at any time. However, withdrawals on "Hard Staking" are made after 60 days.
4. LP Staking
Liquidity providers can stake their LP tokens in the available liquidity pools on "LP Staking" to earn a 100% reward in NBU.
5. Referral
Nimbus offers 3 types of rewards to users who invite their friends to its platform.
The rewards are as follows;
Earn 10% from token acquisition done by referees at the first level
Earn 15% from swap fees generated by referees at the entire 6 levels
Earn 7% APY for staking your NBU tokens
However, to participate in this referral program, a user must acquire $250 worth of NBU tokens and stake them on Nimbus.
Nimbus plans to launch more products that will boost financial possibilities in its platform.
I will guide you through its roadmap how it has fared… Read on!
---
Nimbus Roadmap/ What It Aims To Achieve
From what we have on the roadmap, it appears that the team at Nimbus has a big step-by-step picture that will accelerate the potential of Nimbus.
As of March 23, 2021, Nimbus has been able to achieve three projects so far.
The "Built-in-crypto Exchange" was achieved in 2020.
Also, Nimbus has fared so well in accomplishing its set goals for the Q1 of 2021.
In the Q1 of 2021 (which falls within the time that this article was written), Nimbus has been able to launch the following;
NBU token
Governance token and DAO
According to the press release on Medium, the P2P Loan Dapp is ready for use and will launch on the 24th of March 2021, when its final audit report has been released.
We are yet to get an update about the launch of "Crypto Arbitrage trading Dapp" as stated on the roadmap.
However, In my opinion, I firmly believe that the team is still fixing things up and will release an update as soon as the project is ready for use.
All things being equal, Nimbus may become a remarkable DeFi ecosystem when all the roadmaps are fully achieved.
Additionally, the Nimbus platform plans to build 4 Dapps on its DAO ecosystem.
The launch of these Dapps in the future, will connect the Nimbus DeFi platform to real-world use cases and also pull streams of income for its users.
I will talk about these Dapps briefly;
Crypto Arbitrage Trading DApp:
Nimbus plans to upgrade its former service into a DApp.
This time around, the DApp will offer a risk mitigated and reward optimized arbitrage trading via its network of pools.
Crowdfunding DApp:
This will be a unique decentralized tool with advanced off-chain features.
It will enable anyone with crypto to participate in startup crowdfunding in a regulated and secure way via smart contracts.
P2P Lending DApp:
This will offer multiple lending and borrowing tiers based on the risk-adjusted criteria.
IPO Hub DApp:
Nimbus plans to integrate third-party platforms to enable anyone to buy IPOs shares with their crypto assets.
It is with this DApp that the team plans to make Nimbus the first DeFi platform to list DeFi products on the Stock market.
Moving on, let's talk about how safe Nimbus is in the next section.
---
Is Nimbus Safe?
Nimbus platform is relatively new in the DeFi space but has acquired over 50,000 users within this short time.
Also, the team behind it consists of highly-profiled members who have a vast knowledge of fintech.
Remarkable is their CEO Jorge Sebastiao who has a solid background in the world of blockchain.
Nimbus aims to grow big in the DeFi space and has continued to follow the route to their roadmap to achieve their full potential.
More so, the team plans to integrate the Nimbus DeFi ecosystem into Binance Smart Chain. This will go live by June 2021.
Moments before this article was completed, Nimbus has total liquidity of $351,319 and up to $26,929 in 24hr volume trade.
Also, Nimbus smart contract has been audited by Zokyo.
Nimbus equally has a very active community with good engagement on Twitter and Telegram.
The only shortcomings of the Nimbus Platform is that:
Nimbus native tokens are only traded on Uniswap currently
The platform is yet to be listed on DEFI PULSE.
But despite the shortcomings, Nimbus seems to be a legit platform with high potential.
**You should note that I am not a financial adviser; just an author sharing her personal opinion. DYOR before going ahead with any investment.
We have almost reached the concluding part…scroll down to view the details on the FAQ section.
---
FAQs
1. How do I get started on Nimbus?
To use the Nimbus platform, here is a simple step-by-step guide of how to do so;
1.Go to nimbusplatform.io and click on "Go to Platform".



2. You will be redirected to a new interface. On the interface, you will see the list of services available on Nimbus. Click on any one of your choices and connect your wallet.



When you have connected your wallet, you will be redirected to your dashboard; from there, you can swap and stake the supported tokens.
2. How long will the Referral program last?
The Nimbus referral program will be ongoing until the percentage of NBU tokens allotted to it is exhausted.
---
P.S
Do you want to learn how to trade cryptocurrencies profitably?
We developed a perfect course to help you master Cryptocurrency Trading.
Go to www.ctmastery.com to enrol or Join us on Telegram via: t.me/ctmastery.
---
Conclusion
Here marks the end of my Nimbus review. Hope you read it till the end?
Nimbus Platform aims to offer a solution that will bring real-world use cases into the DeFi space.
But what do you think?
Do you think that the Nimbus Platform will soar to become one of the highly ranked DeFi projects like Aave?
What about the platform's native tokens? Do you really think they will see massive adoption in the future?
Let me have your opinion in the comment box below.
Remember to click on the share buttons below.
Cheers!
---
Other related articles;