Today, I am going to show you stores in Nigeria where you can make purchases and pay with Bitcoin and other cryptocurrencies.
In recent times, the adoption of cryptocurrencies around the world and in Nigeria particularly has been on the increase.
Most persons now want to carry out transactions using cryptos since it will be instant, convenient, and less expensive for them.
But the problem always is: Where can one find such stores?
Well, search no further because today, you will have the list of stores at your fingertips.
I will not only give the complete list of these stores with their locations, but I will also show you how you can make and accept payments in Bitcoin.
Now, what are you still waiting for? Let's get started immediately.
---
Post Summary
I broke down the topic of today into subheadings as follows:
A click on any of the subheadings opens up the details.
Have fun reading this post.
---
What is Bitcoin? – A Brief History of Cryptocurrency
Bitcoin is a decentralized digital or virtual currency that is secured by cryptography and serves as a medium of exchange at a person-to-person level.
It is:
decentralized because no Banking Institution or Monetary Reserve controls it
a digital or virtual currency because it cannot be printed
secured by cryptography – a method of protecting information and communications through the use of codes so that only those that the messages are meant for can understand it.
The year 2009 saw the advent of cryptocurrency with the release of Bitcoin's white paper by the elusive Satoshi Nakamoto.
After Bitcoin came various other cryptocurrencies and over the years, they have come to serve as media of exchange as well as stores of value.
They can be bought on exchanges and ATMs and stored in various crypto wallets.
Now, I will not be going into details about cryptocurrencies as I gave a detailed explanation about them in the post: 7 Top Facts You Need to Know About Cryptocurrency.
I know you are itching to find out the stores.
Find them listed out right below.
---
Bitcoin Stores in Nigeria
For the stores, I have about 10 of them but will keep updating the list with the latest information.
For each store, you will find the following information:
A brief description of what the store sells
Its location
Supported coin(s)
Contact details
Official website (for those of them that have)
The stores include:
1. CTMastery
CT mastery is an all-encompassing crypto trading learning platform designed to help you understand how to trade cryptocurrencies profitably.

Location

Port Harcourt, Rivers State

Supported Coin

BTC, BKY, LTC, ETH

Contact Details

support@ctmastery.com
Support Ticket

Official Websit

e
Visit Site
2. Regal Flowers
Regalflowers.com.ng is a top walk-in and online flower shop that sells and delivers luxurious fresh flowers to customers within Lagos.
To buy flowers, you can simply order online, walk into any of its stores, or call to make your orders.
Location

81b Lafiaji Way, Dolphin Estate, Ikoyi, Lagos State
Supported Coin
BTC

Contact Details

info@regalflowers.com.ng
+2347011992888, +2347010006665

Official Website

Visit Site
3. CloudSMS
CloudSMS(a subsidiary of CloudWare Technologies) is a leading SMS Http/SMPP gateway provider in Nigeria.
It makes reaching out to your clients, family, and friends easy, affordable, and instant.
Location

Oyo, Lagos, Abuja
Supported Coins
BTC, ETH, XRP, USDT, BSV, BCH, LTC, EOS

Contact Details

support@cloudsms.com.ng
sales@cloudsms.com.ng
info@cloudsms.com.ng
08179092255

Official Website

Visit Site
4. Gigalayer
Gigalayer is a company that crafts platforms for web hosting and domain names.
Location

Lagos
Supported Coins
BTC, LTC, ETH, BCH, DASH, PayPal

Contact Details

Support Ticket
+2348025594018

Official Website

Visit Site
5. FastTech
Fasttech is an eCommerce site.
Location

Enugu
Supported Coins
BTC, ETH, BTC.LN, LTC, TRX, USDC, XVG, PayPal, etc

Contact Details

Knowledgebase
Support Ticket

Official Website

Visit Site
6. Shinapwon Infotech
Shinapwon Infotech is a store that sells phone accessories ranging from phone cases to chargers.
| | |
| --- | --- |
| Location | Gbaremu Market, Ibadan, Oyo State |
| Supported Coins | BTC, Payeer, PayPal |
| Contact Details | +2348188471307 |
7. Hancarri
Hancarri is a store that sells a collection of quality foot and stock wears.
Location

7 Okpanam Road opposite House of
Assembly, Asaba, Delta State

Supported Coin

BTC

Contact Details

08188884195
service@hancarri.ng

Official Websit

e
Visit Site
8. Minku Designs
Minku Atelier is a store that creates hand made leather goods and clothing for men and women.
9. NotJustBrands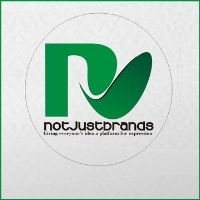 NotJustBrands is a media management and branding consultant.
Location

OAU, Ile Ife, Osun State

Supported Coin

BTC

Contact Details

+2349074045262
+2349031308608

Official Websit

e
Visit Site
10. EP Fashion Hub
EP Fashion Hub is a store that sells unisex designers wears and accessories.
It is a subsidiary of Event Plus.
Location

Shop 17A I.E Madubuobi Plaza opposite KIA Motors,
KM 11 Asaba/Benin Expressway, Asaba, Delta State

Supported Coin

BTC

Contact Details

+2348160736670
+2347065084291
That's it about the stores.
Below, I took out time to explain how you can make or accept Bitcoin payments in your business or store.
Scroll down.
---
Payments in Bitcoin and Other Cryptocurrencies
I will take this section in 2 parts.
I will explain how you can accept Bitcoin and other cryptos in your store in the first part.
In the latter part, I will then explain how you can make payments in these stores.
Part 1. How to
Accept

Payments in Bitcoin

There are 2 ways you can accept payments in Bitcoin in your store. They include:
Create a wallet to use
Using a third party
Create a Wallet to Use
To do this, you have to create a wallet to receive the payments. Note that different wallets support different coins.
If you will need to convert the coins to fiat in your bank account, you will have to sign up with an exchange.
Note also that different exchanges support different coins and not all of them provide wallet services.
After signing up with a suitable exchange, you will have to send the coins to the exchange's wallet, and then, withdraw to your bank account from there.
For example, I walk into Greg's Electronics shop and purchase a plasma television worth 0.0002BTC.
I will copy Greg's wallet address or scan his QR code, make payment, and leave with the television.
Greg will then transfer the BTC to an exchange wallet e.g Luno and from there, withdraw to his bank account.
Using a Third Party
This involves employing the services of a crypto payment processor.
A crypto payment processor is a service that enables you to receive payments in cryptocurrencies.
It can be used alone or with a plug-in. The difference here is that when used alone, access to products paid for is granted manually while the use of plug-ins automates the process.
Examples of these crypto payment processors include BitPay, Fliqpay, CoinPayments, etc.
Now to integrate a crypto payment processor (e.g CoinPayments), you will follow the following steps:
1. Go to coinpayments.net and click on 'Get Started' or 'Sign Up' to create an account.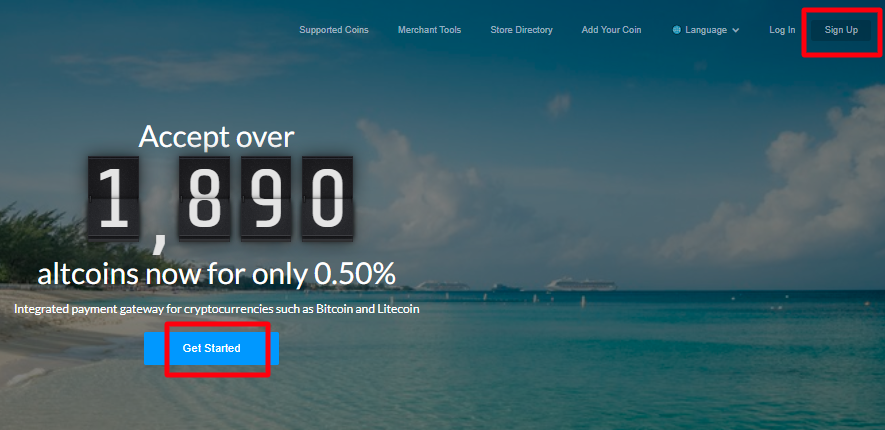 2. A form opens up with the option of either creating a Personal account or a Business account. Select 'Business' and fill in the required details. Click on 'Register' when done.
3. An activation link is sent to your email. Click on the activation link to proceed with the registration.
4. It then redirects you to a page where you can login. Confirm your details and click 'Login'.
5. Copy the 2FA code from your email, enter it and click 'Login'.
6. At this point, you will have the option of selecting 'Merchant' or 'Wallet'.
Selecting 'Wallet' means that you just want to use it to send and receive coins while 'Merchant' means that you will be using it to collect payments in your store.
Here, you will select 'Merchants' since that is the one that pertains to the post.
7. This opens up to a page where you will customize how the payment will go i.e if you will want to choose a number of coins to accept, accept all coins, coins with auto-convert, or fiat payments.
Let's say you want to accept only BTC and LTC, you will go ahead and select 2(Only Coins I Select).
8. You will then go ahead to mark the coins you want (BTC and LTC), set your payout mode, and the maximum value you will want to receive per transaction.
Click on 'Update Coin Preferences' when done.
9. This is now the point at which you decide to integrate a plug-in or set up a payment button or link.
Assuming you will want to integrate a plug-in (e.g WooCommerce), you will select 'Shopping Cart Plugins'.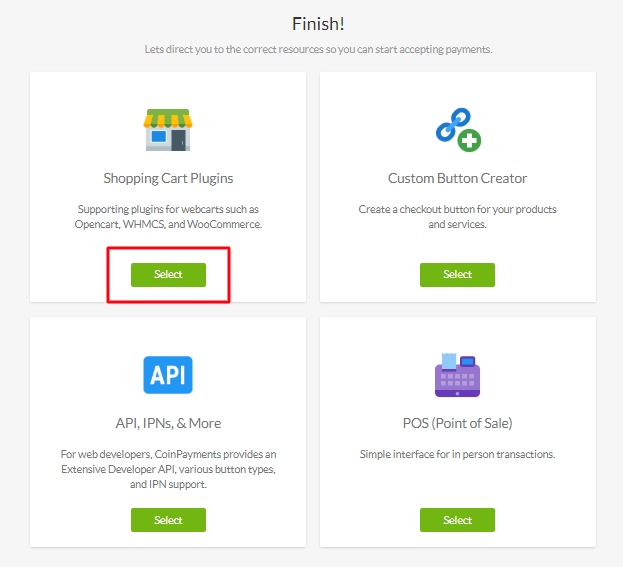 10. It opens up a page that contains various plug-ins. You can select any one of them to download and integrate.
You are now ready to accept cryptocurrencies on your site!
Hope the explanation is clear enough?
I will now put you through on how to make payments on these stores.
Part 2: How to
Make

Payments in Bitcoin

This follow thus:
1. Create and Fund your Bitcoin Wallet
For starters, you will need to create a Bitcoin wallet before going ahead to make payment.
A Bitcoin Wallet can be likened to your Bank Account where you store your fiat.
After creating the wallet, you will have to fund it (add Bitcoins to it).
Now, the steps to take in creating and funding a Bitcoin Wallet is explained plainly in this How to Create and Fund a Bitcoin Account(Wallet) in Nigeria (2020 Update) post.
P.S: If you already own a Bitcoin Wallet, you can still go ahead and create a new one or just fund the one you already have.
2. Pay with Bitcoin
Now that you have created and funded your wallet, it's time to make purchases and pay with it!
So, let's say you need to purchase a course online and you will prefer to pay with Bitcoin.
You will have to log in to the online store that sells the course, click on the course, and then select cryptocurrency as your payment option when checking out.
Your order information, the equivalent amount in Bitcoin, and a Quick Response(QR) code will be displayed.
You will then scan the QR code and send the exact amount of Bitcoin to the address.
You will then be granted access to the course you paid for.
So this is how you make payments with Bitcoins!
Note that the process is the same for any coin you will want to pay with.
Now that you've learnt how payments in Bitcoin works, let's go and check out the answers to some of the frequently asked questions.
---
Frequently Asked Questions (FAQs)
In making payments in cryptos, do I need a particular type of wallet?
No, please.
Payments can be made from any type of wallet.
So, you are free to own either a hot wallet or a cold one; the choice is yours to make.
But it is always advisable to deal with hardware wallets for increased security.
How long before my payment is processed?
Depending on the wallet and payment processor in use, transactions are processed once it gets at least 6 confirmations.
What are the specifications to look out for when choosing payment processors or plug-ins?
When considering plug-ins to integrate, choose the one that suits your purpose. For instance, some of them display approximate crypto prices on items page while others don't.

For payment processors, you have to consider the following:
a. How safe is the platform?
b. The charges
c. Ease of use
d. How fast are payments processed
e. Availability in various devices

Is it safe to make payments with cryptos?
The world today has gone mobile and most transactions are carried out online.
Making payments using cryptos is not only safe but it also saves you a lot in terms of time and fees.
Also, your personal details are kept safe as they are reduced to mere digits (your wallet address).

---
Conclusion
The level of crypto adoption in Nigeria increases by the day and so are the number of merchants that accept them.
If you know or own a store that accepts Bitcoin and other cryptocurrencies, do well to reach out via info@nigeriabitcoincommunity.com so I can constantly keep this list up to date.
This brings us to the end of today's post. You enjoyed every bit of it, right?
Before I round up, I would love to hear from you.
Have you bought any item using Bitcoin? What was your experience?
Following the level of crypto adoption in the country, do you see it becoming a legal tender in the nearest future?
Do you have any question for me?
Let me know all about it in the comment section below.
And you know what time it is… SHARE time! Just click on the buttons below to share this post.
---
Read more: