In this article, I explained why the LUNA coin collapsed.
LUNA is hot in the news right now because it went down from over a $100 price to less than a penny (as of 12/05/2022).
Holders of the coin have not stopped crying ever since.
So, what could have made such a high promising coin take a deep dive?
Let's get to it!
---
Why Terra's LUNA And UST Tokens Crashed
The burning mechanism of UST is to blame!
UST, which is the stablecoin of the TERRA ecosystem (and is pegged to the U.S. dollar) has a burning mechanism.
This mechanism is such that any time the price of UST rises above 1$, LUNA holders can burn $1 worth of LUNA to mint UST.
Also, if the price of UST falls below $1, holders can burn UST to mint $1 worth of LUNA.
The goal is to ensure a stable market for both coins so that holder will remain in profit.
Gratefully, this mechanism works like an arbitrage, so, holders make a profit when they burn UST to mint LUNA.
However, for the past few weeks, the price of UST has consistently been below $1.
Looks like LUNA holders have been burning more tokens than is necessary (lol).
Or, the total supply of UST was not backed by an equivalent amount of US dollars as we were made to believe.
Since the UST was losing its $1 peg, the Terra team had to do something about it.
What the LUNA Foundation did to save UST
The LUNA foundation traded over $1.5 billion worth of BTC which was initially used to back the UST.
They sold the BTC to buy back UST snd save the UST from crashing.
Unfortunately, investors weren't having it because the plan was never to sell the BTC.
After all, it was meant to be a backup, a sort of guarantee.
So, many investors, large investors for that matter, started moving their funds from UST to LUNA because there has been a breach of trust.
Other investors noticing that all was not well with the system, began to sell their UST and LUNA as well.
You know the deal, cash out before it fails completely.
And just like that, with more "sells" than "buys", Terra's LUNA and UST tokens collapsed.
So, if you were wondering what happened to your LUNA tokens, there you have it.
While some analysts say it was an inside attack (Terra's CEO has been bragging a little too much); others say that the mechanism for sustaining the system was wrong from the start.
Interestingly, crypto experts also say that this move by the LUNA foundation contributed to the crypto market crash of May 2022.
Side Gist…
There is a rumor that money manager BlackRock (BLK) and market maker Citadel Securities borrowed 100,000 BTC from the Gemini cryptocurrency exchange and swapped 25% for UST.
Then the two companies dumped the UST and BTC, crashing UST's sister LUNA token along with the price of bitcoin.
BlackRock and Citadel denied this allegation though. Get the full gist here.
Meanwhile, Twitter folks did not fail to lend their voices. Have a look:
What can LUNA holders do?
Well, if you have not sold your tokens yet, you may just hold your peace.
Who knows? The coin may bounce back.
It could always find its way back to the top if the team members put their hearts into it.
They are making moves already. Check out this recent tweet: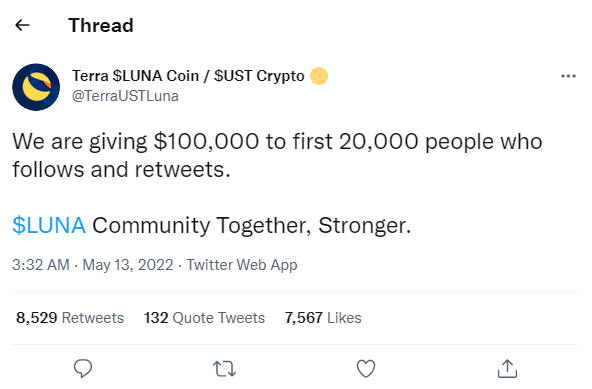 And if you are still bullish about the project, you may want to buy more LUNA.
Eventually, you'll become very rich when the market favors the coin.
But this is not financial advice, remember to do due diligence before making any move.
Here's a good place to start: Terra (LUNA): 3 Reasons You Should HODL LUNA + Its Passive Income
This is where we'll draw the drapes in this post. I hope it was worth your time.
Please drop your comments or opinions on this subject in the comments section below.
Also, share this post with your friends. Thank you!
---
You may also like…