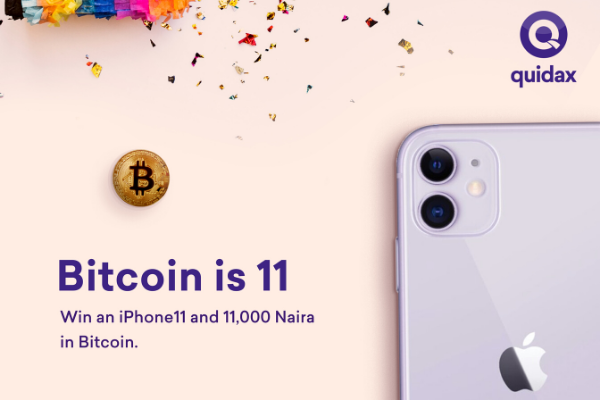 The 31st of October, 2019 marks the 11th year since the Bitcoin white paper was released to the public. The white paper was authored by Satoshi Nakamoto who is anonymous. It's said that Satoshi could be an individual or even a group of people. To celebrate Bitcoin's 11th anniversary and the launch of its mobile app,
cryptocurrency exchange
, Quidax is giving out an iPhone 11 and 11,000 Naira in Bitcoin to new and existing users. According to a statement by Quidax,
11 people every day
will
win 11,000 Naira in Bitcoin
starting from 31st October 2019 to 10th November 2019. While the person with the highest trades between
31st of October and 10th of November
will win an iPhone 11. The promotion is open to new and existing Quidax users. In this post, I will be giving you the steps to participate and a video demo showing the same steps.
Steps to participate:
Update: (5th to 10th Nov. 2019)
The Quidax team has made an update to this campaign. From 5th to 10th November 2019 all you have to do is
signup
to have a chance to win the reward. the 11th person to sign up each day wins the 11,000 naira in Bitcoins. Quidax is an African focused cryptocurrency exchange that makes it easy for individuals and businesses to buy and sell digital currencies using their local currency. Quidax currently offers Bitcoin, Ethereum, Ripple's XRP, Litecoin, Dash and USDT as well as wallet services which individuals and businesses can use to send, receive and store cryptocurrencies.
Step By Step Video (How to win 11,000 Naira & iPhone 11 on Quidax)
Note that this 5 mins video does not reflect the update above;
Have you used Quidax?
Quidax is undeniably Best Crytpo exchange in Nigeria yet (you will attest to it when you use the platform)
Fast funding and withdrawals 24/7
Multiple currencies
High-grade security
High liquidity
fast responsive trade room
Mobile App, etc.
I have done a full review of this exchange, you can check it out (
Quidax Complete Review and comparisons
) Go ahead and participate in this giveaway. Let me know in the comment section if you win. also, let me know if you have any issue registering. Cheers,