Hey there, this is an in-depth review of InstaShift.io.
Instashift.io is a peer to peer exchange, and like other peer to peer exchanges, it acts as a bridge or middle man between buyers and sellers and only intervenes to settle disputes.
By the end of this review;
You would know about everything InstaShift.io stands for, coupled with the services offered and loads more.
---
InstaShift Review Summary
For a better understanding of this post,
I have made a list of things to be covered on this review below;
Let's dive right in;
---
InstaShift Overview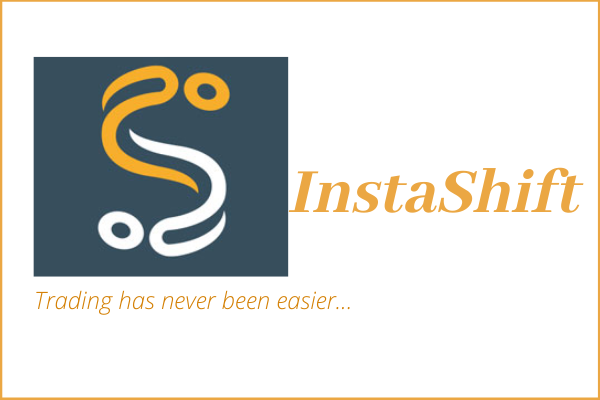 InstaShift.io is the quickest and easiest way to buy/sell crypto.
It enables users to easily buy & sell crypto in a unique multi-party peer to peer Style at the best rates with the minimum hassle and a simple, intuitive, OTC experience.
And only your Phone Number is needed.
No fiat ever comes into Instashift and therefore lowers regulatory risks towards KYC and other stressful processes.
InstaShift.io is an Estonian registered peer to peer exchange that was created by 2 Indian businessmen:
Kallidil Kalidasan (Founder of Mindhelix and Mobscale) and
Rahul Chitake (former head of Microsoft Azure's Indian business branch).
Through its p2p model, Instashift.io has taken privacy and convenience in the buying and selling of Bitcoin and other Cryptos to a whole new level making life extremely stress-free.
Ok, now you know exactly what InstaShift is, let's take a look at the services offered.
---
Services Offered By InstaShift
InstaShift is a trading platform which offers 4 major services which are;
Connect's Buyers and Sellers. i.e a Peer to peer exchange
Transfer Crypto from one account to another
Deposit/wallet service
Flip from one Crypto to another
Now, let's take a look at the currencies that it supports and their transaction fees as well.
---
CryptoCurrencies Offered and Transaction Fees
InstaShift is amazing it Offers 85 CryptoCurrencies which include;
Trading fees differ within the range of 1% – 5%.
It charges no fees for Bitcoin withdrawals. However, that isn't the case with other Cryptos.
Click Here For More Info. On Currencies Offered And Transaction Fees.
---
Features Of InstaShift
Instashift.io Virtual Wallet
Mobile app
Those are the features which InstaShift Possesses
Let's also take a dive into its benefits
---
Benefits
Here are the benefits of InstaShift
Instashift has an algorithm that establishes uniformed rates. This is to eliminate price disparities among buyers and sellers while creating a level playing ground for everyone. And it also offers a lot of currencies.
InstaShift maintains the sellers crypto in escrow thus providing buyers & sellers with the required trust in the transaction along with providing a dispute handling process for Fiat transfers.
Buyers do not need to have an existing coin wallet. By default, a virtual wallet is assigned to them.
Very easy to use and you do not require the knowledge of rocket science to understand
Those are the benefits of the exchange.
Ok let's also look at the countries in which InstaShift is Live
---
Supported Countries
InstaShift is Live in 45 countries which includes Nigeria.
The supported countries are;
Argentina, Australia, Brazil, Cameroon, Canada, Central African Republic, Chile, China, Colombia, Dominican Republic, Egypt, Ghana, Hong Kong, India, Indonesia, Japan, Kazakhstan, Kenya, Kuwait, Malaysia, Mexico, Morocco, New Zealand, Nigeria, Panama, Peru, Republic of Congo, Romania, Russia, Saudi Arabia, Singapore, South Africa, South Korea, Sri Lanka, Sweden, Switzerland, Tanzania, Thailand, UAE, Uganda
From here we are going directly into its Customer support
---
Customer Support
On the InstaShift home page, a Customer Support Menu is available where disputes can be settled and complaints made.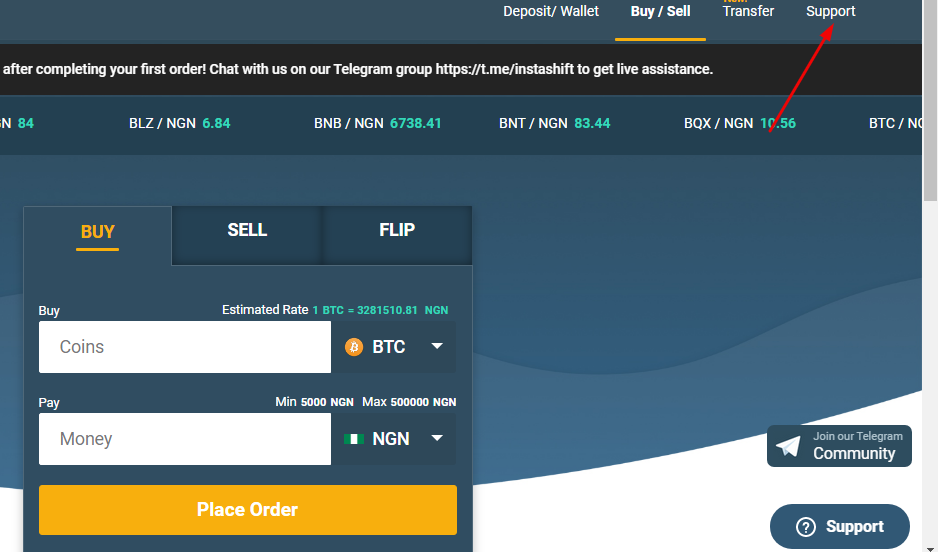 It also has a telegram support group @instashift.io.
---
Demonstration Video on How to Trade
Trading on InstaShift is very easy.
All you have to do is visit their Website or download their App on play store.
Click on Buy, Sell or Flip Depending on which you want to do then,
2. Select the cryptocurrency and begin the transaction.
The video below sheds more light on this.
---
Conclusion
Although InstaShift is a pretty cool exchange with distinct features and has a lot of benefits and also very easy to use
its delay in customer reply is quite appalling.
Yeah… That's it on this review
Now, are you going to start trading on InstaShift? or
Do you still have some questions?
Either way, leave me a comment right now in the comment section.
If you loved this review share it by hitting the share buttons below.
---
Check out other P2P Exchange Reviews