NO
as an answer. Does that sound like you? believe me, you're not alone. Speaking of Bitcoin trading, I personally had a terrible experience trading Bitcoins right until These 20 Crypto Trading Tools came to my rescue. However, in this beginner's guide, we are not trading, so you have nothing to be wary of. All we need to do is curate some extra income from the back door. This tutorial will walk you through the process of earning Bitcoins in a way you never thought possible. Believe me,  all you need is a hobby.
How To Turn Your Hobbies Into Bitcoin
This tutorial will be of utmost benefit to those who share my hobby (writing). however, if you have not yet defined or found your hobby, I advise you close your eyes, take a deep breath,  pick one and continue reading. Okay, believing that the second set of people have found their passion, let's move on.
Disclaimer:
I am not a fan of get rich quick schemes or those that insinuate you can earn $2000BTC in a day or week. I myself haven't earned that much yet, so I don't know how to teach you an overnight success strategy to earn you that much, neither have I seen one. All you will be learning today is what has worked, and is still working. So, it is only you that can write the amount on your cheque. Hope that is okay for you?
Alright, Let's dive into how to turn your hobbies into Bitcoin –
Doing
Freelance jobs
In this guide, to earn bitcoin as a hobby, you need to have something to offer in exchange for Bitcoins. You need not worry since you have what is common to all of us – a hobby.
 Types Of Hobbies You Will Need
Any skill in the following areas is enough to get you earning in Bitcoins:
Writing
Graphics Designing
Cartooning
Drawing
Translating
Autocad efficiency
Consulting
Piano playing
Development
Marketing
Consulting
Others…
  Requirement and Tools for Earning
An Email Account,
Bitcoin Debit Card (optional)
Bitcoin Wallet Address.
I want to believe you already have a bitcoin wallet. If not, go to
Coinbase
or
Luno
and get one.
Now that you have all the requirement, Let's proceed There are many freelance platforms to choose from. Perhaps you have heard of Fiverr. Fiverr is a great platform but is quite saturated now and does not pay in bitcoins. The freelancer platforms I will be featuring today is a perfect fit for beginners as well as professionals. They pay solely in bitcoin and their popularity is growing significantly as the number of users of this platform grows around the world.
How To Turn Your Hobbies Into Bitcoin
The Sources
XBTFreelancer is a bitcoin-based community that gives people the opportunity to earn bitcoin – money when tasks or projects are executed.
How Those It Work?
Summarily, People requiring services from freelancers, post their projects, while the available freelancers make bids, the best freelancers are picked to execute certain projects and are paid by people who hire them. Wait! It does not end there. As a newbie, you will need to build a reputation. This entails filling your
personal information – biodata
Why? Because it is required to build your portfolio.
Why Choose Xbtfreelancer?
Very low fees!
Payment within hours directly to your Bitcoin wallet!
No 3rd party payment processor, negligible withdrawal fee (~60¢ cents USD)
Everyone can earn here!
How To Turn Your Hobbies Into Bitcoin
The Practical Guide
Let's take a cartoonist for as an example.
Click on XBTFreelancer
Register as a new user else Login if you are already registered.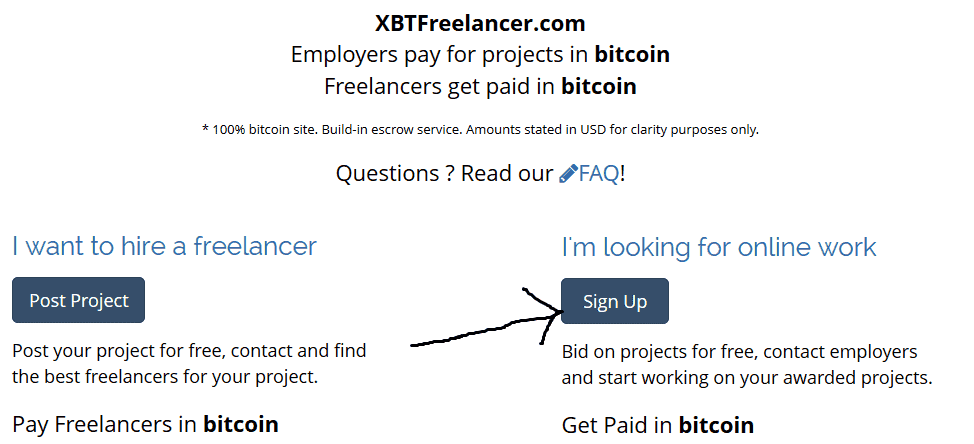 You will be redirected to your dashboard where you will see Post Projects, My Projects –(what you have done before now).
Make sure to complete your profile first.
Click on Browse Projects and scroll down to see your area of relevance – hobby.
When there, you will see all the projects up for grasp. Just notice, you will see projects marked with
"Bidding Closed".
That means they have already been executed. Now as a graphic designer, you will want to scroll down to see an active project. Going on, I will click on
BID NOW
.
at this point, you will see all the available jobs to be executed.
Check those relevant to your skill set and click on 'BID'.
On the next page, click on 'Place Bid'.
On the next page, enter your bid amount, comment and click save.
After that, click 'Close'. Now, if your bid is accepted after assessment, you will be notified (in your dashboard) When you are done with the project, all you need to do is log in to your account and submit to the client. That's practically how to make money working on
XBTFreelancer.
Another workspace you may want to check out is Coinality
#2. Other Freelancer Platforms that Play in Bitcoins
There are other platforms like Xbtfreelancer where you can earn bitcoins. Just like Xbtfreelancer, they offer a range of jobs and projects. They include;
They all work the same way Okay, that's all on turning your Hobby into Bitcoin.
Some Questions You Might Ask
Where can I exchange Bitcoin for Naira?
In case you are wondering where to exchange your earned bitcoin, that it's no big deal. As far as you have earned some bitcoins, a crypto exchange like
ngexchanger
will do justice to it.
Also read: 10 best exchanges to Buy and Sell Bitcoins in Nigeria
Where do I spend my Bitcoin directly?
If you are curious about places you could spend your bitcoin , then, I suggest you take a look at Overstock.
Conclusion
I believe in you, why? You can do this and add value to yourself (extra income), and you will thank

Nigeria bitcoin community

for it. Alright, now over to you. What do you think about this guide on earning bitcoin with your hobby, were the steps concise or complex? Please do tell me in the comment section. Thank you.

How To Turn Your Hobbies Into Bitcoin — Perhaps you have been made to believe in the idea of Bitcoin being a total scam, and have vowed never to have anything doing with it including earning it for free.  Everyone who has recently tried pitching the idea of investing in Bitcoin to you has been met with a big