Today's post is a review of HitBTC, a bitcoin exchange.
It is a trading platform with excellent features for users to explore and earn.
Talk about a wide range of APIs, trading contests, market overview, and more.
Plus, over 400 cryptocurrencies are supported on the platform.
Are you ready to learn everything about HitBTC? Then let's hit the road at once!
---
Post Summary
This review is grouped under the following subheadings:
Click on any item above to read its contents immediately.
Happy reading!
---
1. HitBTC Overview
HitBTC is a bitcoin exchange that facilitates the trading of Bitcoin and altcoins.
It was founded in 2013 by Ullus Corporation. HitTech manages the exchange and it is based in Chicago.
This exchange has a reputation of favoring expert traders. And there's no doubt about that.
But it does not mean that first time traders cannot also maximize the platform.
Institutions, merchants, and individual traders around the world can use HitBTC.
There are over 800 pairs of cryptocurrencies available for trading on this exchange. Amazing!
Also, users can take advantage of the completive trading fees and supported APIs for advanced trading.
HitBTC has physical offices in London, Malta, Singapore, Hong Kong, etc.
In the next section, I'll show you the features of this exchange.
Keep reading!
---
2. Features Of HitBTC
Trade charts
Mobile App
Wallet
Exchange
Trading Contests
System monitor
Market overview
Demo account
APIs
Next, we'll see the products and services offered by HitBTC.
Tag along!
---
3. HitBTC's Products & Services
Services offered by the platform include:
Exchange
This is where users trade different coins. There are over 800 trading pairs available and 400 cryptocurrencies are supported.
The exchange supports both spot trading and margin trading. You need to set up 2FA before you can do margin trading.
Buy Crypto
On HitBTC, users can also buy cryptocurrencies (only Bitcoin and Ethereum) using Credit/Debit cards.
OTC Trading
This service enables users to execute high-volume trades without going through the public order books.
The platform helps traders facilitate their deals with the counterparty without affecting the market price of the coin or token.
Market-Making
Here, HitBTC offers monthly market-maker contracts with attractive conditions like cash incentives and rebate bonuses.
Add Token
This service allows for interested parties to have their coins listed on HitBTC.
A request to add token takes about 10 business days before it is approved.
Moving on, we'll look at countries and currencies supported by HitBTC.
Read on!
---
4. Supported Countries & Currencies
Countries
All
Currencies
Crypto – BTC, ETH, BCH, TRX, XRP, USDT, XMR, BNB, COMP, QTUM, ADA, DOGE, and 388 others.
Fiat – USD, EUR, GBP, NGN, RUB, KES, CAD, AUD, JPY, KWD, and 30 others.
Next, we'll see the available payment options and transaction fees.
Keep reading!
---
5. Payment Methods & Fees Charged By HitBTC
Payment Methods
Cryptocurrency
Credit/Debit cards
Transaction Fees
Apart from OTC trading which has a commission charge of 0.1%, the trading fees charged by the platform follow a tier system.
Find more details below: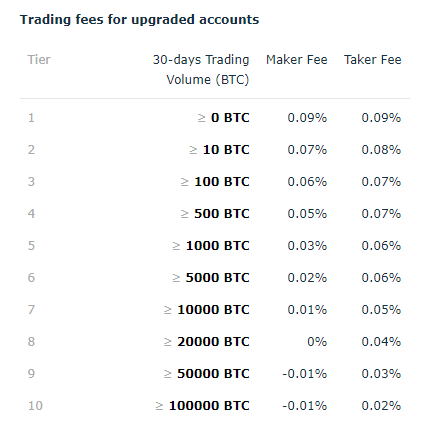 For this system, the more the user trades the lower their trade fees will be.
However, for Starter and General accounts, there is a fixed 0.1% Maker Fee and 0.25% Taker Fee.
These fees are paid in BTC.
There's more. Keep reading!
---
6. HitBTC's Transaction Limits & Verification Requirements
Limits
No limits were specified for margin trading on the platform.
But for spot trading, the minimum amount a user can trade is 0.00001BTC.
There is no maximum amount but be sure that you're not trading with an amount having more than 8 digits after the decimal point.
Such transactions cannot be processed by the system.
For OTC trading, the minimum volume is 100, 000 USDT and there is no maximum amount.
Then for 'Buy Crypto', the minimum amount is $28 while the maximum is $15,000.
Verification Requirements
Because HitBTC is regulated, customers must verify their accounts before they can perform high volume trades.
Without verification, users can withdraw 1 BTC daily and 5 BTC daily. Also, users can do spot trading but they cannot do margin trading.
After verification, users can withdraw up to 100 BTC daily and unlimited amounts monthly.
To verify your account, you'll need:
A proof of identity e.g. government-issued ID
Proof of address like utility bills
A Selfie
---
7. Customer Support & Public Opinion
Customer Support
Users of this platform can send their queries using support tickets.
Also, there's a knowledge base and blog where users can learn about updates from the platform.
Additionally, users can find answers on these channels:
https://www.facebook.com/hitbtc
https://t.me/EN_HitBTC
https://t.me/HitBTC_channel
https://github.com/hitbtc-com/hitbtc-api
https://www.reddit.com/r/hitbtc/
https://coinmarketcap.com/exchanges/hitbtc/
https://twitter.com/hitbtc
The admin responds instantly on the Telegram channel. Cool!
Public Opinion
I checked HitBTC on TrustPilot and it had an average rating with 1,573 reviews.
The reviews were mainly negative and centered on the inability of users to access their funds.
Replies from the team show promises of resolving the issues.
WebOfTrust considers the platform safe. It has a 3-star rating on this site with 33 reviews.
The reviews were mainly negative with much focus on poor customer support.
Then on SCAMADVISER, HitBTC has a trustscore of 1% which is very poor.
These reports show that the platform has to work on improving its reputation.
Moving on, I'll show you how to get started on HitBTC.
Tag along!
---
8. How To Get Started On HitBTC
i. First, visit hitbtc.com and hit 'sign up' to create your account
ii. Fill in your email address and create a password. Then hit 'Sign up'
iii. Go to your inbox and confirm your email by clicking on the link sent by the platform
iv. You'll then be redirected to the exchange
v. If you can, set up your 2FA right away and also verify your account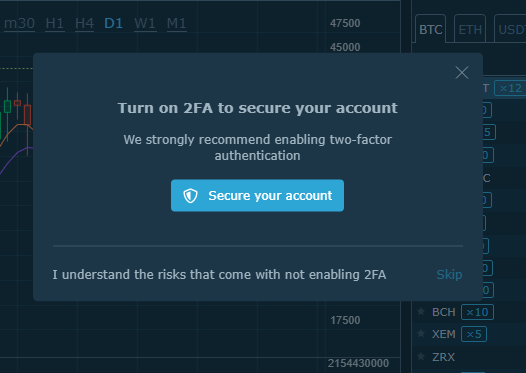 vi. Otherwise, proceed to deposit funds into your account by clicking on the green button on the menu bar
vii. Once your account is funded, you can start trading. Enjoy!
We are almost done here but before we go, let's answer some frequently asked questions.
---
9. FAQs
How safe is HitBTC?
The negative reviews online notwithstanding, this platform put up measures that make it safe including:
– cold storage and encryption technology
– 2-factor authentication
– various whitelists
– LD4 Data Center (in London)
– Compliance with GDPR, OPPA, CAN-SPAM, and COPPA
Nevertheless, DYOR before investing your money on the platform.
How do I make my first trade on HitBTC?
– Transfer your funds to your trading account.
– Next, go to the trading terminal, select a trading pair in the "Instruments" section, and set up an order.
– Finally, click "Buy Market" to perform a trade.
Bravo!
---
10. Conclusion
HitBTC is a cryptocurrency exchange that supports spot, margin, and OTC Trading; providing users with over 800 trading pairs to choose from.
It also has a range of APIs that support users who wish to trade with bot.
However, this platform has to work on improving their customer support and reputation.
Here, we'll draw the drapes on our discussion on HitBTC. I hope you enjoyed the read.
Now tell me, will you open an account with HitBTC?
Maybe you have an account with them already, what has been your experience?
Let's have your responses in the comments section right now.
Also, share this post with your friends. Thank you!
---
Interesting posts you shouldn't miss: