Welcome to Our Dominant Finance Review Dominant finance has been getting a lot of attention recently; everyone seems to be interested in investing their monies here, in hope of making monthly profits. Is Dominant Finance legit? If you seek an answer to the question above, I am glad to inform you that you are in the right place. Before proceeding, I will like you to know that we are in no way affiliated with Dominant Finance, all the information we will provide in this review are products of research, intended to guide you towards making the right decision. In this Dominant Finance Review, we will put you through what Dominant Finance is really about. And at the end, you will get a clearer picture of what to expect should you choose to get involved with them.
Dominant Finance Review – What They Claim To Offer
Dominant Finance promises its users a steady 15% to 16% monthly return on investment through Bitcoin Mining. They stress their claims further by promising to offer transparent payout statistics, commission reports, payout process information and mining pool analytics. They claim to be trading on large Cryptocurrency exchanges (such as Poloniex, Kraken, Bittrex and
Binance
) to give their users high liquidity rates. Furthermore, they claim to be running a global corporation with offices in Belize, Hong Kong, England, Russia and the United States. Summarily, Dominant Finance offers it investors a monthly ROI of up to 16% (0.3% to 0.67% daily) depending on their investment package. They are to realise the profits paid to investors through a combination of Cryptocurrency mining and trading activities.
Dominant Finance Review – Background Information
Dominant Finance looks like a pretty solid organization judging from the nature of their website and organizational structures. They seem to have put in a lot of money to ensure their services stand the test of time while maintaining their promise of utmost transparency. Here is what shaped my perception. Dominant Finance actually discloses the team responsible for running its affairs, which is a plus considering the fact that people are actually investing their hard earned monies and someone has to be accountable for their gains and losses. The team members can be seen in the image below: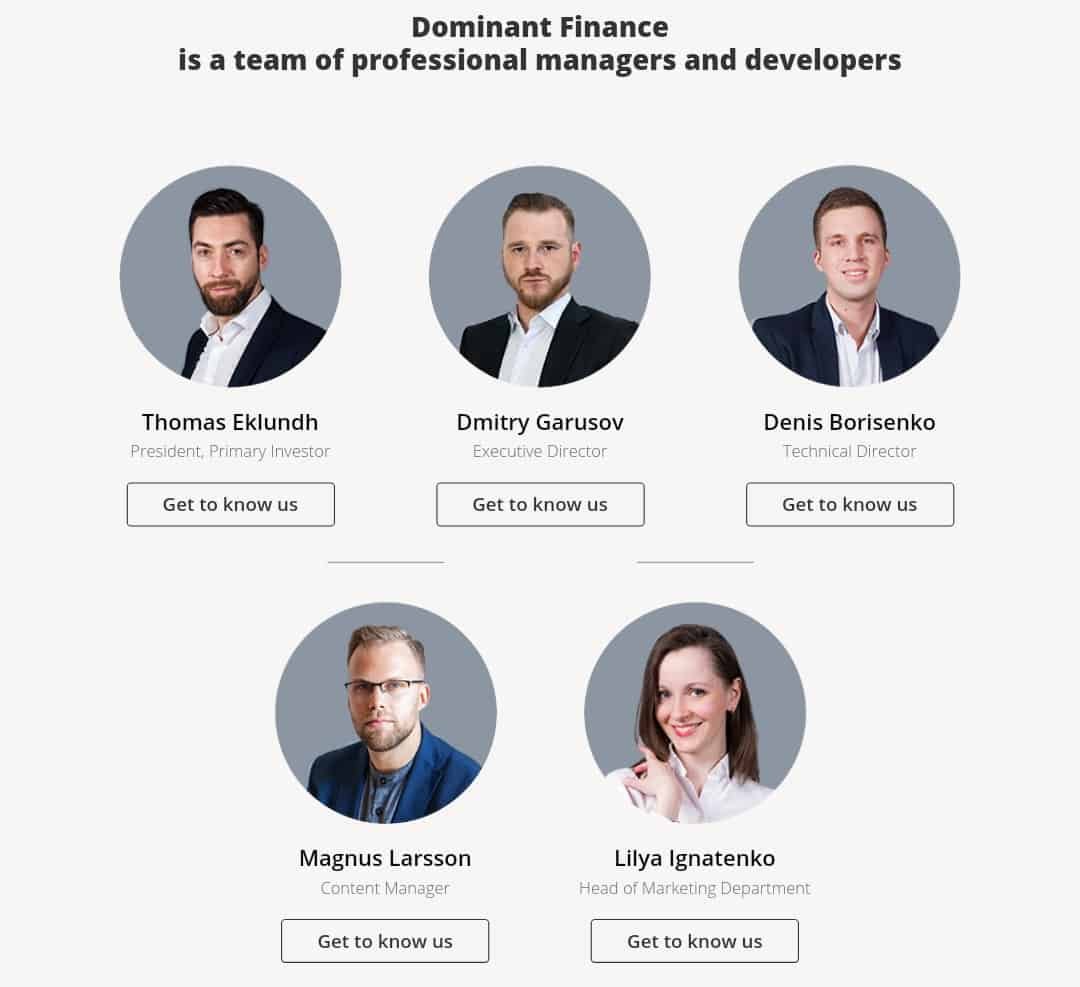 Having been able to link names to this platform, we set out to ascertain if they are real people and not just some stock photos with fake names and identities.
Here are our findings:
Starting from the organization's president "Thomas Eklundh", we found a Facebook handle with the name Thomas Eklundh. In the page, Thomas Eklundh links himself with Dominant Finance and stated that he resides in Gothenburg, Sweden. However,
Dominant Finance is located in Russia with a test farm in an undisclosed location in Sweden
At this point, we acknowledged the fact that the name Thomas Eklundh could be an alias, and the image assigned to it might just be a random image from anywhere. We needed an actual video proof that he actually exists. Fortunately, we were able to come across a video where he took a tour of the Dominant Finance' test Mining Farm. The video can be viewed below. in the video, he explained the efforts they have put in place to fulfil their promise of maintaining utmost transparency. A situation where investors can monitor their mining and trading activities in real time.
The mining farm looked legitimate, with Dominant Finance labelled equipment.
Red Flags
The fact that Dominant Finance presentation looks eye catchy and convincing does not rule out the possibility of it being a well-orchestrated fraud. Firstly, Thomas Eklundh's Facebook page was created on 30
th
April 2018 (this year). Hmmmmm….
That got me thinking, "
where was he prior to 30th April 2018?
"
Did he not exist prior to 30th April 2018
?
Remember that Dominant Finance was launched on the 27
th
of July 2018 (a month after Thomas Eklundh created his Facebook account) Information on this Thomas Eklundh character can only be found on Dominant Finance website and his Facebook handle, which makes it impossible to ascertain if the name really belongs to the face we are made to believe, or just an Alias intended to lure in investors. Moreover, anyone can walk up to an actual mining farm and strike out a deal with its owner. Afterall, what has the owner got to lose? He gets paid and takes off their branded stickers afterwards. Chances that this whole Thomas Eklundh character is a façade are pretty high – in my opinion. Furthermore, we were able to come across a video that showed Magnus Larsson in Dominant Finance' alleged headquarters in Moscow, Russia. However, the supposed headquarter looked empty, no staff or whatsoever could be seen besides Magnus Larsson himself.
"Remember that the test mining farm had just Thomas Eklundh as well".
Like Thomas Eklundh, we couldn't find further information on Magnus Larsson. So it is impossible to say that these characters truly exist. As far as we know, they could be real persons with fake names. They say the best way to catch a thief is to act like one: Ask yourself this question, "if I am to run a fraudulent financial platform to grab peoples monies, will I divulge my real name?"  "I can let people see my true face, but with a fake name and fake address in a distant country, I will be untraceable" That's apparently what is in play here with Dominant Finance.
Let's See Some Papers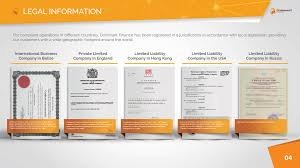 Dominant Finance provides shady incorporation certificates for the United States, Russia, Hong Kong, The United Kingdom and Belize. However, we reached out to the FCA to know if Dominant Finance is really registered, and the FCA refuted the claims, stating that Dominant Finance has never been registered. That got me thinking if they are not registered, why provide fake certificates of incorporation? Your guess is as good as mine. They are operating illegally, but want investors to believe otherwise. It is apparent that when they decide to stop operations and make off with their loots, there will be no catching them.
Dominant Finance Review – Compensation Plan
Dominant Finance requires that affiliates make investments and earn ROI's. They accept a variety of digital currencies, as well as USD and EUR. However, I will be making my illustration using USD. Dominant Finance has 4 investment plans, they are:
Crypton – Invest a minimum of $100 and earn a daily ROI
AltPool – Invest $50 to $10,000 to earn a daily 0.3% to 0.53% for 400 days
Dominant – Invest $100 to $15,000 to earn a daily 0.33% to 0.6% for 400 days
Maston – Invest $30,000 to earn a daily 0.37% to 0.67% for 400 days
In addition to the daily ROI, Dominant Finance also runs a Pyramid scheme that pays its users commissions ranging from 4% to 16% when they refer friends to invest. These commissions are paid through a Unilevel system, and you earn from both your direct and indirect referrals till infinity.
Take note of the part I highlighted in red.
Is Dominant Finance a Scam?
Different people have different perceptions of the true definition of the word "Scam". Some see scams as instant operations where you are quickly deceived into parting with your money. Others see scams as long term affairs where you will invest today, make some money tomorrow and boom! Everything goes offline next tomorrow. However, in our experience, it doesn't matter if you lose your money instantly (theft) or over a period of time (Pyramid schemes) as long as a platform is operating illegally with the intention of deceiving its users into believing a lie that will one day see them losing out. Then that platform is a scam. So, is Dominant Finance a scam platform? Yes, it is – in my opinion. Here is why:
The names behind Dominant Finance are relatively new characters (They did not exist prior to the launch of Dominant Finance)
Dominant Finance provides fake incorporation documents.
They claim to have 2 professional traders from Germany and Russia but have provided no proof to back up these claims. Apparently, the said traders do not exist.
The lack of proof for their trading activities means they intend to pay investors ROI through mining.
Mining is a volatile affair and cost a lot of money to operate.
It is impossible to determine the percentage or dollar value for your day to day mining activities, but Dominant Finance claims to provide those.
Dominant Finance allows non-investors to earn commissions by referring investors into the program. (anyone can sign up and start referring others to invest and earn commissions from their investments) this makes it categorically clear that Dominant Finance is a full fletched Ponzi scheme, taking money from investors to pay affiliate commissions while keeping the rest for themselves.
The only true way to make money out of this is by referring others to invest.
Conclusion
Dominant Finance' operations might sustain it for a while, judging from the low payouts. But the cookie will eventually crumble when cash flow reduces, and there is no telling when this will happen. It is possible that you invest in Dominant Finance and make a profit out of it (Ponzi schemes such as this always pay investors for a limited period of time to maintain some sense of credibility, but will eventually crash just like MMM, Trade Coin Club etc did). However, we are not financial advisors so you can choose to take your chances by investing in their plans. Our job is to make you aware of what you are getting involved with. I advise you stay off Dominant Finance, to avoid unwanted eventualities. But feel free to invest if your guts approve of it. I have written a checklist to keep you safe from falling prey to Scam platforms in the future, access it
here
Do share your views in the comment section below. If you enjoyed reading this review, please share the word by hitting on your favourite social media icon below. Thank You and God bless.