Based on your request, here are 6 cryptocurrencies to buy now:
This crypto dip that started in May 2021 is proving stubborn. 😅
And to think that it followed the dramatic rise of 2020, investors couldn't be more confused.
As of press time (18/07/2022), the price of bitcoin is around $22,000 which is a 26% drop from its initial support zone of $30,000. Oops!
But it is not all bad because last month, Bitcoin was struggling at $19,000.
And you know how it is, once there is a price movement in Bitcoin, other coins follow suit.
Without any further ado, let's talk about the coins you can buy in this dip for maximum profits later.
---
Top 6 Cryptocurrencies To BUY NOW
Click on any coin above to read its details immediately.
Let's roll…
---
1. Tenset (10SET)
The first coin on my list of top cryptocurrencies to buy now is 10SET.
Jude Umeano, a crypto trader and influencer, in one of his recent videos, mentioned that the 10SET token was not affected by the dip as much as other coins.
Looking at its chart on coinmarketcap, you will see that truly the coin did not do badly.
And you can trace this good report to the fundamentals of the coin.
First, it is an ETF 2.0 project and as such, buying 10SET means that you're buying a lot of crypto into 1 portfolio.
Secondly, it has a buy-back and burn mechanism that helps boost the value of the coin.
Out of the 2% fees charged for trading the coin, 1% is distributed to holders while the remaining 1% is burned.
Additionally, the Tenset team invested in different high-performing projects, and the returns on these investments are used to buy 10SET tokens from the market and burn them.
Recently, it burned $14.5 million worth of 10SET realized from its NFT sales. Cool!
These measures and more are put in place to consistently increase the value of the coin.
So, if you're looking for a good coin to buy now, you may want to lay hold on 10SET.
It is currently trading for $3.66 on major exchanges.
Read our detailed review of Tenset here.
2. Bitcoin (BTC)
The 2nd coin on my list of top cryptocurrencies to buy now is Bitcoin.
And the reason why it made my list is pretty obvious.
I mean, which coin is worth buying other than the coin that has remained number one since the inception of crypto.
Without any doubt, Bitcoin is a crypto market controller.
If the coin goes up or down, the market does the same. Talk about an ultimate market influencer. (LOL)
Besides, Bitcoin is very popular and it captures new investors.
That's why I believe that the coin will keep scaling.
Plus, it is the most researched coin and most closely related to blockchain technology.
Also, considering its halving mechanism every four years, Bitcoin enjoys discovery, adoption, and accumulation without stress.
Now, many people refuse to buy Bitcoin because of its high cost per unit but remember that we are in a dip, so this might be a good time to invest.
Moreover, Bitcoin is a store of value whose scarcity is compared to that of gold.
This makes it an asset that is worth holding in the long run.
You can read our complete review of Bitcoin here to learn more.
3. Solana (SOL)
Another crypto that you can buy during this dip is SOL
The unique selling point of Solana is its fast network.
It processes over 700,000 transactions per second. Beat that!
And this is possible because of its innovative Proof of History consensus mechanism.
The simplest way to understand this model is that instead of giving you information page by page, which is the common nature of blockchains, Proof of History gives you the whole book.
Thus, providing nodes with all the information required to process transactions instantly.
Additionally, Solana uses the Rust programming language and not SOLIDITY which is popular among smart contract blockchains.
Now, the advantage of Rust is that it is used by other sectors outside the crypto industry, and as such, it draws more developers to the network.
Little wonder why FTX, a renowned crypto exchange, quickly grabbed the chance to launch its decentralized exchange on Solana. Amazing!
In case you were wondering, yes, Solana is interoperable with other blockchains including Ethereum (with the help of its wormhole feature).
In addition to its large developer community, Solana also boasts of rapid growth in its ecosystem of DApps and DeFi services with more than $2.7 billion invested in products on the blockchain.
Over the past few days, for example, Solana-based Magic Eden ranks as the second-most-popular NFT marketplace (falling only behind Ethereum-based OpenSea) in terms of volume and users.
All of these indicate that the demand for the SOL token will keep rising and increase its value over time.
So, you may want to buy it now that it is selling at $41.65, about 80% below its ATH ($258).
Learn more about Solana here.
4. Ethereum (ETH)
You shouldn't be surprised to find ETH on my list of top cryptocurrencies to buy now.
Especially if you have read my post on reasons why you should buy ethereum.
There, I mentioned The Merge, ETH halving, high staking APY, etc. as some of the reasons why ETH will keep scaling.
Furthermore, Ethereum is the pioneer of DApps, NFTs, DeFi, etc, and this is equivalent to massive adoption.
Already, it has a large community that its so-called killers may never beat.
Moreover, other blockchains created to do better than ethereum thrive to be interoperable with it, thus, they do more complimenting than competing with it.
And this proves that Ethereum keeps winning.
Besides, it has remained number two for top-ranking cryptos over the years, coming just after Bitcoin.
I can only imagine what it will be like when it eventually transits to a Proof of Stake consensus.
It might even out-perform Bitcoin. Mads!
Please check out our detailed Ethereum review for more info.
5. Polkadot (DOT)
Another coin that made my list of top cryptocurrencies to buy now is DOT.
Polkadot is one of the most popular smart contract blockchains.
Interestingly, it supports both the Solidity and Rust programming languages.
However, the major reason I believe Polkadot will keep scaling is its introduction of Parachains.
Parachains are individual blockchain projects that run on top of Polkadot's main chain.
These projects add new functions to Polkadot.
Over time, the network will improve rather than stay rigid to what the creator originally had in mind.
For example, the Moonbeam Parachain enables easy compatibility with Ethereum through Solidity smart contracts.
And just like that, Polkadot gets better almost every week because of additional functions from these Parachains.
The effect it has on the DOT token is an increase in value with more people moving their assets to the Polkadot blockchain.
Also, holders of DOT vote for which Parachains will launch on Polkadot, and they are rewarded afterward.
The voting rewards (DOT tokens) are then locked for 2 years.
Thus, reducing the circulating supply of the token and eventually increasing the value of the rewards.
If 2 years sounds like a long time, you can buy and stake DOT on crypto exchanges like Binance to earn immediate returns (up to 20% APY).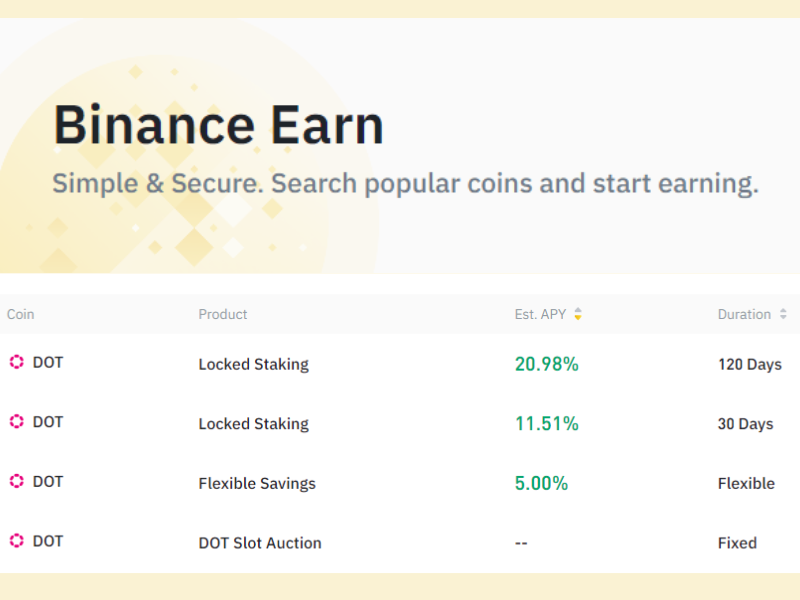 Learn more about Polkadot here.
6. Binance Coin (BNB)
Lastly on my list of top cryptocurrencies to buy now is BNB, the native token of the Binance Exchange.
What stands this coin out is its versatility.
For example, the BNB coin is powering two blockchains: Binance Chain and Binance Smart Chain.
Also, different platforms in the crypto space have adopted BNB for several applications, and a lot more.
Moreover, Binance is the go-to exchange for both beginners and experts in crypto trading.
This means that the value of BNB will only increase.
Additionally, it employs a buy-back and burn mechanism to improve its value over time. Impressive!
So, you may want to lay hold on this coin now.
Read our detailed BNB review to learn more.
---
Special Offer!
If you want to learn how to trade cryptocurrencies profitably, we developed a perfect course to help you master Cryptocurrency Trading.
Go to www.ctmastery.com to enroll.
You can also join our Telegram community at https://t.me/ctmastery for more information.
---
Conclusion
No doubt, the crypto market is in a dip but it will recover eventually.
When that happens, will you be smiling or having regrets? I hope for your sake, it is not the latter.
The coins I mentioned earlier may not take off to the moon but they have good potential and a very low chance of going to zero.
My favorite is Ethereum because it remains the king of smart contracts and will soon introduce sharding to speed up its network.
Even, experts are of the opinion that Ethereum has a chance of passing Bitcoin in market cap one day.
How about you? Which coin will you buy from my list?
Are there other cryptocurrencies that you'd love to add?
Lemme know in the comments section right away.
Also, share this post with your friends, thank you!