Hello everyone!
Welcome to another episode of crypto weekly, where you get updated on the significant events shaking the cryptoverse over the past few days.
In today's episode of crypto stories and happenings, we bring you the following;
NFL All-Day NFT Opens to the Public
Nigeria Aims for Millions of new eNaira Users as it Increases Features, Targets Unbanked
Programmable Money Should Terrify You – Layah Heilpern
Let's jump right in;
---
1. NFL All-Day NFT Opens to the Public
After a seven-month-long closed beta, Dapper Labs' NFL All-Day NFT has finally been made public.
Fans will now be able to get their hands on digital keepsakes of their favourite football stars.
This was announced officially on August 18th, 2022 by The National Football League (NFL), the NFL Players Association (NFLPA), and Dapper.
The first public NFT drop is a pack of four NFTs dubbed "Headliner" consisting of four different new player moments.
The NFTs come in different rarity tiers of common, rare and legendary, with just 187 packs containing a highly sought-after legendary NFT.
Users will have the chance to get their hands on NFTs depicting popular players such as Tom Brady, Trevor Lawrence, Javonte Williams, and Jalen Ramsey.
There will be a total of 22,500 packs on sale for $59 a pop.
There are also GameFi elements added to the experience via avenues such as collector challenges to earn rewards in NFTs, game tickets, VIP experiences, Jerseys etc.
2. Programmable Money Should Terrify You – Layah Heilpern
Social media influencer and TV Host Layah Heilpern has said – Government controlled "programmable money" should terrify you.
During an interview on August 19th, 2022 with British news outlet GB News, Heilpern, who also released Undressing Bitcoin: A Revealing Guide To The World's Most Revolutionary Asset in September 2021, said
"The widespread rollout of a central bank digital currency (CBDC) from nation states is on its way, and that it could lead to the financial censorship of citizens in the future."
Heilpern stated that as CBDCs are essentially programmable cryptocurrencies that run on blockchains, they could potentially be "programmed against you" at the whims of the centralized authority behind them.
Heilpern added that while a lot of people might find this concept to be quite bizarre, it's very realistic given the restrictions that were enforced on unvaccinated people by governments:
"With a CBDC, all [the government] have to do really is program that money so you can't spend it on certain things."
3. Nigeria Aims for Millions of new eNaira Users as it Increases Features, Targets Unbanked
Nigeria's central bank digital currency (CBDC) eNaira, is about to enter the second phase of its expansion with new technology to beef up its user base.
This was announced by Nigerian Central Bank governor Godwin Emefiele on Thursday while speaking at the 2022 eNaira Hackathon in Abuja.
Emiefele said, "The eNaira is a journey, not a one-time event.
We don't have a choice but to live with the fact that we are now in a digital economy, in a digital space, where the user[s] of cash will dissipate almost to zero."
"The second phase of the project has begun and is intended to drive financial inclusion by onboarding the unbanked and underserved users,
[…] with a target of about 8 million active users," Emefiele continued.
The CBDC has had about 840,000 downloads, with about 270,000 active wallets, including 252,000 consumer wallets.
There have been about 200,000 transactions worth 4 billion Naira (about $9.5 million at the official exchange rate).
He added that the central bank is incorporating Unstructured Supplementary Service Data (USSD) by next week to allow users to create eNaira wallets by dialling a four-digit code on their mobile telephones, whether or not they have bank accounts.
After that, users with bank accounts can use the Nigeria Inter-Bank Settlement System (NIPS) instant payment system to make transfers between bank accounts.
The eNaira already has apps allowing the user to pay for utilities and a number of other services.
4. First Actual Primate to Sell NFT This Week
According to reports from Fortune, a 21-year-old male Sumatran orangutan at the Oklahoma City Zoo, named Elok, is going to auction his set of artwork as non-fungible tokens later this week.
The primate managed to create a total of 20 pieces on a digital canvas.
The daily activity contributed to maintaining his mental health alongside digging and solving puzzles.
The orangutan did not paint the art pieces for free: he was rewarded with all sorts of snacks by his curator.
Elok had a bit of a learning curve when faced with the digital painting challenge, but he eventually got better, the Fortune report says.
It is noteworthy that Sumatran orangutans are critically engendered.
In fact, they are among the 25 most endangered primate species in the world.
Last August, Bored Ape Yacht Club, the most popular NFT project whose members tend to refer to themselves as apes, donated more than $200,000 to a charity called Orangutan Outreach, which is focused on protecting the majestic primates in their native forests of Sumatra and Borneo.
With a starting price of roughly $550 per piece, the Oklahoma City Zoo wants to raise enough funds to make a sizeable contribution to a local nonprofit that supports education, zoological research and education.
5. Rarible Proposes No-Fee Bored Ape NFT Marketplace for ApeCoin Users
Rarible has proposed creating a Bored Ape-centric NFT marketplace for the ApeCoin community, with no marketplace fees for NFT sales, unlike competing pitches from other projects.
This was shared on Wednesday, pitching an ApeCoin-centric NFT platform that will charge no marketplace fees for NFTs that are listed natively by holders.
The marketplace, powered by the open-source Rarible Protocol, would also aggregate listings from other notable marketplaces, including OpenSea and LooksRare to boost liquidity.
The proposed marketplace would focus on NFT collections tied to Yuga Labs' Bored Ape ecosystem, including the original Bored Ape Yacht Club, the Mutant Ape Yacht Club, Bored Ape Kennel Club, and Otherside.
---
Heads up!
If you want to learn how to trade cryptocurrencies profitably, then enrol in our Crypto Trading Mastery Course by going to www.ctmastery.com
You can also join us on Telegram to get more details
---
Conclusion
After successive weekly highs, BTC has started to drop massively below the 200 day EMA.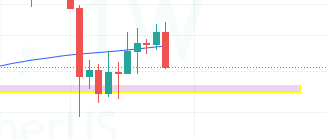 The Bears have continued to show that they run the markets for now.
Till we see another succession of highs,
HODL On!