In this post, I'll teach you how to avoid the 10 most costly mistakes that crypto traders frequently make.
Ever found yourself jump into a trade, only to realize that you have just gambled away your money? Well, this is relatable.
The truth is, crypto trading is unpredictable! But traders often lose their money due to their own mistakes without even realizing it.
By the end of this post, you will learn how to profitably enter and exit trades at all times. So. let's get started!
---
10 Crypto Trading Mistakes And How To Avoid Them
These are the trading mistakes you should avoid:
Now, let's look at them more closely!
1.Relying on Luck
Most traders want to make as much money as their crypto friends without even knowing how the crypto market works.
Most of the time, it's newbies who do this.
You see, making a profitable trade is a skill! And not something that comes from luck.
So, the first thing you will need to do as a trader is to master the art of trading.
We already developed the CTMastery course to help you acquire a profitable trading skill that will last a lifetime.
Also, note that acquiring a crypto skill goes pari passu with conducting your research.
Conduct both FA, TA and read news about the crypto you want to invest in.
Start with "Demo trading" first before delving into real trading, if you're not confident about your skills.
Not all cryptocurrency trading platforms support demo trading, but we have compiled a list of those that support it here.
This leads us to the second mistake!
2. Not Having a Plan
The second mistake I see crypto traders make is trading without an initial plan.
So, you have bought this coin, how do you then intend to profit from it?
Do you want to HODL for the long term or do you want to day trade the coin?
Long term – hodling a coin for months or years
Day trade – buying a coin and selling it on the same day or in less than a week
Or did you buy the coin because you think it is going up?
Well, if you want to HODL for the long term, you have to adopt a strategy for doing so.
For instance, the DCA strategy is reckoned the most profitable investment strategy for long-term HODlers.
If you choose day trading, the rule of the thumb here is that you need to be:
Well-versed in analysing candles
Be a pro in technical analysis
Keep a close eye on crypto charts.
Know that you are doing it the wrong way if you have bought a coin only because you think it is going up.
3. Buying Cheap Coins
Many traders feel that buying a cheap coin is one of the strategies to become a crypto millionaire.
However, this is only true to an extent.
I say this because most low-cap altcoins we see today are all shitcoins.
Investing in a shitcoin is one mistake that can wreck your crypto portfolio, the worst is that it may even be a rug pull.
So, before you go ahead to trade cheap coins, there are a few things you will need to consider:
Can I really profit from this coin?
Who are the developers?
What is the project behind it and how well will it develop in the future?
I provided an answer to these questions in my shitcoin review.
4. Not Diversifying
The common mistake that most crypto traders make and are unaware of is that they put all their trading capital into one trade.
Remember the adage: You should never put all your eggs in one basket.
Diversification simply means that you should split your crypto portfolio when trading cryptocurrency.
A simple example we can use here is this:
Let's say you want to invest $3000 into crypto trading.
Now, instead of investing the whole money into buying BTC, you can split it to buy other cryptos DOT, LINK, and so forth.
Diversification makes your crypto trading more profitable; it makes you more likely to lose some rather than all.
The thing is, you should diversify your portfolio even when you think you've found a real crypto gem.
I explained better how to diversify your crypto portfolio in this post.
5. Order Book Depth
Not paying attention to the "Order book depth" is the 5th costly mistake I want to talk about.
Most crypto traders know about the "order book" but quite a few know about the "order book depth" and how to analyze it.
Order book: shows you a collection of the available buy and sell orders of a crypto according to price levels
Order book depth: This gives you a pictorial representation of what we have discussed above. See the image below!
You can easily see this by tapping the "Depth" button on an exchange trading platform.
If the "bid or buy wave" is higher than the "ask or sell wave", it indicates that there is a lot of demand for the coin.
If, on the other hand, the "ask or sell" wave is significantly higher than the "bid or buy" wave, it indicates that the coin is in lower demand.
Furthermore, the steps you see in a "sell wave" or "buy wave" are called the "sell wall and buy wall".
When the "Sell walls" are far higher than the "buy walls," it becomes more difficult to push up the current price of a coin and vice versa.
Now, why is this important? It will help you to calculate the supply and demand of a coin relative to its price.
6. Marketcap and Supply
Checking the circulating supply of a coin you're planning to trade is very important.
Now, most crypto traders do not know this.
Trading a coin that has a very low circulating supply when compared to the total supply could be very risky.
This is simply because there's a chance you'll be dumped on by the coin's early investors or team when they eventually sell their holdings.
Another thing is to analyze the market cap and the total supply of that coin to its current price.
This is because a coin with a big supply and market cap is thought to have a lower probability of growing in value.
7. Hype
The next mistake I'd like to highlight is paying heed to empty hype.
We have newbies in this space, who got into crypto just because their friends had bragged about their crypto gains.
Similarly, most traders believe that a coin will skyrocket to the moon when a public figure talks about it.
The risk here is that you may end up investing in a pump and dump coin and lose your money.
The key takeaway here is to remember that cryptocurrency is a volatile asset, and it's extremely difficult to predict its price movement.
Always conduct personal research before investing in any crypto asset – Do not follow the crowd.
8. Buy High Sell Low
The main purpose of crypto trading is to buy low and sell high, however, most people are doing it the wrong way, often as a result of FOMO and FUD.
Now, this is how this scenario can play out:
Let's say you saw the price of a coin going up on a daily chart and you jump in to buy it due to FOMO.
Unfortunately, the coin's value dropped shortly after you bought it.
And, because you won't want to lose any more money to the dip, you ended up selling off the coin right afterwards or a few days later during the dip.😞
Here are some tips to avoid this:
Try to use the DCA strategy when embarking on such trade
Give the coin some time (to see if the price will shoot up again), do not be quick to sell it off at a loss
Also, when you are in this kind of situation, you need to ask yourself these questions before clicking the "buy" button:
How long enough will this price increase last?
Is the price movement within the recent support and resistant levels?
It is less risky to place your trade if the price movement is between the support and resistance levels.
However, you should trade with caution if the coin is in its ATH or has recently gained by more than 10%.
9. Lack Of An Exit Strategy
This 9th mistake is very relatable!
Most crypto traders do not know how to plan their exit strategy even when they have made a bulk of profit.
For most people, it is greed because they want to accumulate more profit than they have already made, which is very risky.
So, what exactly do I mean when I say "exit strategy"? It is the moment at which you either take your profit or stop your losses in a trade.
Remember, crypto is nobody's bank and it might fall or increase in price at any time.
To be a successful trader, you must learn how to secure your profits.
Here are a few tips to help you plan your exit strategy:
Always place a stop loss, this will help mitigate your losses. You can go through this article to discover the several ways to successfully place a stop loss order.
When it comes to profit taking, don't get caught up in FUD or greed. Be confident to exit when you have made some profit
Taking a profit at a fixed interval is one of the ways to take your profit if you don't want to exit a trade at once. I explained this below!
You can decide to sell 20% of your BTC profit each time the price doubles in price… and so forth.
10. Using The Wrong Exchange
The last but not the least mistake that I want to talk about here is trading with the wrong crypto exchange. Most newbies tend to fall for this.
Choosing the wrong exchange can negatively impact your trading experience for a lifetime.
Aside from affecting your profit, you run the risk of losing your entire crypto portfolio if you use a scam exchange.
For this reason, you need to ensure that the exchange you are about to deposit your money in is actually safe, reputable, and secure.
Here are a few tips to help you find a secure exchange.
Check out the platform's online reviews on blogs and social media sites like Reddit and Trustpilot.
Look for exchanges with a good trust score, trading volume, and liquidity. You can use market aggregator tools like Coinmarketcap or Coingecko to check this.
Do not be quick to use unpopular crypto exchanges
In addition, it is important not to ignore an exchange's trading fee.
This is because high trading fees can deplete a significant portion of your trading profits.
So, if you want to avoid this, you should trade on exchanges with low trading fees to keep your profits optimal.
Also, go for exchanges that are user-friendly as it is one of the factors that can help you trade effectively.
In this post, you will find a list of 10 top crypto exchanges that I have recommended.
Continue to the final part of this article.
---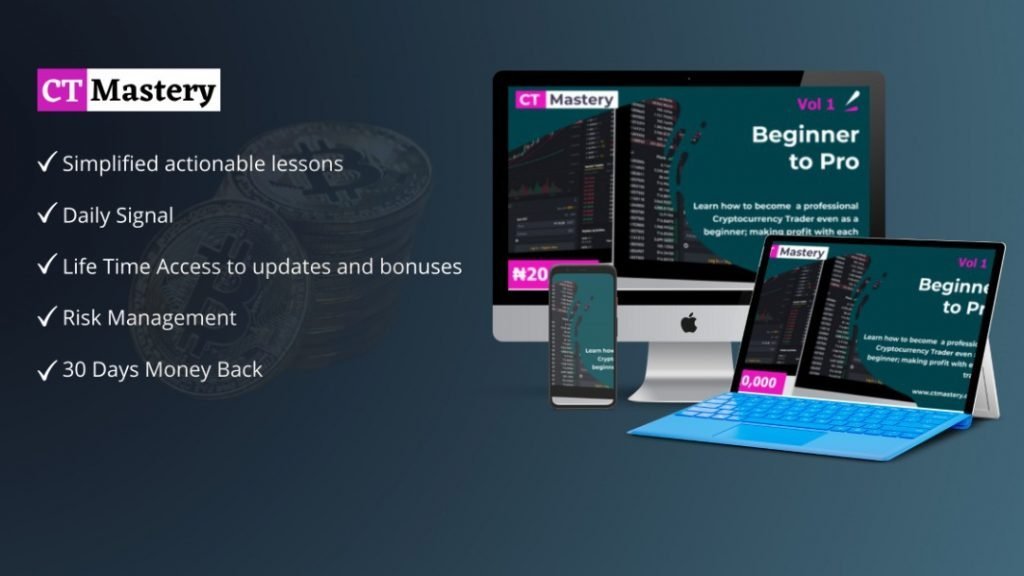 Ps: If you want to learn how to trade cryptocurrencies profitably, we developed a perfect course to help you master Cryptocurrency Trading.
Go to www.ctmastery.com to enrol.
You can also join our Telegram community at https://t.me/ctmastery for more information.
---
Conclusion
Alright, this is where I will put an end to this post.
Now, all the mistakes and strategies that I have explained here are to help you enter and exit a trade profitably.
Therefore, you must practice and adhere to what I have said here if you want to become a successful crypto trader.
Before we wrap up this article, I will like to further share the golden rule of crypto trading with you. Find it below!
Crypto trading is not a get-rich-quick scheme – always trade with the money you can afford to lose.
So, tell me:
Which of these crypto trading mistakes have you been making?
What did you learn from this article that you didn't know before?
You can leave your thoughts in the comment section, and I will respond.
Also, share this post with your friends by clicking on the social media icons below. Cheers!
---
Related posts: