In today's post, I shared tips on how to handle a crypto market drop.
May 2021 saw Bitcoin's price drop from over $57,000 to $30,000.
Needless to say, most traders were in shock and newbies were full of questions.
The crypto market is very volatile. And different factors contribute to a market drop. You will find them here.
Nevertheless, a crypto market drop is not the end of world.
Read on to see how you can soar even with a market crash.
---
How To Deal With A Crypto Market Drop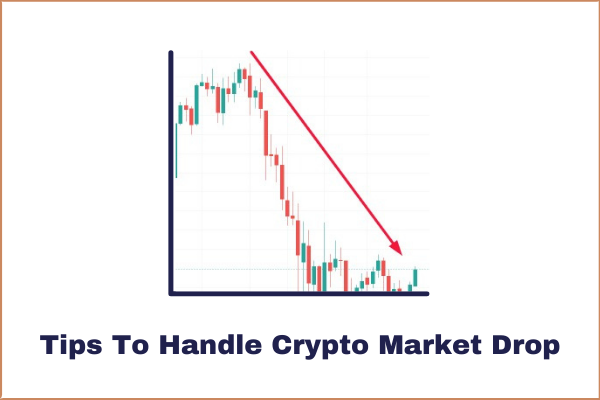 Let's roll…
1. Invest In Altcoins
One thing you can do during a market drop is to invest in altcoins.
They may not be the biggest digital assets but it's an opportunity to earn significant returns later.
This will help lessen the impact of the drop. Plus, you will get them at a lesser cost than they used to worth.
Crypto trends show that a drop is not permanent and coin prices eventually go up.
Therefore, buying altcoins is a good move.
Additionally, you should go for coins that you are bullish about.
Look out for coins that have a solid team and a promising business model.
If you're still not sure, you can start from here.
2. HODL, HODL, HODL!
Say, you are not able to invest in altcoins during a drop, well, don't sell off your assets either.
This is a good time to hodl. As mentioned, the market will eventually shift; and most of the time, it is a good shift.
So, rather than sell off your digital assets, hold on to them till when the drop fizzles out or even longer.
Fortunately, there are wallets that reward handsomely when you store your assets in them.
You can hodl your coins in such wallets for the best returns (Click here to see them).
3. Convert To Fiat
If holding does not provide the peace of mind that you seek, you can convert your digital assets to fiat currencies.
This is a good idea if you have already made reasonable profits from those assets and you don't want to risk making losses peradventure the price drops any further.
That way, you have your cash and can reinvest at a more convenient time
While you're at it, remember to allocate only the money that you can afford to lose.
4. Buy Bitcoin
Another way to handle a crypto market drop is to buy the dip. Yes, I said so, buy Bitcoin. ?
Take a brief walk into the history of Bitcoin; you will notice that the price volatility is usually favorable.
For example, in August 2020, Bitcoin sold for $20,000 and increased to $35,000 in November.
It went down to $23,000 in December and then climbed to $68,000 in February, 2021.
See what I mean? Buying the dip is not a bad idea. You are likely to profit in the long run.
But you must endeavor to watch the market for a safe time to sell. Good luck!
(Note: Bitcoin prices were approximated from the coin's chart on Coinmarketcap).
5. Short Your Bitcoin
Apart from buying Bitcoin, shorting is another strategy you can use to handle a crypto market drop.
Shorting Bitcoin means selling it at a high price and then buying it back at a lower price.
When the price drops, you will profit from the price movement between when you sold, and when you buy back.
The returns from Bitcoin shorting are compelling but it is too risky for newbies.
Only opt for this method if you truly understand the Bitcoin market.
Moreover, you can short sell other coins as well.
Gladly, several exchanges offer this service including Binance, OKEx, Bitfinex, Poloniex, and Kraken.
6. Increase Your Crypto Knowledge
Lastly, on how to handle a crypto market drop is to increase your knowledge of crypto.
As far this space is concerned, you can never know too much.
Take time to study your investments. Learn about the performance of your assets and key price metrics.
Also, try to understand crypto trading and its various forms, price predictions, and the movement patterns of cryptocurrencies.
You're in luck! We curated the perfect course that will teach you how to trade crypto profitably.
Hurry now to ctmastery.com to register!
You can also join our Telegram community at https://t.me/ctmastery
---
Conclusion
A Crypto market drop may seem hopeless but you'll be fine if you play smart.
You can start from the 6 strategies listed above.
Always put in money you can risk and stick to your plan no matter how the market changes.
With that, we've come to end of our discussion on how to handle a crypto market drop. I hope you enjoyed the read.
Got any questions or ideas you'd love to share?
Let's have them in the comments section right now.
Also, hit those SM icons below to spread the word, thank you!
---
Interesting picks for you…