"What is Catly?"
This was Justin's question to me.
I decided to check it out and found that Catly is a Ponzi scheme that wants to scam people of their hard-earned money.
Want to know how I arrived at this conclusion?
Read all about my findings below.
---
What is Catly and How Does It Work?
Catly (Catly.io) is an investment platform that promises higher returns to its users.
The first article I read about Catly is from Binance Feeds, not debunking or approving it.
This might lead people to believe that Catly is supported by Binance, not knowing that independent people write articles on Binance Feeds.
Still, on the search result, you can see that most of the articles approving Catly are Nigerian blogs.
This hints that this Ponzi scheme might have originated in Nigeria.
Let's look more into the details.
How does Catly work?
Once you sign up on Catly.io with your email and password, you can claim 500 Catly tokens airdrop.
To claim this token, you must provide your Binance Pay ID and BEP-20 address.
Once you have done that, then Catly will automatically be staked in your account to mine more tokens for you.
However, for the mining to begin, you must deposit at least one USDT to your account.
Note that the amount of money you deposit will determine the amount of Catly coins you will earn in a day.
The mining rewards are generated every day in Catly tokens, and you can choose to withdraw them whenever you want.
To do so, you must submit a withdrawal request on the website.
The amount you want to withdraw will be converted to USDT and transferred to your Binance account.
So, how is this a scam?
I explained that below.
---
This Is How Catly Is A Scam
Let's start where Catly said each user is entitled to 500 Catly tokens after they sign up and enter their Binance data.
The truth is that what you're claiming on the Catly website are just numbers, not tokens.
Since its creation, the token has sat at the owner's address without a single transfer.
So what exactly are people claiming?
Simply nothing!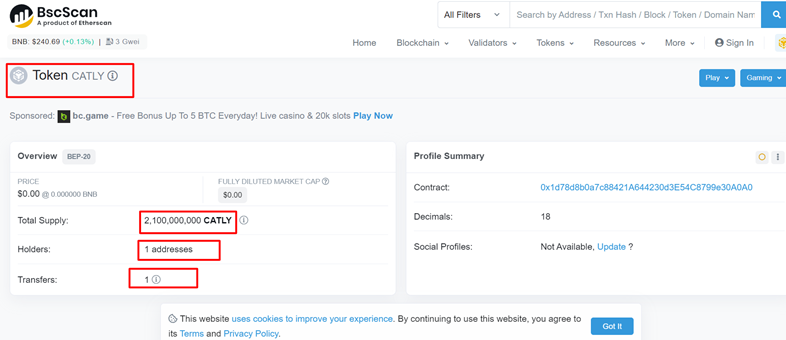 Additionally, the claim that the presale is selling out quickly and that more than 2 million USD worth of Catly Coin has been purchased is false.
Catly Token is still at the owner's address and has not been distributed in any way.
But they claim that once you buy the presale, it will be transferred to your account.
The whole mining event on its website is just numbers reading on a screen, and everything they wrote on their whitepaper and website was all lies.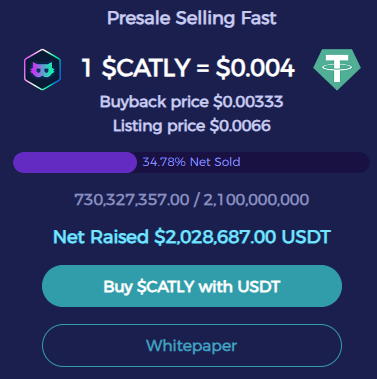 Again, Catly told us to invest in their token and receive daily RETURNS, but have you ever considered where they get their money?
The explanation is that Catly collects money from new people who invest and pay the old people already on the platform.
Based on what I've learned from this matrix, there will come a moment when there won't be enough to keep paying the people, and the whole thing will crash.
Going back to the website, the first thing they showed was their buyback program.
We were told that the money from the presale would be used to keep buying back the coin to reduce the supply of the coin and also boost the price of the coin.
Meanwhile, the link they provided as the history of their previous buybacks is not working.
Besides, they are buying nothing back because the tokens have not left the creator's wallet since it was created.
This means that the entire buyback program is a lie.
Furthermore, if you scroll down the website where they said the coin had been audited by blocksafu, it is false because there is no evidence.
They showed us that a Colorado non-profit company checking them is also false because the link they provided for verification is a spam link with no evidence.
They also lied about collaborating with the former Doge developer in their white paper.
I have not seen the former Doge developer mention this Catly project on his Twitter page or any of his social media pages.
I even doubt they know who the former Doge developer is.
If you visit Catly's page on X (formerly Twitter), you will see a lot of fake campaigns they ran to get people to follow them.
If you look at their followers, it is obvious that most of them are bots because many people now buy X followers.
By simply looking at the website, you can tell how poorly developed it is.
It doesn't take much to figure out that these guys are conducting a Ponzi scheme.
They collect newcomers' money and pay the old users until they can't pay again, and eventually, it will crash.
It seems that Catly has reached that limit where they can't pay their user again.
On Monday, 28th August, they announced that users could no longer sell their Catly coins again until:
the whole presale is sold out, and
Catly is listed on an exchange (which I definitely know won't be happening)
Tell me if that is not a clear handwriting on the wall!
Let's go ahead to conclude this post.
---
Conclusion
There, you have my analysis of the Catly project. Hope it was worth your time.
Please avoid such projects at all costs; they will only end in tears (disaster).
There are lots of them, and more will come out, especially when we hit the bull season.
Always carry out your research and follow the investment golden rule:
Only invest what you can afford to lose!
If you want to learn how to trade profitably, then sign up on Bybit and join our Telegram channel.
There, you will learn how to trade and also get trade signals. We also host DeFi classes.
See you in the group and in the next post. Cheerio