Last week we had a dicey decision. Bitcoin price shot up and then later crashed down (retracement). Like our prediction last week, you need to be vigilant and no FOMO.
Trading altcoins against bitcoin can be dangerous not only to your investment but to your health (sorry if it sounds harsh). The reason being that as bitcoin price dollar value rises, if an altcoin dollar value does not rise relative to it, such altcoin pair with bitcoin will fall in price (satoshi).
For instance, if XRP/USDT pair gains 5% and BTC/USDT pair gains 8%, then XRP/BTC pair will certainly fall.
Caution in trading cannot be over-emphasized.
Bitcoin Price Expectation This Week
We are presently sitting on our previously predicted support as we approach the 30 mark on the RSI. There is certainly a retracement and we might touch the Fibonacci 38% level, being $9,342 as $10,500 is broken.
I will suggest we exercise little patience for bitcoin price to correct itself before any other bullish anticipation.
We should wait for the RSI 30 mark cross lower. The MACD has also plunged and this a great time for another potential rise.
So, for this week kindly wait for a proper plunge which should hit $9,342 before any other short or long spike.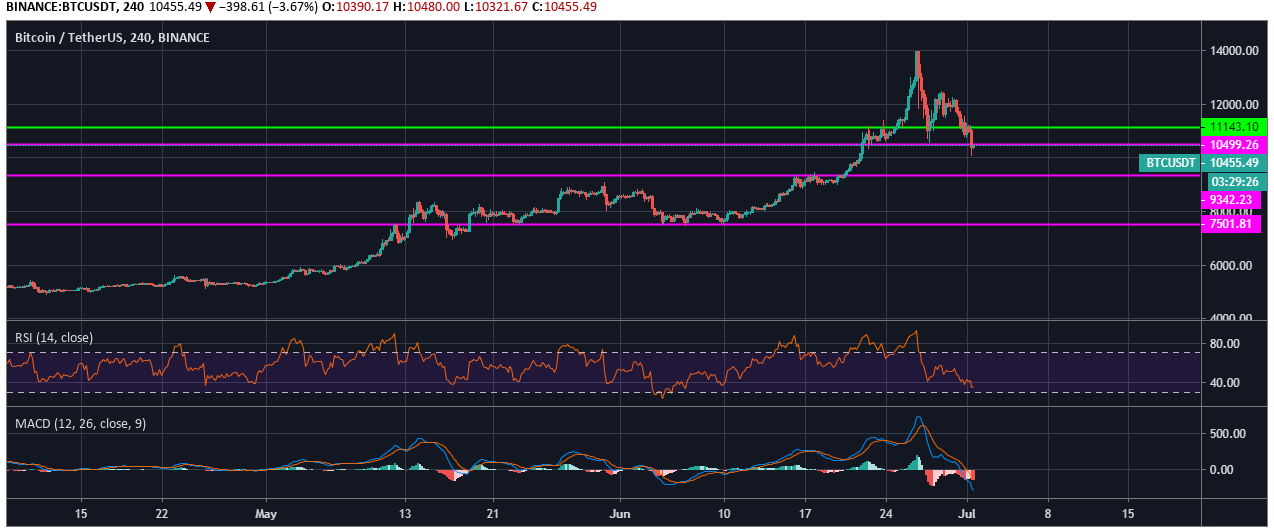 Looking at the technical indicators:     
Major Support Level – $10,500
Major Resistance Level – $11,140
Our Recommended Exchanges for placing Crypto Trades
for USD/BTC:
for Naira/BTC: 
If you have any questions, leave it in the comment section below.
Disclaimer: This article is in no way a financial advisor for your trading. Any action taken in this regard is done at your own risk. Nigerian Bitcoin Community is not liable for any loss or gain as a result of the application of this content. We advise you to do your own research.