On the 4hr chart (picture below), we have a bearish trendline (blue) that was broken but got impeded by the $9,374 resistance. We have a short term bearish trendline (green) that is still consistent. If this short term bearish trendline (green) sustains, then the support will be forced to open making $7,400 the next target.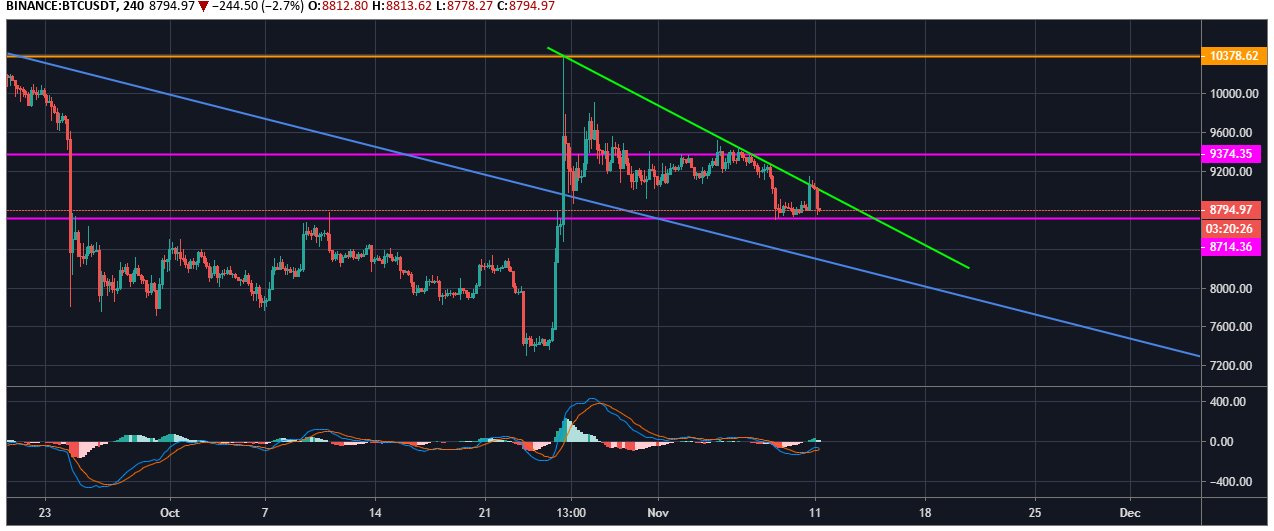 Looking at the technical indicators:   
Major Support Level – $8,714
Major Resistance Level
– $9,374
Our Recommended Exchanges for placing Crypto Trades
for USD/BTC: for Naira/BTC: 

If you have any questions, leave it in the comment section below.

Disclaimer: This article is in no way a financial advisor for your trading. Any action taken in this regard is done at your own risk. Nigerian Bitcoin Community is not liable for any loss or gain as a result of the application of this content. We advise you to do your own research.

Hello bitcoin lovers and happy eid-el-maulud. Sorry I didn't send bitcoin price update for last week. My sincere apologies folks. Bitcoin price is indeed a pendulum right now. Nevertheless, we always look out for our own share of the market. It's a norm that every end of the year is usually a bullish period, but we cannot really depend on an ordinary norm. This week we expect a breakout from the tight range we have on the daily chart. For over a week we have been limited to a range between $8,714 and $9,374. We also have our support, $8,714 sitting on the 200 EMA. If the support sustains and we get a break above $9,374 then our target will be $10,378. Our MACD shows that a downtrend, and also a weakening of the trend pushing it downwards. More probability of the downtrend than the uptrend.