Raise your pizza because it's Bitcoin Pizza Day! 🍕
Have you ever wondered why, on May 22 of every year, the crypto community gets bustling about pizza?
Well, that's because it commemorates the day when a certain programmer traded 10,000 BTC for a mere two slices of pizza.
Had he foreseen the millions of dollars those BTC are worth today, and how his seemingly trivial transaction would go down in history as the legendary "Bitcoin Pizza Day?" Hmm!
It's indeed the story that captures a moment when an irresistible pizza craving became Bitcoin's first real-world transaction. Tag along!
---
Bitcoin Pizza Day: The Story Behind It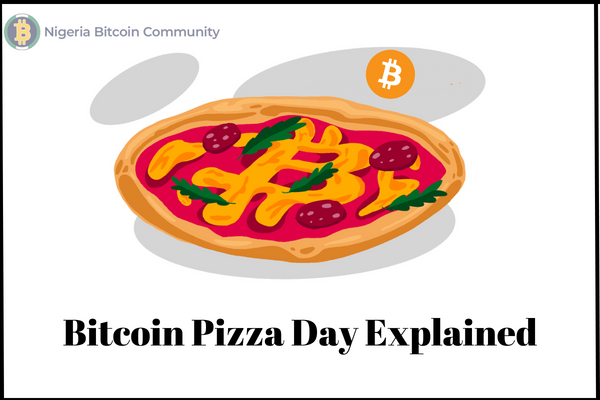 The popular Bitcoin Pizza Day celebrates a trailblazing event that unfolded during Bitcoin's early days.
On May 22nd, 2010, Laszlo Hanyecz made a now-infamous post on the Bitcointalk forum, offering 10,000 BTC to anyone in exchange for two pizzas.
Now, this shouldn't come as a surprise to you because 2010 was a year after Bitcoin's, creation.
So, Bitcoin was still a fledgling digital currency; it was worth less than a cent, and its potential appealed to a few people then.
Moreover, Laszlo Hanyecz was one of the earliest Bitcoin miners who discovered GPU mining as a more efficient mining tool to mine Bitcoin compared to CPU mining.
This probably suggests that he had a lot of Bitcoin within his reach and could spare 10,000 of it.
Coincidentally, Jeremy Sturdivant, another Bitcointalk forum user with the handle "Jercos," accepted this offer.
Sturdivant promptly took out his credit card and ordered two pieces of pizza for Laszlo from Papa John's, one of the largest pizza delivery companies.
And this, dear reader, is the story of how Bitcoin Pizza Day was born.
Bitcoin Pizza Day is a groundbreaking moment for Bitcoin because it marked the first-ever documented real-world transaction made with Bitcoin.
And did you know?
The value of Laszlo's 10,000 bitcoins today has skyrocketed to an eye-boggling figure in the millions.
Approximately $269,000 at the time of writing (May 22, 2023).
Wow!
Now don't feel so bad if you're yet to get your hands on some Bitcoin.
You will see how to do that next.
---
How to Buy Bitcoin in Nigeria Now
Intrigued by the world of Bitcoin and looking for the best way to grab some Bitcoin, Ethereum, or any other altcoin?
Bybit is your go-to exchange!
It is one of the world's largest crypto exchanges, with more than 10 million users.
Start up with Bybit by doing the following:
Sign up with Bybit using this link
Verify your account by following the steps here
Fund your account via P2P
Then go ahead to enjoy the services of the Bybit exchange.
Hurry… there's a $30,000 deposit reward for new users. I'm sure you don't want to miss it! 😜

---
Conclusion
I'm glad you read to the end.
Every Bitcoin Pizza Day, Bitcoin enthusiasts gather to raise a slice of their pizza in a toast to this monumental event in the history of Bitcoin.
It also highlights the remarkable development of Bitcoin since its inception.
Did you think that Laszlo would have traded such an amount of bitcoins for pizza if he knew their worth today?
Put your thoughts in the comment section.
Also, this is a friendly reminder to share this post if you enjoyed it.
---