Today got me focusing my review lens on Bitcoin Mixer(Blender), a service that is hinged on anonymity; making crypto transactions untraceable.
Bitcoin Mixer(Blender) is a service that makes your transactions on the blockchain untraceable.
As you read further, you will get to understand clearly how this works with all the information concerning this service.
All suited up already? Great!
Let's go do some Bitcoin Mixing!
---
Post Summary
Before we start up fully, thought it will be wise if you know the itinerary.
I outlined them below as follows:
Wanna skim through first? No problem at all!
Just click on any of the subheadings to access the section of your choice.
And now that you know what's ahead, let's begin post-haste.
Enjoy reading this post.
---
What is Bitcoin Mixer(Blender)?
Bitcoin Mixer(Blender) is a simple privacy tool that was launched in late 2015.
Its sole mission is to make transactions on the blockchain anonymous.
Now you might ask: I thought the transactions are anonymous already?
Nah… Pseudonymous is a more fitting word!
Transactions on the blockchain are pseudonymous. This simply means the person uses an alias or fake name which, in this case, is the address.
This way, anyone with your address can still trace your transactions on the blockchain which is an open ledger.
Bitcoin Mixer seeks to prevent this as it believes that privacy is a fundamental right of each person.
It does this by cutting the trail with the original address and giving you the same coins in your newly generated address.
The main focus is to ensure that the initial address trail is confused so no one can figure out the source.
It is also useful if you want to make donations or make P2P payments.
Let's move on to learn further details about this service.
---
Features of Bitcoin Mixer(Blender)
Friendly user interface
Multiple coins support
Improved security
Affiliate program
Smooth transactions
Privacy oriented
I have listed the features of this service but ofcourse, there is still more to be discussed.
Keep reading.
---
Products and Services
The only service it provides is CRYPTO MIXING.
How this works is that you will send coins to the service's wallet(wallet address will be provided on its site), it mixes the coins for you, and then pays you(after deducting its fees) new coins to your wallet.
Moreso, its service is completely automated i.e it works without human assistance. When the mixer finishes its work, it simply removes all related information.
Find below a step by step description of how that works.
First, you have to visit bitcoinmix.org and choose the coin to mix(in this case, I chose Ethereum). Then enter the wallet address where your ETH will be sent to, customize the transaction time, and click on 'Next'.
You will be taken to the Order page. There, copy the wallet address provided and send the coins(taking into cognizance the minimum amount) to it.
Then enter the number of coins you sent into the calculator to know the number you are getting back(after the fees are deducted).
Download the Letter of Guarantee and wait for the order to process after the custom time chosen elapses.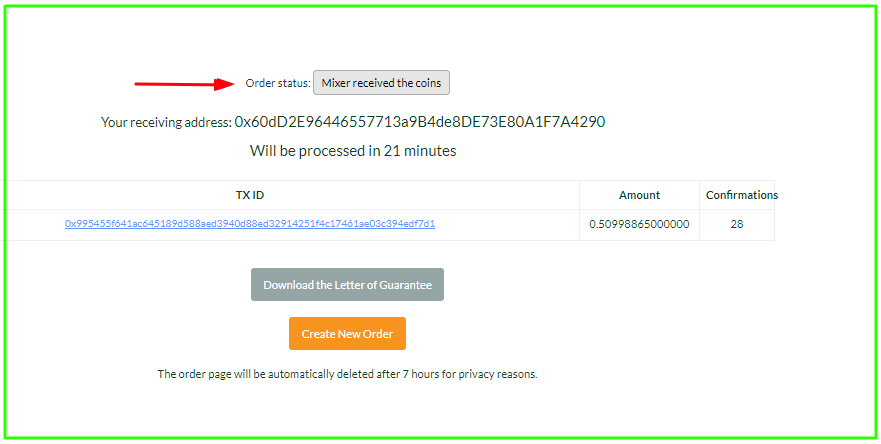 As the time chosen elapses, your coins will be sent to your wallet and you are notified that the order has been completed.
And you are done! Coins mixed with no hassles.
Let's continue to see the supported coins.
---
What Coins Can Be Mixed?
The coins one can mix on Bitcoin Mixer(Blender) include:
Bitcoin (BTC)
Ethereum (ETH)
Litecoin (LTC)
Each of these coins have a limit to the amount you can send and also, fees.
I will talk about them below.
---
Fees and Limits on Bitcoin Mixer(Blender)
This can be seen in the table below.
Coins
Fees
Minimum
Limit
Maximum
Limit
Number of
Network
Confirmations

Bitcoin

Variable
0.02 BTC
Variable
3

Ethereum

Variable
0.5 ETH
Variable
30

Litecoin

Variable
1 LTC
Variable
4
Take note of the following points before sending your coins for mixing:
The number of network confirmations in the table above means the least number of confirmations that will be gotten before your coins can be mixed.
The service generates a Letter of Guarantee for every transaction which you can download in case an order fails.
The order page is deleted automatically after a certain length of time(from 6 hours and above) for privacy reasons. It does not store logs.
Only information about uncompleted transactions are stored (Bitcoin transactions that were sent using minimum miner fees could take about 3 days).
It charges a random commission of 2-5% for every transaction.
Let's go ahead and see the supported countries, payment methods, and what is needed for you to use this service.
---
Verification Requirement, Supported Countries, and Payment Methods
Verification Requirement
To use this service, you only need an internet connection with your wallet address and you are good to go.
There is no form of registration or the need for you to provide your personal information at any point.
You might be thinking: 'What if I send a support ticket? That means the team now has my email details.'
Well, you are correct to an extent there. But it's just for a while.
The service does not store emails sent from support tickets. The sent emails are deleted in 24 hours after opening.
Thus, keeping true to its privacy mission.
Countries
Bitcoin Mixer(Blender) supports every country in the world.
This means that you can access its service from anywhere you are provided you have an internet connection and some coins available for mixing.
Payment Methods
Payments are made with the coins you want to mix.
For example, if you want to mix BTC, fees for that are charged in BTC and not any other coin.
Moving on, I will be talking about how well the team at Bitcoin Mixer(Blender) replies to queries.
Check that out below.
---
Customer Support and Public Opinion
Bitcoin Mixer(Blender) provided answers to some questions that users might have on its home page and in its blog posts.
For further queries, you can send the team a Support Ticket. But note that only real requests(e.g failed transactions) will be attended to; not spams.
You can also reach out to them via Twitter (twitter.com/bitcoinshuffle).
I found no presence of the service on TrustPilot but saw some disturbing reviews on Reddit, Bitcointalk, and Bittrust.
The reviews were centered on Bitcoin Mixer(Blender) being a scam.
I reached out to the team on this and it was explained as the handwork of its competitors.
When I tried out the service to ensure it is still functional, it worked PERFECTLY WELL and FAST too.
I mixed 0.5 ETH and I got back my coins after the custom time I chose elapsed; no issues!
Again, a recent report on Github further exonerated the service from the scam claims.
Bitcoin Mixer(Blender) was REMOVED from the blacklist section to which it was added initially owing to false-positive phishing reports.
It also confirmed that the service has NEVER been infected or related to any type of phishing.
So with that cleared, let's get on to see some frequently asked questions about this service.
Scroll down.
---
Frequently Asked Questions (FAQs)
What assurance do I have that I will receive my coins after it is mixed?
The assurance you have is the Letter of Guarantee which is generated for every single order.
It is signed with the service's address and the signature could be validated on any signature validator service. This serves as proof that the letter is not a fake one.
Also, that is what you will send to the support team if your order fails for any reason.
But why use a crypto mixer when I have a range of privacy coins to choose from?
Well, I think it is a matter of choice, and I will add convenience.
For starters, Privacy Coins are cryptocurrencies that hide information about its users such as the amount of cryptocurrency traded, IP(Internet Protocol) address, etc.
When using them, there is no trace of the transaction found anywhere.
Now, there is no disputing the fact that such coins e.g Monero, Verge, etc are already private.
But then, I found out that most persons choose and find it more convenient to transact with non-privacy coins e.g Bitcoin.
This might be because they are more widely accepted.
After transactions, they can now go ahead and obfuscate the trails using crypto mixers like Bitcoin Mixer(Blender).
However, there's still a percentage of users that will just choose to work with the privacy coins; saving themselves the cost of mixing.
So, in all, it largely depends on what the user wants!
Read more: Top 10 Privacy Coins Reviewed – Which is the Best?

Is it possible that I can receive ETH in place of BTC that I sent for mixing?
Not at all!
You can only get back what you send for mixing.
So if you send BTC for mixing, be sure to receive BTC in your wallet; no form of exchange is going to take place.
What happens if I send coins smaller than the minimum amount?
As clearly stated on the Order pages, any amount lower than the minimum amount that is sent is considered a donation.
So, unless you want to make a donation, ensure you always send amounts equal/greater than the minimum amount stated for each coin.
Is Bitcoin Mixer(Blender) legit?
This might be a bit tricky to prove since there is no form of registration of the service found anywhere; all thanks to its privacy mission.
But despite all the negative reviews, the service is still functioning for close to 5 years now.
And 5 years in the crypto-verse is kinda a big deal.
But as I will always say, always follow the golden rule of investment and not invest more than you can afford to lose.
Above all, DYOR before setting out on any investment path.
That's it for the FAQs.
Still have other questions apart from these? No issues at all!
Just come with me to the last section where you will get the chance to ask all of it and even make your comments.
---
Conclusion
Now that we've gotten to this last section, our job is almost done.
But before rounding up, let's quickly check if we followed through with the itinerary.
Through the course of the review, we looked at these:
What is Bitcoin Mixer(Blender)?
Features of Bitcoin Mixer(Blender)
Products and Services
What Coins Can Be Mixed?
Fees and Limits on Bitcoin Mixer(Blender)
Verification Requirements, Supported Countries, and Payment Methods
Customer Support and Public Opinion
Frequently Asked Questions (FAQs)
And yes… we did! We sure deserve resounding applause!!
Now, I will just need you to help me answer these:
Have you used this service before? What was your experience?
Are there some of your fave coins that you will want the service to provide support for?
Will you try out this service or are you just gonna work with the already private coins?
Leave me your replies, comments, and questions in the box below.
And don't forget to use the share buttons below to help someone learn of this privacy service.
---