BitclubAdvantage has been attracting a lot of attention over the past couple of weeks, and it is not hard to see why.
Their adverts are literally everywhere, people are talking about it left, right and centre especially on social media, blogs and forums.
I believe you have come across an advert trying to promote BitclubAdvantage, you are interested but will like to know more about the platform before making a decision. If that be the case, then I am glad to inform you that, you are in the right place.
It might interest you to know that I am not in any way affiliated with BitclubAdvantage, and have no reason to promote their business. I have done my research judiciously and whatever you see here is the truth, intended to guide you towards making an informed decision.
This review will simply guide you to the truth.
Is BitclubAdvantage a scam? Is it legit?
Let's find out.
---
What is BitclubAdvantage?
Looking at BitclubAdvantage's official website you will notice that nothing was said about its actual owner's identity or company location. The only information that can be found are claims of the platform being created by a team of professional traders with expertise in spot and crypto trading.
The question is, does the team of professional traders not comprise of actual human beings with names? Who are the team members? What are their nationalities? Don't they have names?
You will agree with me that for a business to be credible, it has to divulge such information to its investors. No one will feel safe doing business with a faceless organisation. Besides, their official website looks more like a page or portal where members can log into the platform and nothing more.
However, I checked up the domain name "BitclubAdvantage(dot)academy" to find its actual ownership information, and here are my findings; the domain was registered in 85260 Scottsdale, Arizona, USA on the 28th of July 2017 and will expire on the 28th of July 2019. And since it was registered privately, its owner's name and contact information were intentionally hidden from the public.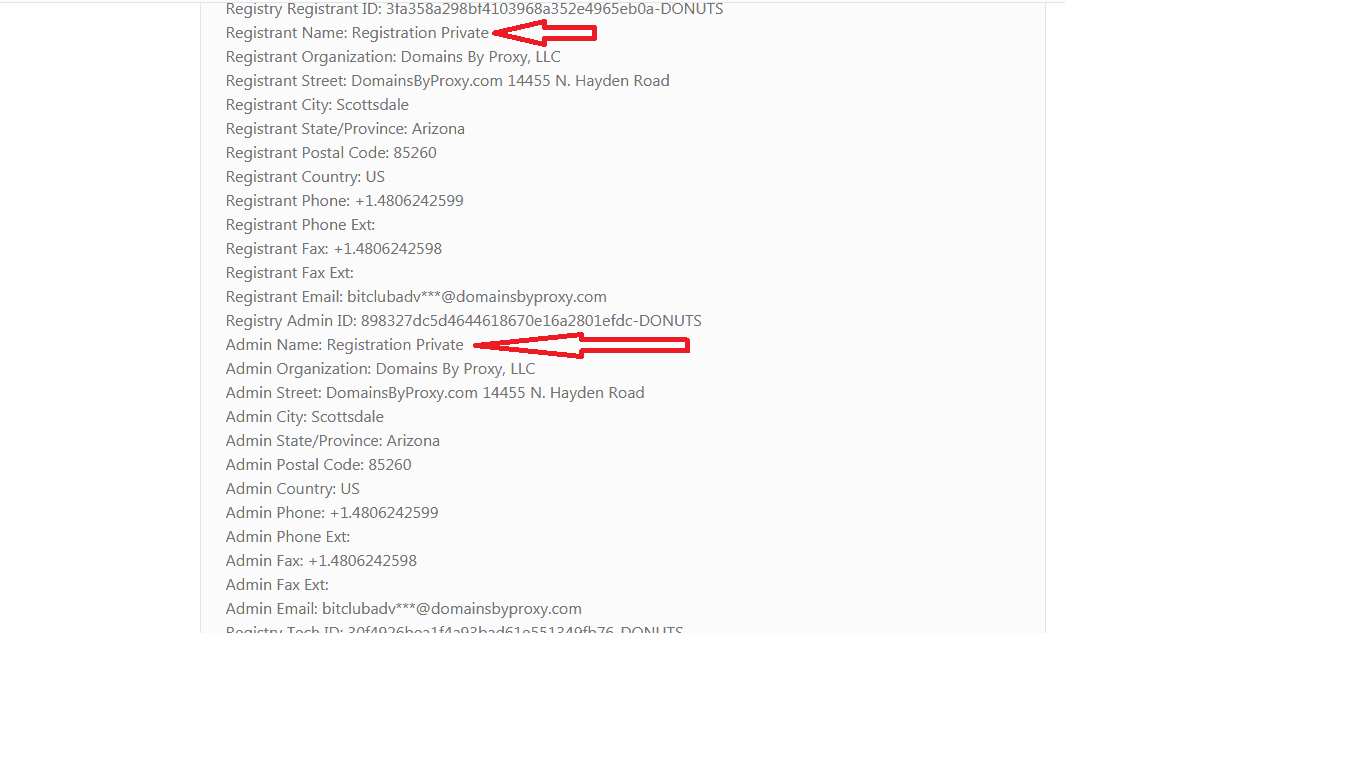 You might be wondering why a business owner will withhold such information from his clients. Well, your guess is as good as mine. Whoever owns the domain obviously has something to hide. For a business of this nature to operate from the United States, it has to be registered with the authorities; apparently, BitclubAdvantage is not registered and is, therefore, running an illegal business.
This, in my opinion, is not very inspiring, considering the fact that there have been tons of similar sites in the past that ended up not delivering on their promises, and BitclubAdvantage might not be an exception.
Promoters of BitclubAdvantage
BitclubAdvantage is being actively promoted all over Africa and especially Nigeria. Its promoters have come up with a variety of false claims in a bid to attract affiliates for their personal gains.
Firstly, its promoters in Nigeria have come up with several names as to who they believe is the actual owner of the company. Some say BitclubAdvantage is owned by a certain Alex Pereri with headquarters in an imaginary trade centre somewhere in Brazil, and another headquarter somewhere in the Uk with no precise location.
Others say the company is owned by a certain Alex Vera, as seen below:
Another group say it is owned by Alex Pereira Salles
They all hold conflicting claims as to who owns BitclubAdvantage. However, I checked up the names Alex Pereri, Alex Vera and Alex Pereira Salles in every platform possible, Linkedln, Google, Twitter, Instagram, Facebook etc… and here are my findings.
The name Alex Pereri seems to be inexistent. However, on Alex Vera, I found two notable persons, an MMA fighter based in Ohio and a pop artist based in Miami, all in the United States of America.
Furthermore, on Wikipedia, I found out that Alex Pereira is a kickboxer who competes in the middleweight division. While a Facebook search for Alex Pereira Salles led to this cute little guy's profile.
I painstakingly searched for Alex-vera-Pereri-Pereira-Salles and found none affiliated to BitclubAdvantage. Don't you think the CEO of such a large organisation ought to have a bio that connects him to the organization written somewhere on the internet?
Products/Services Offered By BitclubAdvantage
BitclubAdvantage promises its affiliates constant returns on their investment on a daily basis. They apparently claim to invest all money's invested by their affiliates into sports trading, cryptocurrency mining and trading with their super software that guarantees a daily profit. The profit made by the software and their team of experienced traders is shared amongst everyone who invests in their packages.
The problem here is, they offer no evidence to back up their claims. There literally is no evidence that their software actually exists, the team of experienced traders is unknown but one thing is certain people are investing their hard earned money's. The lack of evidence proves one thing; the whole cryptocurrency/sport trading ruckus is a cover-up for their MLM Program where members refer others and earn from their investments (I shall explain this later on, in this article).
Before I go further, I will like us to reflect on the following.
The actual identity(s) of the person/people behind BitclubAdvantage is unknown
The domain was registered privately
The domain's owner intentionally hid his contact details and identity
BitclubAdvantage is not legally registered, and hence no one can be held accountable should things go awry and affiliates lose their hard earned money's
The domain is currently set to expire on the 28th of June 2019
There is no guarantee that the company will be available next week.
BitclubAdvantage compensation plan
All new affiliates in this platform are expected to pay a registration fee of between $15 to $50 depending on the package they choose. BitclubAdvantage offers 7 packages, they include:
Bronze
Silver
Gold
Client premium
Client black
Client master
Client VIP
All the packages offer an RIO of 300%.
For the bronze package, affiliates invest N47,880 and earn N11,226 monthly until they get a 300% return on their investment. Which is about N143,640.
The silver package costs N110,880 and will fetch you N28,186 monthly until you get a 300% return on your investment which is about N332,640.
The Gold package costs N215,880 and will fetch you N56,452 monthly until you get a 300% return on your investment which is about N647,640.
The Client premium package costs N432,180 and will fetch you N115,080 monthly until you get a 300% return on your investment which is about N1,296,540.
The Client Black package costs N852,180 and will fetch you N263,508 monthly until you get a 300% return on your investment which is about N2,556,540.
The Client Master costs N2,120,580 and will fetch you N648,349 monthly until you get a 300% return on your investment which is about N6,361,740.
The Client VIP package costs N4,220,580 and will fetch you N1,295,149 monthly until you get a 300% return on your investment which is about N12,661,740.
How long it takes to get your complete 300% in BitclubAdvantage
You might get excited on the prospect of turning your 4million Naira into 12million or your 47,000 Naira into 143,000 by literally doing nothing. But remember that you don't get all 300% ROI in two days. Let's take the bronze package for example, in the bronze package you invest 47,880(approximately 48,000) and get 11,226 monthly until your 300% ROI is complete.
In this case, the 300% ROI amounts to about N143,640 Naira. If you are to get N11,226 monthly it implies that you will have to wait for over 4 months to get back your capital and another 8 months to get your profit in full, that is a combined 12 months. You will have to wait and pray for a whole year that the unknown admins don't run away with your money.
There is no guarantee that you will make a profit or even get a dime out of it, since the company is not legally registered, and can choose to stop operations at any point in time, leaving members with huge loses and debt.
Is BitclubAdvantage a Ponzi scheme?
What is a Ponzi scheme?
The general definition of a Ponzi scheme is, and I quote:
"A ponzi scheme is a form of fraud in which belief in the success of a non-existent enterprise is fostered by the payment of quick returns to the first investors from money invested by later investors"
From the definition above, it is important that we take note of the following key points, 1–belief in a non-existent enterprise 2—quick returns paid to first investors from money invested by later investors.
Firstly, BitclubAdvantage wants its users to believe that it has a team of professional traders and a software capable of making daily profits which will, in turn, be shared amongst its investors. There is no proof that the team or software exists, neither is their proof that they engage in any cryptocurrency mining activities to generate profit for investors. The lack of proof here simply means that users are being tricked into believing in a non-existent enterprise.
Secondly, since there is no proof that any trade or mining activities are actually going on, how then do they pay investors? The answer is simple, the money paid by new investors is used to pay older investors while the admins keep the rest for themselves.
How is this done? …. BitclubAdvantage runs a multi-level marketing system just like other Ponzi schemes like Ultimatecyler, Icharity, Crowdrising, Gcircle, Neo Mining and Technologies, Thorncoin, MMM, H2i etc.. You should understand the normal upline-downline thingy..
Whoever might be trying to talk you into joining BitclubAdvantage is doing so for his/her selfish reasons.
If you doubt me then look out for the following warning signals. After filling the registration form, you will receive a confirmation email, the first part of the email clearly states that "you will be paid more in the multilevel marketing business model". you should ask yourself this question, "what am I marketing"?
Here is how the MLM feature works:
When you register and activate a package you will be given a referral link
You will get %15 of the total amount invested by the person you invite
Out of this 15%, 50% which is 7.5% will be given to you while the other 7.5% will be shared to your upline.
What the company actually keeps is 75%, and from this 75%, they promise to give you a 300% ROI of the total money you invested within a period of 12 months. How is that possible? What kind of trading software/team and cryptocurrency mining will yield such returns?
Let's do a simple calculation here if 1000 people invest N47,000 each making 4.7million.
The company will share 15% of 4.7million as commissions to their upline which will be a total of N705,000 and invest/trade with the remaining N3,995,000.
From the N3,995,000 they promise to pay them 300% within a period of 12 months. What this means is, they will have to turn N3,995,000 into N11,985,000 in 12 months and still make a profit for themselves but that doesn't end there.
Here is where things get interesting, the company has a hidden feature called the construction binary, this is hidden in the sense that most new members do not know about it. To earn from the construction binary, an affiliate must refer 2 people. When the two people also invite others, the company will pay you 50% of all the points generated by your weaker team.
The team here means the two people you invited and those they invited. If for instance, you invite Mr Peter and Mr Olusegun, Mr Peter invites 100 people directly or indirectly and Mr Olusegun invites 10 people directly or indirectly Mr Olusegun will be your weaker team. And you will be entitled to 50% of all his team's volume points, if his entire team manages up to 600 points for instance, you will get N126,000 and this is paid daily forever, as long as they keep inviting more people.
I hope things are getting clearer now?, your attention has been moved from investing your money into cryptocurrency trading to joining a team and earning points by inviting others and further building the team.. however, It still doesn't end here.
BitclubAdvantage has another feature called 'the award system'. In this system, the platform awards members based on the number of points they and their teams accumulate, the awards per certain accumulated points include:
10,000 points = MontBlanc Watch or Invicta
20,000 points = Apple watch and iphone 7
40,000 points = Moto Yamaha Factor 125i
100,000 points = 4 days trip to Europe including tickets to watch Real Madrid or Barcelona play live + luxury car rentals
250,000 points =Corolla Honda and a trip to cancun
750,000 points = Bens C180c and a trip to Hawaii
1,000,000 points = Porsche Carrera
There is even an option to convert your award into cash.
BitclubAdvantage isn't the first scheme to apply this technique in a bid to attract investors, other pyramid schemes such Swissgolden, Gcircle, helping hands international etc.. all apply this method, and the interesting part is, they all target Africa especially Nigeria. probably because we are easily lured into parting with our money for the promise of cars and trips abroad.
Don't believe? here are images from a few examples:
some even offer foodstuffs as incentives to the affiliate who bring in more affiliates to lose their money.
Now, how does BitclubAdvantage come about the money used in paying these bonuses? Simple, they is no genuine trade activity or investment going on to generate this kind of funds, the company is simply using new members investments to pay older members cash and incentives while it carts away with millions in profit, when new members come in short supply the company's admins simply close the platform and run for the hills with their loots. they are not legally registered, meaning no legal actions can be taken against them in such an event.
Any sane person who takes time to calculate all the bonuses BitclubAdvantage pays to its members on its MLM platform will realise that the platform is not involved in any cryptocurrency/sport trading activities as it claims; it only uses that as a disguise to its true activity which is pure Ponzi/multi-level marketing.
You either wait a whole year for your 300% ROI with no guarantee or market their lies to family and friends and earn bonuses.
Is BitclubAdvantage a Scam
In my humble opinion, all pyramid schemes are scams and here is why.
The scheme depends on new members for its sustenance, when the stream of new members dries up, so will the platform. And hang on a second, everyone who participates in a pyramid scheme is a scammer and not just the owners of the scheme, here is why:
You are aware of the fact that the person you are recruiting will have to recruit to earn else he/she may lose their money if the person fails to recruit her/she has lost their money to you. Should the person succeed in recruiting new members, the chain will continue until the system reaches a saturation point and crashes. When this happens, millions of people will lose their money and at this time you will be one of those responsible for their loss… believe it or not, this makes you a scammer!
That aside, some people are of the opinion that BitclubAdvantage is a scam and at the same time, others who have benefited from it will tell you it is legit.
However, after going through my review you might end up unsure, but to help you towards making the right decision here are key highlights you should be aware of.
You will be entrusting your money to people who do not want you to know them.
There is no guarantee that you will make a profit.
BitclubAdvantage is operating illegally.
My advice is
Transparency is of utmost importance in cash transactions; do not invest in a scheme because of the returns it promises, consider other basic factors like: is it Legal? Is the team behind the program trustworthy? Are their promises feasible? How experienced is the team behind this program? Do you even know them? Have they been successful in other ventures in the past?
BitclubAdvantage has no answer to any of the questions posed above, I advise you invest your time and energy elsewhere.
If you would like to learn Cryptocurrency trading. I suggest you read: Crypto Trading – How to Win Every Trade