This is an amazing review of the Biswap Marketplace.
You probably know that Biswap is one of the top DEXs on the Binance smart chain.
But did you know that it has launched a bespoke NFT marketplace?
Biswap NFT marketplace offers users lots of benefits and it is exquisitely designed.
The feature that stands out the most to me is that users can earn free cryptos just by using this platform.
In this article, I will teach you how to buy/sell NFT and earn cryptos on this NFT marketplace. Make sure you read till the end!
---
Post Summary
We will go over the following:
Let's get rolling!
---
1. Overview Of Biswap Marketplace
Biswap is a decentralized exchange, founded in May 2021 by an anonymous team.
As of December 2021, it had reached over $1 billion in TVL. Impressive!
Although it is fairly new, it has established itself as one of the most popular Dapps on the Binance smart chain.
Biswap launched its NFT marketplace in November 2021, five months after its first official launch.
This allows users to buy/sell from different collections of NFTs or list their NFTs for sale.
Not only that, but users can also earn a constant income by staking NFTs.
As of this writing, April 2022, the site can boast of over seven hundred users and over $164K in transactions daily (info from Dappradar.com).
Read on to learn more about what users can do on the Biswap NFT marketplace.
---
2. Features Of Biswap Marketplace
They include:
(a) Market
The Marketplace displays all of the collections of NFTs that are available on Biswap.
It is also the section where users can buy, sell, and list their NFTs.
(b) NFT Launchpad
Just like the name implies, this is where users participate in the sales of NFT collections while they are still in the minting stage.
To join the "NFT launchpad", users must stake a minimum of 100 BSW tokens on the Launchpool. BSW is the native token of Biswap.
Note:
The NFTs featured on this page are sold for USDT.
Also, launchpads are not always available.
The first NFT that was featured on the launchpad is "Biswap Robbies Earn," a collection of 281 NFTs.
Impressively, you can stake the Robbies NFTs to earn passive income and upgrade to different levels (more about this later).
(c) Exchange
This is the Biswap decentralized exchange. All you need to know about it can be found here.
(d) Stake Biswap NFT
When you click "Stake Biswap NFT," you'll be taken to "NFT Earn."
The following are the features you will find under NFT Earn:
Here, you can stake the Biswap Robbies NFTs to earn three tokens BSW, BNB, USDT.
Each "Biswap Robbies Earn" has a maximum "Robi boost" attached to it.
When you make a swap on Biswap or trade on Biswap NFT Marketplace, you will be rewarded with RBs, also known as Robi boosts.
You can use the RBs to boost NFTs. Also, the more RBs you have, the more rewards you earn on your staked NFTs.
Note – RBs are burned 10 days after their earnings. Therefore, if you don't use them to boost your NFTs before the tenth day, they will be burned.
"Biswap Robies Earn" NFT has six levels. However, the ones of a lower level can be upgraded to a higher level for better advantages.
To upgrade to another level of NFT, you have to collect and burn a particular number of NFTs that have reached their max Robi Boost.
See the details in the table below!
Before Upgrade
Requirements
After The Upgrade
Level 1
6 NFTs of Level 1
with 10 Robi Boosts.
Level 2
Level 2
5 NFTs of Level 2
with 100 Robi Boosts.
Level 3
Level 3
4 NFTs of Level 3
with 1000
Robi Boosts.
Level 4
Level 4
3 NFTs of Level 4
with 10,000
Robi Boosts.
Level 5
Level 5
2 NFTs of Level 5
with 50,000
Robi Boosts.
Level 6
More details about the Biswap NFT upgrade can be found here.
Continue to the next section!
---
3. The Different Kinds Of NFTs Available On Biswap
Two types of NFTs are listed on Biswap. They are:
(a) Verified Or Whitelisted NFTs
These are NFTs that the Biswap team has officially verified.
When you open the market tab, you'll see all of the verified NFTs.
A total of 13 verified NFT collections are currently listed, including Biswap Robbies Earn, Pirate Word-Sandbox NFTs, Biswap Squid Players, etc.
Interestingly, whenever a verified NFT is sold, every Biswap user earns a free Robi Boost.
Any user can list a verified NFT. However, they must first fill out this 👉 application form and wait for Biswap to verify their request.
(b) Unverified NFT
These NFT types are listed by users and they are not verified by the Biswap team.
Please note the following about unverified NFT on Biswap:
Unverified NFTs are not stored in Biswap but in another wallet owned by the user.
Users can list unverified NFTs for sale on the Biswap marketplace by entering the NFT's ID and smart contract address. Then notify other users of their listing.
Unlike verified NFTs, these NFT types are not displayed on the Biswap "market".
Also, Biswap users do not get Robi Boosts when an unverified NFT is sold.
In the section below, I will give you a detailed step-by-step guide on how to purchase NFTs on Biswap. Read on.
---
4. How To Buy NFTs On Biswap Marketplace
Biswap allows users to buy NFTs with either of these four coins: BSW, WBNB, USDT, and BUSD.
And there are three ways you can buy NFTs namely:
With this option, you are buying an NFT at a price already fixed by the seller.
Here, you need to place a bid for the NFT you want to buy.
Since it is an auction sale, you are not the only one placing the bid.
There is an expiry countdown timer on each NFT that is being auctioned.
If your bid is the highest one after the auction ends, the NFT will be sold to you.
You can use this option to make a price offer to a seller for the NFT you want to buy.
However, the NFT is sold to you only if the seller accepts your proposal.
Now let's go through a step-by-step guide on how to buy NFT using these options.
How To Buy NFTs Using The Fixed Price Sale Option
1. Visit Biswap and click "market."

2. When on "Biswap Market", make sure you are in the "Sellings" section of the newly displayed interface.
There, you will see the different collections of NFTs that are on display.
3. Then, in the top right corner of your screen, click "Connect wallet".
A list of wallet options will pop up. Select one from the options and connect it to Biswap.
For this guide, I will be connecting to my Metamask wallet.
Do note that to connect your Metamask to Biswap, you need to configure the network for Binance Smart Chain. A guide on how to do this can be found here.
You also need to have the crypto you will buy the NFT with, as well as BNB for network fee, in your wallet.
4. Click on the NFT you want to buy and the information about it will display.
5. Next, click on the "Approve for trade" button. Your transaction fees will be displayed in your wallet. Click on "Confirm" to complete your trade.
Congrats! You will find your NFT in the "My NFTs" section.
How To Buy NFTs At An Auction
1. When on Biswap "market," select "Auction."
2. Click on the NFT that you want to buy. All its details will be displayed, including the minimum bid. Then click the "approve" button.
You will be asked to pay a transaction fee, after which you can make a bid.
Note:
Your bid should be at least 10% higher than the last bid, except in the case where you are the first to place a bid.
Again, each participant in the auction earns 5% of the price difference between his bid and the next bid.
For example, let's say I bid $5 and the next person bids $10.
Now, the difference between my bid and his bid is $5 (i.e., $5-$10).
This means that the profit I will earn for participating in the auction is $0.25 (i.e., 5% of $5).
Finally, If you are the highest bidder at the end of the auction, you will have to collect the NFT by yourself. This is because the NFT does not automatically reflect in your wallet when the auction is over
How To Make An Offer To Buy
1. When on Biswap "market," select "Sellings."
2. Click on the NFT you want to buy. When the page opens, click on "Offer to Buy"
3. Set the price you want to buy the NFT for, as well as the token you will buy it with. After that, click the "approve" button.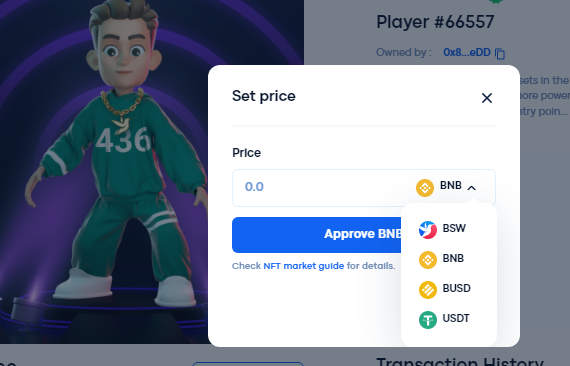 Next, pay your transaction fee and your request will be submitted to the seller.
The NFT will be sent to you once the seller accepts your request.
Continue to the next section!
---
5. Sell|List NFTs On Biswap Marketplace
You can sell two types of NFTs on Biswap.
Verified NFTs
Unverified NFTS
These two types of NFTs have already been discussed in this post.
(a) How To Sell Verified NFTs On Biswap
Follow these simple steps:
1. Go to Biswap Marketplace and connect your wallet.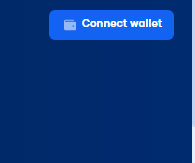 2. Click on My NFTs and your NFTs will be displayed. Then, select the NFT you want to sell.
3. Click the "Sell" button.
4. Select how you want to sell your NFT, either via auction or a fixed price.
Below, I will discuss how to sell your NFT using either of these two options.
1. Sell NFT via auction.
Click on the "Start an Auction" button.
Next, click the "Approve" button and pay the network fee.
Set the token you'd like to be paid in, the minimum bid, and the duration of the auction. After that, click the "Start" button. See the image below!
Note:
At the end of the auction, you will receive your profit once the buyer receives the NFT.
However, if there were no bids during the auction, you can simply withdraw your NFT from the auction.
You can only cancel the auction if no bids have been made yet.
2. Sell NFT via fixed price
Click the "Sell at a fixed price" button.
Set the token you want to get for your NFT and set the price. After that, click the "Sell" button.
Congrats! You have just put your NFT on sale!
(b) How To Sell Unverified NFTs On Biswap
Click on the "Add my NFTs" button in the top right corner of the"My NFTs" section.
After this, an option will display prompting you to enter the NFT's contract address and ID.
The team at Biswap listed steps on how to list unverified NFTs in this blog post.
However, this option is not yet active as of the time of writing (22/04/2022).
---
6. How To Stake NFTs On Biswap Marketplace
As earlier mentioned, you can only stake the "Biswap Robbies Boost" NFT.
This means that in order to stake NFT on Biswap, you must first buy the Biswap Robbies Boost NFT.
To stake this NFT, follow the how-to guide below.
1. On Biswap Marketplace, click on "Stake Biswap NFT."
2. You will be redirected to Biswap Dex. Under "NFT Earn", select "NFT Staking."
You will see your NFTs, your available Robbie Boosts, a calculator, and other important information about the Staking Pool.
By clicking on the "Calculate" button, you can calculate your payout depending on the number of Robi Boost you have earned.
2. The next step is to stake your NFT. Scroll down to the "My NFT" section and click "Stake" to add your NFT to the staking pool.
You can also stake multiple NFTs at once by checking the boxes in the right corner of the NFT cards.
Congrats! You have staked your NFT!
How to claim your rewards
As mentioned earlier, when you stake your NFT, you will receive rewards in the form of three tokens.
It will be displayed on the staking page. You can claim them by clicking the "Harvest" button.

How to unstake your NFT
To unstake from the pool, select the NFTs you want to unstake and click the "Unstake" button.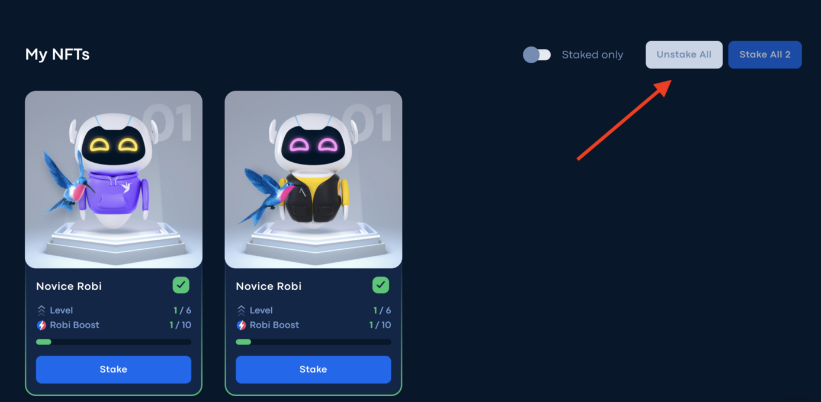 So, why should you pick Biswap over other NFT marketplaces?
Find out my reasons in the next section!
---
7. Advantages Of Biswap Marketplace
The following are the advantages of using Biswap:
1. Low Fees
By using Biswap Marketplace, you pay a very low commission of 1%.
This is very small compared to the 2% fee on the Pancakswap NFT marketplace.
2. 50% Commission Return
Trading fees are distributed back to users, 50% to buyers, and 50% to sellers.
Interestingly, the payout is made in the form of Robbie Boost, which can be used to power Biswap Robbie NFTs and earn more crypto.
3. Staking Rewards
By staking NFTs on Biswap, you enjoy a high APY of over 200%.
4. Auction Incentive of 5%
You earn 5% of the price difference between your bid and the next bid if you participate in the Biswap auction.
Scroll down!
---
8. FAQs
1. Can I list my staked NFT on the marketplace?
No, it is not possible to do so.
You have to unstake the NFT first before listing it.
2. How do I make money on Biswap Marketplace?
There are 3 ways to make money from your NFT on Biswap:
1. Buy/sell NFT – You can make money by buying an NFT and selling it at a higher price.
For instance:
You can buy lower-level "Biswap Robbies Earn" NFTs and upgrade them to a higher level with your Robbie Boosts.
After that, you can then sell the upgraded NFTs at a much higher price for a profit.
2. Staking: You can stake the "Biswap Robbies Boost NFT" for pretty passive income.
3. Auction: You earn 5% of the price difference between your bid and the next bid just by participating in auction sales.
3. Can I trust Biswap Marketplace?
Although the founding team is pseudonymous, I still think it is safe because:
– It is audited by Certik, one of the leading audit corporations in the crypto world.
– This marketplace is backed by Binance Lab, the venture capital and incubator of Binance.
Moreover, it is partnering with other reputable crypto projects like Airnft, Altura, etc.
– It is one of the leading Dapps on the Binance Smart Chain. It is ranked 10th on DappRaddar (as of April 2022).
---
Heads Up!!!
If you want to learn how to trade cryptocurrencies profitably, we developed a perfect course to help you master Cryptocurrency Trading.
Go to www.ctmastery.com to enroll.
You can also join our Telegram community at https://t.me/ctmastery for more information.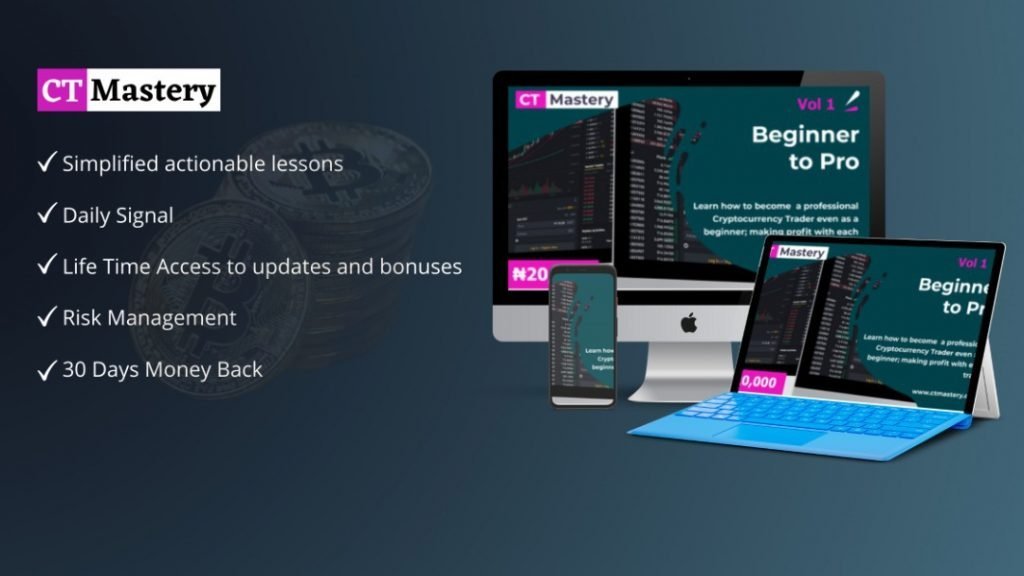 ---
Conclusion
This article has come to an end. I hope you found it interesting.
After exploring the Biswap Market, I believe it is worthwhile to give it a shot.
What I like best about Biswap NFT Market is that you get to earn passive income on your NFT.
This feature is hardly available on other NFT marketplaces.
Now, I would like to know your thoughts.
What do you think about Biswap Marketplace?
Have you used it before? What was your experience?
Put your comments in the box below.
Remember to hit those social media icons to share this post with your friends. Cheers!
---
Other Interesting Articles: