In this post, you are going to learn all you need to know about Alphabits.
Alphabits is a bitcoin exchange company located in Lekki Lagos, Nigeria.
It provides users with the opportunity to easily buy, sell, and store Bitcoin safely.
Alphabits is relatively new when compared to other exchanges but it has become one of the most sorts after bitcoin exchanges in Nigeria 
In today's review, I will be discussing Alphabits, the currencies it supports, payment methods, transaction fees, and so on.
---
Alphabits Review Summary
Alphabits.co is a product of Alpha Bits Trading S.D.N registered in Nigeria. Its team is comprised of banking professionals with extensive experience in financial products, Payment systems, etc. In this post, I am going to discuss how Alphabits operate and its pros and cons.
To help you understand better, here is what I will carefully cover in this review.
---
1. Company Overview
Alphabits was founded by Kanayochukwu Eze on October 2017 and became open for trading in April 2018. The company is concerned with the buying and selling of Bitcoin.
Alphabits have evolved to be one of the foremost homegrown Bitcoin merchants in Nigeria as it provides users with speed, ease and a sense of security. It has a great, fast loading easy to navigate interface that anyone can easily operate. It aims to provide customers with an easy to use cryptocurrency trading platform for the Nigerian market.
Also read:
10 Best Bitcoin exchanges in Nigeria
---
2. Alphabits Services
Alphabits provides 2 services for its customers. These services can be easily accessed by anyone new to crypto trading. These services include;
This is the section where users can easily purchase bitcoin and sell bitcoin.
Alphabits provides Bitcoin wallets for its users. With the bitcoin wallet, a user can easily send, receive and store bitcoins.
Also read
top 5 bitcoin wallet providers in Nigeria
---
3. Cryptocurrency and Payment Methods
Cryptocurrency
Fiat currency
Method of Payment
Cash deposit
ATM transfer or Bank transfer
---
4. Transaction Charges and Limits
In Alphabits, transaction fees are not stated or displayed. The only known fee is the Bitcoin network fee when sending BTC from the Alphabits BTC wallet to an external BTC wallet.
Nonetheless, when I compared the Bitcoin price on Alphaits to that on Luno and Quidax it was 2.1% higher. Thus it is safe to say that Alphabits incorporated its transaction fees in its rates.
Alphabits limits users who have not yet verified their account profile. These users cannot buy or sell more than N50,000 (Fifty Thousand Naira) worth of Bitcoins.
Users who want to verify their account will have to provide the documents listed below;
Upload a Government-issued ID card (either: International passport, driver's license, voter's card or National ID card).
---
5. Supported Countries
Alphabits support 'Nigerians only' as its main mission is to better serve the Nigerian market.
---
6. Customer Support
Alphabits has friendly customer support that serves its customers 24/7. You can contact the customer support either by sending an email or filling a support ticket on the website.
To do that, go to the home page and click the 'Help' button as shown in the image below.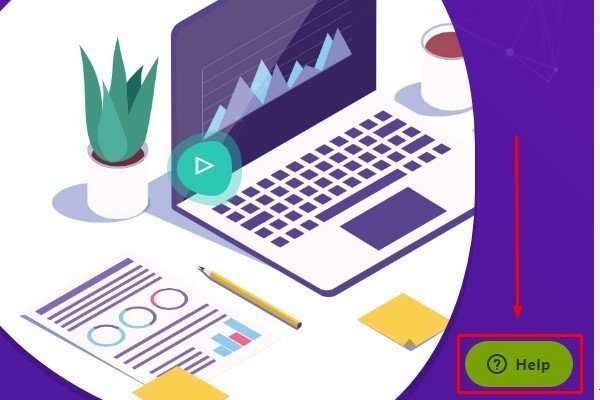 Put the right information in the space provided and click 'Send'. The support will reply in less than a minute by email.
---
7. Frequently Asked Questions (FAQ)
Here are a few FAQs we can see on the Alphabits platform.
1. How do I Register on Alphabits?
To register on Alphabits, you will have to follow the steps as listed below:
– First, go to alphabits.co
– Click on 'SIGN UP' at the top right corner of the website
– Provide your Full name, Username and all the other necessary info
– Then hit the 'Sign Up' box
2. How can I get verified?
After successfully creating an account on Alphabits, a verification link will be sent to the email you provided. Then this is what you will do:
– Go to email and click on the verification message sent to you by Alphabits
– Click on the verification link to verify your account
– When the link loads up, this is what you will see 'verification success'.
You did it….cheers!
You must make sure to use your original name as it appears on your bank account. This is because once registered, your name and phone number cannot be changed or altered again.
3. Where do I Buy Bitcoins on Alphabits?
After creating an account on Alphabits, do the following:
– Click Buy/Sell at the Top Navigational Menu
– At the 'Buy' section, enter the amount of bitcoin you want to purchase either in BTC or Naira and click 'Buy'
– A summary will be shown you, click submit
– Choose your preferred method of payment either Online payment (debit/credit card) or bank transfer.
When paying through bank transfer, be sure to enter the order number in your description.
– If you are paying through bank transfer, click "I have paid" once you have made the transfer. If you pay through a card, you will be redirected to the completion page once the payment is made.
– Your bitcoin will be credited to you Alphabits BTC Wallet, from there; you can send it to anywhere you want.
Also read: best-secured wallet for storing Bitcoin
4. Where do I Sell Bitcoins on Alphabits?
To sell your bitcoin to Alphabits, you will have to:
– Click Buy/Sell at the top navigation page
– At the 'Sell' section, enter the amount of BTC you want to sell and click 'sell'
– On check-out, input your correct bank name, account number and click confirm.
Within 5mins, boom! Your bank account will be credited with cash equivalent to the bitcoin you sold
And that's it.
5. How does the Alphabits Referral Program work?
Alphabits referral program which is known as the Brand Ambassadors Program (B.A.P) was made to reward users who invite friends to join the Alphabits platform. Customers who successfully invite friends will get:
– A 2% commission from the total trade initiated by your friend on the first purchase.
– 1% of the total trade from subsequent trades carried out by your referee.
The commission will be in Naira which you can either cash out as Naira or convert to Bitcoin.
Note that users creating fake or duplicate accounts to cheat B.A.P will not be paid, but will be disqualified from the program.
---
8. Conclusion – Is It Legit or Scam?
Alphabits is a product of Alpha Bits Trading S.D.N which is registered in Nigeria. This means that they are legally permitted to operate and can be sued for damages if they violate customers' rights.
It has a physical office located at 7 Rotimi Olubunmi Street, Lekki Lagos, Nigeria.
Also when I searched through forums, there has not been a complaint of anyone being scammed or ill-treated on Alphabits. Thus so far, we can say that Alphabits is not a scam site.
This brings us to the end of this review, in summary, we have learned about Alphabits and;
The cryptocurrency it supports,
The available payment methods,
Its transaction charges, limits and so on.
Now it's your turn to give me feedback, I'd like to hear from you in the comment section below:
What do you like about Alphabits?
Are there innovations this exchange requires?
What cryptocurrencies do you feel should be added on its exchange platform?
or maybe you have a question for me, let me know in the comment section.
Finally, if you enjoyed reading this post and want to encourage me to push out more awesome content like this, share this post.
Thank you.